Ban on Coffee and Donuts Leads to Church Brawl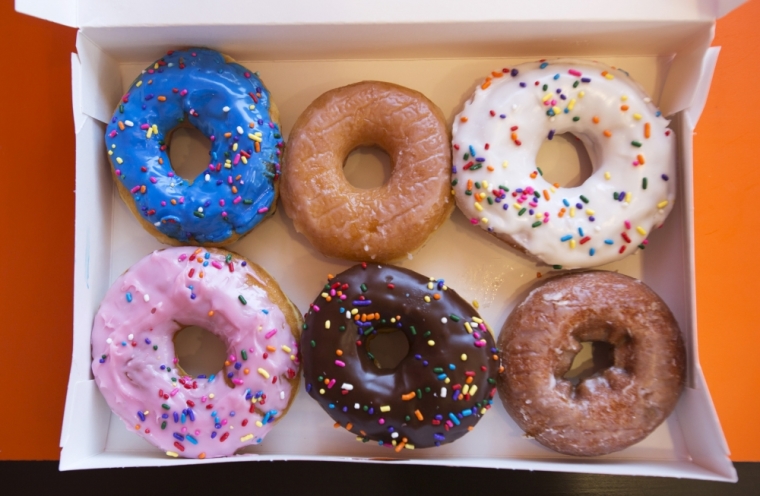 A violent rumble erupted at a local church Sunday morning after the congregational care team voted to stop serving coffee and donuts in all Sunday school and life classes.
Members of the Holy Gospel Church started the fight in the lobby between the early morning and 11 a.m. services. Dozens of visitors entering the seeker friendly church were injured after being struck in the head by copies of The Daniel Plan book that were being thrown at church staff in protest after congregants saw that the Starbucks coffee airpots had been removed and replaced by a smoothie bar.
According to multiple accounts, the violent brawl stemmed from a controversial decision made last week by the church to ban unhealthy foods, like donuts and coffee, for all Sunday morning church services and classes.
Leadership concluded that the pastries and caffeine were both "spiritually and dietarily unhealthy" for their members.
While the church added an exemption to the draconian ban for pot luck dinners, many are not convinced.
"First, it's going to be our donuts and coffee, then it will be our cakes and pot lucks," warned one member. "What's next? Christmas?"
Eyewitnesses report that a second fight ensued after a couple members attempted to bring in several boxes of donuts.
Before they could reach the doors to the fellowship hall they were pounced on by the millennials manning the smoothie bar who were demanding that they throw out their jelly-filled confections and try a "Merry Berry Jesus Explosion" or a "3-in-1 Trinity Splash" instead.
One of the college students said he was surrounded by a bunch of grey-haird ladies who started hitting him with their purses, demanding that he bring back their coffee and donuts.
"I never knew those old ladies could pack such a punch," he said. "I mean, what do they put in those purses anyway?"
An elder member of the church who was visibly upset to see the smoothie bar took the pastor aside and said: This is wrong, you know coffee should be served in church."
While the violence has ebbed for the time being, other dissenting measures are being considered within the fractured community.
Preliminary reports indicate that a faction within the Holy Gospel Church is considering holding a congregation-wide vote on the matter after a long and one-sided discernment process.
WARNING: THE ARTICLE ABOVE IS A WORK OF SATIRE. PLEASE SHARE RESPONSIBLY.