Bangladesh Terror: Quran Quiz Given to Hostages; 20 Failed and Hacked to Death
Bangladesh Terror: Quran Quiz Given to Hostages; 20 Failed and Hacked to Death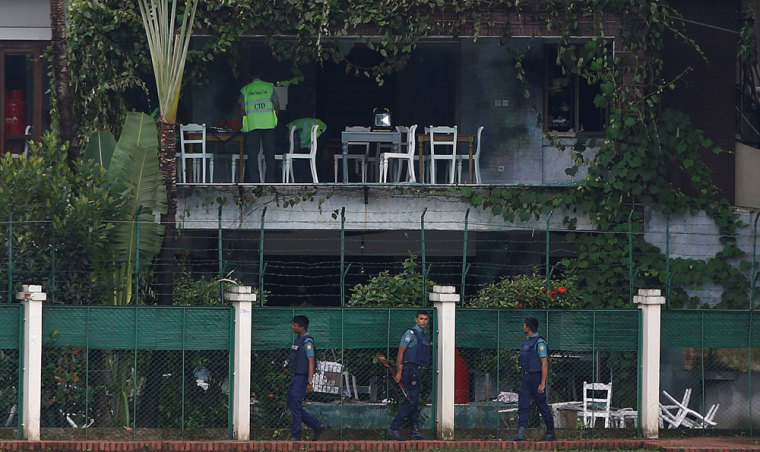 Bangladeshi Islamist terrorists, who held hostages at a cafe in the national capital of Dhaka Friday through Saturday, spared and provided meals to those who were able to recite a verse from the Quran, but hacked to death the other 20 hostages, who were mostly foreigners and included a U.S. citizen, according to the father of a Muslim survivor.
"The gunmen were doing a background check on religion by asking everyone to recite from the Quran. Those who could recite a verse or two were spared. The others were tortured," Rezaul Karim, father of Hasnat Karim who was held hostage inside the Holey Artisan Bakery along with others, told The Daily Star.
The survivor, his wife Sharmin Karim, 13-year-old daughter Safa and eight-year-old Rayan were at the Spanish restaurant in Dhaka's diplomatic zone to celebrate Safa's birthday. They were among the 13 hostages who were freed in a joint-rescue operation by the military, paramilitary Border Guard Bangladesh, police and elite force Rapid Action Battalion.
"They (gunmen) did not behave rough with the Bangladesh nationals," Reazul added. "Rather they provided night meals for all Bangladeshis."
The militants also shouted "Allahu Akbar" as they stormed the cafe, according to reports.
However, two Bangladeshis, identified as Faraaz Ayaaz Hossai and Ishrat Akhond, were also among the dead. Hossai was a student at Emory University in the U.S.
Among those killed are nine Italians, seven Japanese, one U.S. citizen and an Indian, while one Italian remains unaccounted for, according to BBC. Two police officer were also killed.
The U.S. citizen was identified as Abinta Kabir, also a student at Emory.
The deceased Indian was identified as 18-year-old Tarishi Jain, who was a student at the University of California, Berkeley.
The rescue operation ended early Saturday, after six gunmen were killed and another was arrested.
The gunmen were not from the Islamic State terror group, but were members of a local group, Jamaeytul Mujahdeen Bangladesh, according to the country's interior ministry.
Islamic State, also known as ISIS, ISIL or Daesh, had claimed responsibility for the attack, but Bangladesh's police say the Sunni group had no role in the attack.
"The bottom line is Bangladesh has plenty of local, often unaffiliated, militants and radicals happy to stage attacks in ISIS's name," Reuters quoted Michael Kugelman, South Asia associate at The Wilson Centre in Washington D.C., as saying.
In May, Bangladesh hanged an Islamist party leader, Motiur Rahman Nizami, for genocide and other crimes committed during a 1971 war of independence from Pakistan.
The country has seen heightened political violence in the recent past due to fierce rivalry between Prime Minister Sheikh Hasina of the Awami League party and her longtime rival, Khaleda Zia, leader of the opposition Bangladesh Nationalist Party, which allies with Muslim nationalists. The clash between the two major political forces in the country dates back to the 1971 war.