Bar Refaeli in 'X-Factor Israel' Promo: Model Stuns Alongside Simon Cowell (VIDEO)
The "X-Factor" is expanding its horizons and moving to Israel with the help of model Bar Refaeli.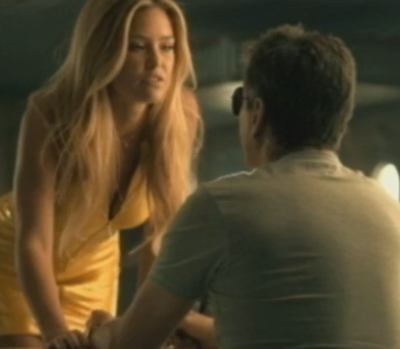 In a new promo featuring "X-Factor" creator Simon Cowell and Israeli super model Bar Refaeli, three new judges have been announced to one of the newest "X-Factor" judge panels- "X-Factor Israel." The reality show currently runs in multiple countries including Indonesia, America, Europe, and Australia. "X-Factor Around the World" was also announced as a new series in August.
To promote Israel's new "X-Factor" Refaeli appears in a new promo video that presents the "X-Factor" as trendy and hip. The commercial begins with Refaeli speeding down the road in a fast car before she stops off at an American styled diner. When the super model walks in the diner, she captures everyone's attention before taking a seat across none other than Simon Cowell.
In what appears to be a business talk regarding the new judges, Refaeli pulls out a tarot card deck. With each card she presents a new judge with a label to signify what type of personality they may have on the show. The first judge that Refaeli introduces is Ivri Lider, an Israeli pop star and part of the duo TYP also known as The Young Professionals. She refers to Lider as the "clever one."
Refaeli introduces the second judge as Rami Fortis, who is considered in Israel to be a pioneer of Israeli Punk rock. The model refers to Fortis as the "crazy one" based on his musical career that including erratic behavior on stage earning that previously earned him the nickname "The Madman."
Shiri Maimon, a singer and actress who represented Israel in the Eurovision Song Contest 2005, will fill the third judge slot and Moshe Peretz, an Israeli Mizrahi Pop singer-songwriter and composer, will fill the last. Refaeli refers to Maimon as "the diamond" and Peretz as "the prince."
All new series of the "X-Factor" will be debuting across countries over the next few weeks.