Barack Obama Says He's Accomplished His Campaign Promises as President, Praying With Pope Francis Was 'Stand-Out' Moment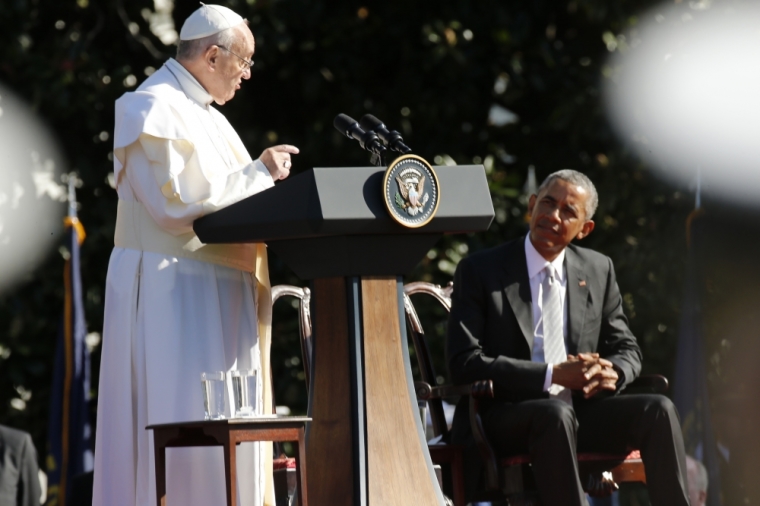 President Barack Obama claimed in a wide-ranging interview that he has met most hopes and expectations people had of his presidency, and also singled out Pope Francis' visit to the White House as a stand-out moment.
"I've done a lot of them and I've made progress on almost all of them," Obama told "CBS This Morning" about voters' expectations in an interview that was posted on Tuesday.
"I feel pretty good about being able to match up what I said I would accomplish with what has been accomplished. I mentioned in the State of the Union that one of the things I regret though is that I haven't been able to drain some of the rancor that exists here in Washington," he continued.
"My hope is that, as I am not on the ballot again, that I can contribute to getting people to step back for a moment and say we're on the same team here."
As one of the stand out moments of his presidency, Obama singled out Pope Francis' visit to the White House in September 2015, where he got to share his thoughts and prayers with the Roman Catholic Church leader.
"You know, he's somebody who is the real deal. I think he deeply cares about people, about the most vulnerable," Obama said.
Obama and Francis highlighted the high importance of defending religious freedom and tackling man-made climate change during the Vatican leader's first visit to America.
The U.S. president was full of praise for the pope, and told him in a speech:
"You remind us that people are only truly free when they can practice their faith freely."
Obama added: "Here in the United States, we cherish religious liberty. It was the basis for so much of what brought us together. And here in the United States, we cherish our religious liberty, but around the world, at this very moment, children of God, including Christians, are targeted and even killed because of their faith."
Some reports suggested that there was a difference of opinion between Obama and Francis when it comes to gay rights and religious freedom, however, with Obama stating in September that traditional marriage supporters need to "catch up" to the rest of the country.
When asked in a separate interview about the high-profile case of Kim Davis, the Kentucky clerk who was jailed for a few days in September after she refused to issue marriage licenses to gay couples due to her religious objections, Francis responded: "conscientious objection is a right — it is a human right."
It was later revealed that Francis had met with and prayed with Davis during his time in the U.S., though the Vatican clarified that the meeting was not necessarily an endorsement of her position in the particular case.
"The pope did not enter into the details of the situation of Mrs. Davis and his meeting with her should not be considered a form of support of her position in all of its particular and complex aspects," wrote at the time Father Federico Lombardi, SJ, the head of the Holy See Press Office.
Obama talked about a number of other topics in his CBS interview, but admitted that the one thing that stresses him out the most for the future is his daughter Malia going off to college.
"That'll make me tear up. We're not going to talk about that on camera," the president said.