Barack Obama National Prayer Breakfast 2016 Transcript and Video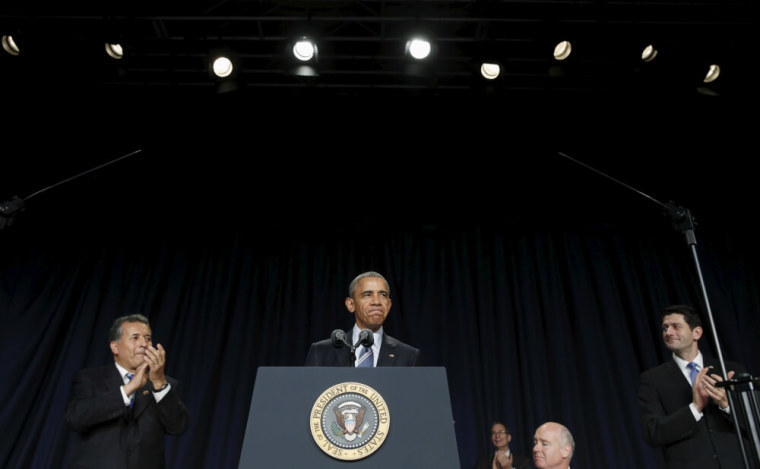 The following remarks were delivered by President Barack Obama at the National Prayer Breakfast in Washington, D.C., February 4, 2016. 
Giving all praise and honor to God for bringing us together here this morning.
I want to thank everyone who helped organize this breakfast, especially our co-chairs, Robert and Juan, who embody the tradition of friendship, fellowship, and prayer. I will begin with a confession: I have always felt a tinge of guilt motorcading up here at the heart of D.C.'s rush hour. (Laughter.) I suspect that not all the commuters were blessing me as they waited to get to work. (Laughter.) But it's for a good cause. A National Prayer Brunch doesn't have the same ring to it. (Laughter.)
And Michelle and I are extremely honored, as always, to be with so many friends, with members of Congress, with faith leaders from across the country and around the world, to be with the Speaker, Leader. I want thank Mark and Roma for their friendship and their extraordinary story, and sharing those inspiring words. Andre, for sharing his remarkable gifts.
And on this occasion, I always enjoy reflecting on a piece of scripture that's been meaningful to me or otherwise sustained me throughout the year. And lately, I've been thinking and praying on a verse from Second Timothy: "For God has not given us a spirit of fear, but of power and of love and of a sound mind." For God has not given us a spirit of fear, but of power and of love and of a sound mind.
We live in extraordinary times. Times of extraordinary change. We're surrounded by tectonic shifts in technology and in our economy; by destructive conflict, disruptions to our climate. And it all reshapes the way we work and the way we live. It's all amplified by a media that is unceasing, and that feeds 24/7 on our ever-shrinking attention spans.
And as a student of history, I often remind people that the challenges that we face are not unique; that in fact, the threats of previous eras -- civil war or world war or cold war, depressions or famines -- those challenges put our own in perspective. Moreover, I believe that our unique strengths as a nation make us better equipped than others to harness this change to work for us, rather than against us.
And yet, the sheer rapidity of change, and the uncertainty that it brings, is real. The hardship of a family trying to make ends meet. Refugees fleeing from a war-torn home. Those things are real. Terrorism, eroding shorelines -- those things are real. Even the very progress that humanity has made, the affluence, the stability that so many of us enjoy, far greater prosperity than any previous generation of humanity has experienced, shines a brighter light on those who still struggle, reveal the gap in prospects that exist for the children of the world.
And that gap between want and plenty, it gives us vertigo. It can make us afraid, not only of the possibility that progress will stall, but that maybe we have more to lose. And fear does funny things. Fear can lead us to lash out against those who are different, or lead us to try to get some sinister "other" under control. Alternatively, fear can lead us to succumb to despair, or paralysis, or cynicism. Fear can feed our most selfish impulses, and erode the bonds of community.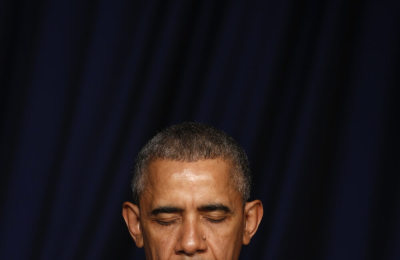 It is a primal emotion -- fear -- one that we all experience. And it can be contagious, spreading through societies, and through nations. And if we let it consume us, the consequences of that fear can be worse than any outward threat.
For me, and I know for so many of you, faith is the great cure for fear. Jesus is a good cure for fear. God gives believers the power, the love, the sound mind required to conquer any fear. And what more important moment for that faith than right now? What better time than these changing, tumultuous times to have Jesus standing beside us, steadying our minds, cleansing our hearts, pointing us towards what matters. (Applause.)
His love gives us the power to resist fear's temptations. He gives us the courage to reach out to others across that divide, rather than push people away. He gives us the courage to go against the conventional wisdom and stand up for what's right, even when it's not popular. To stand up not just to our enemies but, sometimes, to stand up to our friends. He gives us the fortitude to sacrifice ourselves for a larger cause. Or to make tough decisions knowing that we can only do our best. Less of me, more of God. And then, to have the courage to admit our failings and our sins while pledging to learn from our mistakes and to try to do better.
Certainly, during the course of this enormous privilege to have served as the President of the United States, that's what faith has done for me. It helps me deal with the common, everyday fears that we all share. The main one I'm feeling right now is that our children grow up too fast. (Laughter.) They're leaving. (Laughter.) That's a tough deal. (Laughter.) And so, as a parent, you're worrying about will some harm befall them, how are they going to manage without you, did you miss some central moment in their lives. Will they call? (Laughter.) Or text? (Laughter.) Each day, we're fearful that God's purpose becomes elusive, cloudy. We try to figure out how we fit into his broader plan. They're universal fears that we have, and my faith helps me to manage those.
And then my faiths helps me to deal with some of the unique elements of my job. As one of the great departed heroes of our age, Nelson Mandela, once said, "I learned that courage was not the absence of fear, but the triumph over it… The brave man is not he who does not feel afraid, but he who conquers that fear."
And certainly, there are times where I've had to repeat that to myself while holding this office. When you hear from a parade of experts, just days after you're elected, that another Great Depression is a very real possibility -- that will get your attention. (Laughter.) When you tell a room full of young cadets that you've made a decision to send them into harm's way, knowing that some of them might not return safely -- that's sobering. When you hold in your arms the mothers and fathers of innocent children gunned down in their classroom -- that reminds you there's evil in the world. And so you come to understand what President Lincoln meant when he said that he'd been driven to his knees by the overwhelming conviction that he had no place else to go.
And so like every President, like every leader, like every person, I've known fear. But my faith tells me that I need not fear death; that the acceptance of Christ promises everlasting life and the washing away of sins. (Applause.) If Scripture instructs me to "put on the full armor of God" so that when trouble comes, I'm able to stand, then surely I can face down these temporal setbacks, surely I can battle back doubts, surely I can rouse myself to action.
And should that faith waver, should I lose my way, I have drawn strength not only from a remarkable wife, not only from incredible colleagues and friends, but I have drawn strength from witnessing all across this country and all around this world, good people, of all faiths, who do the Lord's work each and every day, Who wield that power and love, and sound mind to feed the hungry and heal the sick, to teach our children and welcome the stranger.