Barack Obama National Prayer Breakfast 2016 Transcript and Video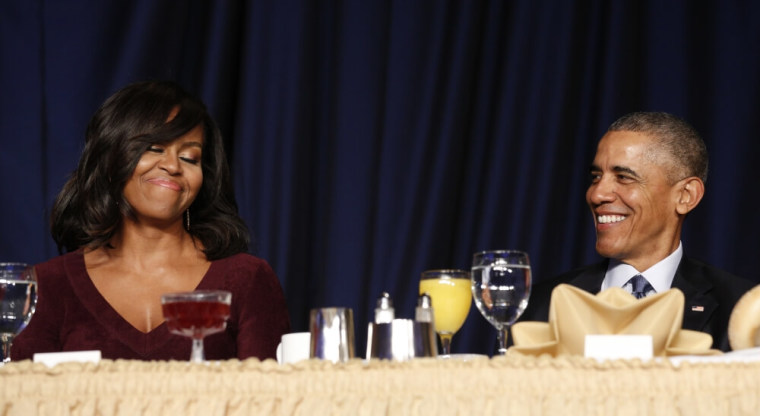 Think about the extraordinary work of the congregations and faith communities represented here today. Whether fighting global poverty or working to end the scourge of human trafficking, you are the leaders of what Pope Francis calls "this march of living hope."
When the Earth cleaves in Haiti, Christians, Sikhs, and other faith groups sent volunteers to distribute aid, tend to the wounded, rebuild homes for the homeless.
When Ebola ravaged West Africa, Jewish, Christian, Muslim groups responded to the outbreak to save lives. And as the news fanned the flames of fear, churches and mosques responded with a powerful rebuke, welcoming survivors into their pews.
When nine worshippers were murdered in a Charleston church basement, it was people of all faiths who came together to wrap a shattered community in love and understanding.
When Syrian refugees seek the sanctuary of our shores, it's the faithful from synagogues, mosques, temples, and churches who welcome them, the first to offer blankets and food and open their homes. Even now, people of different faiths and beliefs are coming together to help people suffering in Flint.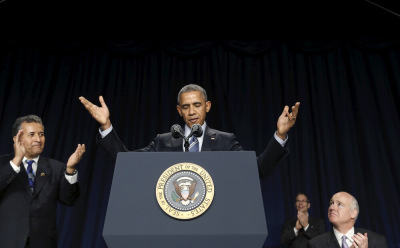 And then there's the most -- less spectacular, more quiet efforts of congregations all across this country just helping people. Seeing God in others. And we're driven to do this because we're driven by the value that so many of our faiths teach us -– I am my brother's keeper, I am my sister's keeper. As Christians, we do this compelled by the Gospel of Jesus -- the command to love God, and love one another.
And so, yes, like every person, there are times where I'm fearful. But my faith and, more importantly, the faith that I've seen in so many of you, the God I see in you, that makes me inevitably hopeful about our future. I have seen so many who know that God has not given us a spirit of fear. He has given us power, and love, and a sound mind.
We see that spirit in people like Pastor Saeed Abedini, imprisoned for no crime other than holding God in his heart. And last year, we prayed that he might be freed. And this year, we give thanks that he is home safe. (Applause.)
We pray for God's protection for all around the world who are not free to practice their faith, including Christians who are persecuted, or who have been driven from their ancient homelands by unspeakable violence. (Applause.) And just as we call on other countries to respect the rights of religious minorities, we, too, respect the right of every single American to practice their faith freely. (Applause.) For this is what each of us is called on to do: To seek our common humanity in each other. To make sure our politics and our public discourse reflect that same spirit of love and sound mind. To assume the best in each other and not just the worst -- and not just at the National Prayer Breakfast. To begin each of our works from the shared belief that all of us want what's good and right for our country and our future.
We can draw such strength from the quiet moments of heroism around us every single day. And so let me close with two such stories that I've come to know just over the past week.
A week ago, I spoke at a ceremony held at the Israeli Embassy for the first time, honoring the courage of people who saved Jews during the Holocaust. And one of the recipients was the grandson -- or the son of an American soldier who had been captured by the Nazis. So a group of American soldiers are captured, and their captors ordered Jewish POWs to identify themselves. And one sergeant, a Christian named Roddie Edmonds, from Tennessee, ordered all American troops to report alongside them. They lined up in formation, approximately 200 of them, and the Nazi colonel said, "I asked only for the Jewish POWs," and said, "These can't all be Jewish." And Master Sergeant Edmonds stood there and said, "We are all Jews." And the colonel took out his pistol and held it to the Master Sergeant's head and said, "Tell me who the Jews are." And he repeated, "We are all Jews." And faced with the choice of shooting all those soldiers, the Nazis relented. And so, through his moral clarity, through an act of faith, Sergeant Edmonds saved the lives of his Jewish brothers-in-arms. (Applause.)
A second story. Just yesterday, some of you may be aware I visited a mosque in Baltimore to let our Muslim-American brothers and sisters know that they, too, are Americans and welcome here. (Applause.) And there I met a Muslim-American named Rami Nashashibi, who runs a nonprofit working for social change in Chicago. And he forms coalitions with churches and Latino groups and African Americans in this poor neighborhood in Chicago. And he told me how the day after the tragedy in San Bernardino happened, he took his three young children to a playground in the Marquette Park neighborhood, and while they were out, the time came for one of the five daily prayers that are essential to the Muslim tradition. And on any other day, he told me, he would have immediately put his rug out on the grass right there and prayed.
But that day, he paused. He feared any unwelcome attention he might attract to himself and his children. And his seven year-old daughter asked him, "What are you doing, Dad? Isn't it time to pray?" And he thought of all the times he had told her the story of the day that Dr. Martin Luther King, Jr., and Rabbi Robert Marx, and 700 other people marched to that very same park, enduring hatred and bigotry, dodging rocks and bottles, and hateful words, in order to challenge Chicago housing segregation, and to ask America to live up to our highest ideals.
And so, at that moment, drawing from the courage of men of different religions, of a different time, Rami refused to teach his children to be afraid. Instead, he taught them to be a part of that legacy of faith and good conscience. "I want them to understand that sometimes faith will be tested," he told me, "and that we will be asked to show immense courage, like others have before us, to make our city, our country, and our world a better reflection of all our ideals." And he put down his rug and he prayed. (Applause.)
Now, those two stories, they give me courage and they give me hope. And they instruct me in my own Christian faith. I can't imagine a moment in which that young American sergeant expressed his Christianity more profoundly than when, confronted by his own death, he said "We are all Jews." (Applause.) I can't imagine a clearer expression of Jesus's teachings. I can't imagine a better expression of the peaceful spirit of Islam than when a Muslim father, filled with fear, drew from the example of a Baptist preacher and a Jewish rabbi to teach his children what God demands. (Applause.)
For God has not given us a spirit of fear, but of power and of love and of a sound mind. I pray that by His grace, we all find the courage to set such examples in our own lives -- not just during this wonderful gathering and fellowship, not just in the public piety that we profess, but in those smaller moments when it's difficult, when we're challenged, when we're angry, when we're confronted with someone who doesn't agree with us, when no one is watching. I pray, as Roma* so beautifully said, that our differences ultimately are bridged; that the God that is in each of us comes together, and we don't divide.
I pray that our leaders will always act with humility and generosity. I pray that my failings are forgiven. I pray that we will uphold our obligation to be good stewards of God's creation -- this beautiful planet. I pray that we will see every single child as our own, each worthy of our love and of our compassion. And I pray we answer Scripture's call to lift up the vulnerable, and to stand up for justice, and ensure that every human being lives in dignity.
That's my prayer for this breakfast, and for this country, in the years to come.
May God bless you, and may He continue to bless this country that we love. (Applause.)