Barack Obama's Wedding Ring Inscribed With Muslim Profession of Faith?
President Barack Obama's wedding ring was the subject of conversation recently, after an Arabic and Islamic expert claimed that the gold band was inscribed with the Islamic declaration of faith.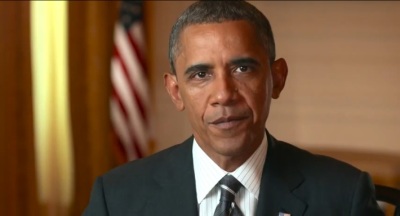 While World Net Daily (WND) initially reported that Obama's ring contains the Islamic and Arabic phrase "There is no God but Allah," TheBlaze.com further investigated the reports by speaking to a Duke University professor who reportedly preferred to remain anonymous.
While Obama's ring reportedly features part of a shahada, or Muslim profession of faith, the second part of the phrase is not included in the president's wedding band, which would read in its entirety, "There is no god but God and Muhammad is the prophet of God."
However, the Duke professor told TheBlaze.com that based on the WND's assessment, the Democratic presidential candidate's ring does appear to feature the first part of the shahada.
"I think this is accurate," the unnamed Duke professor reportedly told the publication. "Usually people in the Middle East – they wear such rings just for protection against any evil [spirits], car crashes – to keep them safe from evil."
However, the publication noted that "Allah" could be translated to mean "God" and another interpretation of the ring could be "there is no god but God" since the second part of the shahada is missing.
Still, TheBlaze.com got another opinion from Dr. Ali Asani, a professor of Indo-Muslim and Islamic Religion and Cultures at Harvard University, who said the web images of Obama's ring were not clear enough to determine whether it was inscribed with a Muslim profession of faith.
"I'd actually have to see it much closer to see exactly what it says. It's very clear that it's not the whole shahada – of course in the shahada there the two different phrases," Asani said. "One is inclusive. It's a statement any monotheist could accept – that there's only one god. It's only the second part that's exclusivist."
According to WND, Obama was wearing the ring on his ring finger as a Harvard Law School professor before he married Michelle Obama. However, Obama's wife reportedly placed the same ring on his finger when they exchanged nuptials at their wedding ceremony in 1992, according to the publication.
Despite the reports that have surfaced questioning the ring and the president's ties to Islam, Obama has been vocal about being a Christian.
At a prayer breakfast in February, he told his audience about his path to Christianity and acknowledged visiting Christian evangelist Billy Graham on a retreat as a defining moment in his faith.
"I have fallen on my knees with great regularity since that moment – asking God for guidance not just in my personal life and my Christian walk, but in the life of this nation and in the values that hold us together and keep us strong," Obama told his constituents at the breakfast.
 Obama's Ring