Romney vs. Obama: Healthcare Plans Compared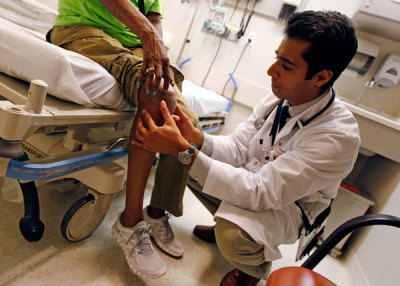 One of the most hotly contested issues in American politics for the past few years has been health care – in particular, the Affordable Care Act proposed by President Barack Obama and commonly referred to as "Obamacare."
Both Obama and GOP candidate Mitt Romney have proposed different ways of tackling America's growing health care problems, and have outlined the specifics of their plans on their campaign websites. They also debated on the issue in last Wednesday's presidential debate on the economy.
President Obama splits his health care plan into four main sections – for those who have Private Insurance, those who have Medicare, those who have Medicaid, and those who currently have no insurance – promising a better future for every American.
Among the benefits for Private Insurance holders, Obama's campaign promises that insurance companies:
Can no longer waste your premium on CEO salaries and overhead costs
Must use at least 80 percent of your premium for health services and improving care
Has to justify any hikes to your premium before an independent panel-helping keep your rate down
For Medicare holders, the promise goes:
People enrolled in traditional Medicare will save an average of $4,200 in health care expenses over the next 10 years.
You now have access to annual wellness visits with your doctor, free of charge.
If you fall into Medicare's coverage gap for prescription drugs, you now get a 50 percent discount on brand-name drugs-and by 2020, the doughnut hole will close for good.
For Medicaid beneficiaries, Obama's plan reads:
"The new health care law makes it easier to access the benefits you already enjoy – with new tools to help doctors and nurses better coordinate your care, and streamlined computer systems for better efficiency."
And finally for those with no health insurance, the health care plan says:
If you have a pre-existing condition you can get coverage through the new Pre-Existing Condition Insurance Plan (PCIP).
A new online insurance finder can help you get information about private plans, public coverage options in your state, and resources to help you find free or discounted care.
Candidate Romney, in comparison, features a section on his website explaining why he believes Obamacare is a failure, and offers an alternative titled "Mitt's Plan."
The former Massachusetts governor's website promises: "On his first day in office, Mitt Romney will issue an executive order that paves the way for the federal government to issue Obamacare waivers to all fifty states. He will then work with Congress to repeal the full legislation as quickly as possible."
"In place of Obamacare, Mitt will pursue policies that give each state the power to craft a health care reform plan that is best for its own citizens. The federal government's role will be to help markets work by creating a level playing field for competition."
Romney splits his plan in three main sections.
He promises to restore leadership and flexibility by "returning states to their proper place in charge of regulating local insurance markets and caring for the poor, uninsured, and chronically ill. States will have both the incentive and the flexibility to experiment, learn from one another, and craft the approaches best suited to their own citizens."
His proposed plan will:
Block grant Medicaid and other payments to states
Limit federal standards and requirements on both private insurance and Medicaid coverage
Ensure flexibility to help the uninsured, including public-private partnerships, exchanges, and subsidies
Ensure flexibility to help the chronically ill, including high-risk pools, reinsurance, and risk adjustment
Offer innovation grants to explore non-litigation alternatives to dispute resolution
The GOP candidate also says that he will promote free markets and fair competition by implementing the efficiency and effectiveness derived from competition into the health care system.
His proposal pledges to:
Cap non-economic damages in medical malpractice lawsuits
Empower individuals and small businesses to form purchasing pools
Prevent discrimination against individuals with pre-existing conditions who maintain continuous coverage
Facilitate IT interoperability
And finally, Romney says that he will empower Americans by allowing consumers to make their own choices on health care. He says that his plan will:
End tax discrimination against the individual purchase of insurance
Allow consumers to purchase insurance across state lines
Unshackle HSAs by allowing funds to be used for insurance premiums
Promote "co-insurance" products
Promote alternatives to "fee for service"
Encourage "Consumer Reports"-type ratings of alternative insurance plans
The candidates clashed directly on the topic of health care during the presidential debate last Wednesday, with moderator Jim Lehrer asking Romney why he wants to repeal Obamacare.
Romney claimed that the Congressional Budget Office has said it will cost $2,500 a year more than traditional insurance would, which means it will add to costs and make life more expensive for families – as well as cut $716 billion from Medicare, which will negatively affect seniors.
The GOP candidate also talked about an unelected board that he believes will be telling people what kind of treatments they can receive, and pointed to surveys that apparently revealed that three-quarters of small businesses around the country have said that Obamacare will negatively affect their hiring rate.
President Obama responded by listing all the problems that the Affordable Care Act have solved, and reminded the public that his plan allows people to remain in their current insurance plan, and does not pave way for a government takeover.
"You keep your own doctor. But it does say insurance companies can't jerk you around. They can't impose arbitrary lifetime limits. They have to let you keep your kid on their insurance – your insurance plan until you're 26 years old. And it also says that you're going to have to get rebates if insurance companies are spending more on administrative costs and profits than they are on actual care," Obama said.
As for Romney's claims on Obamacare, the president noted that the "unelected board" can't make decisions about what treatments people receive, as that is against the law.
Obama also challenged the governor's own health care plan proposal, which Romney summarized earlier in his speech, including the promise to cover people with preexisting conditions.
"Well, actually Governor, that isn't what your plan does. What your plan does is to duplicate what's already the law, which says if you are out of health insurance for three months, then you can end up getting continuous coverage and an insurance company can't deny you if you've – if it's been under 90 days," the president explained.
Obama then brought up was that his model worked "really well" in Massachusetts while Romney was governor there.
"Romney did a good thing, working with Democrats in the state to set up what is essentially the identical model and as a consequence people are covered there. It hasn't destroyed jobs. And as a consequence, we now have a system in which we have the opportunity to start bringing down costs, as opposed to just leaving millions of people out in the cold," Obama said.
Romney expressed that he did like the way the plan was modeled in Massachusetts, but reminded the president that he had Republicans and Democrats work together to decide on the best solution for everyone – yet Obamacare was pushed without any Republican support.
Following the debate, a Pew Research Center for People and the Press poll found that while the public still remains supportive more of Obama's health care plan, Romney's argument at the debate had managed to narrow this lead. Forty-seven percent of respondents to the survey said they trusted Obama more with "dealing with health care," compared to 44 percent in favor of Romney's plan – while a September poll on the same issue had given Obama a 13-point lead.