Barack Obama, Nikki Haley Both Attack Trump in SOTU and Response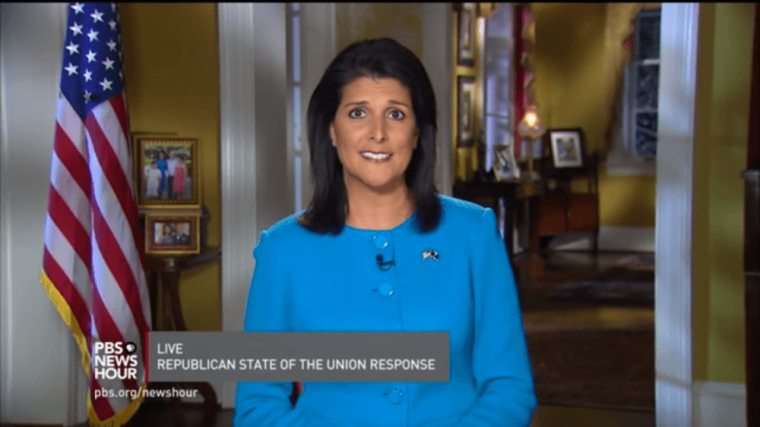 President Barack Obama and South Carolina Gov. Nikki Haley both attacked Republican presidential frontrunner Donald Trump during Tuesday night's State of the Union address and the Republican response.
Trump was never mentioned by name, but statements were clearly aimed at his campaign.
That Obama took on Trump is no surprise, but that Haley used part of her speech, a speech designed to contrast Republicans with the president, to go after Trump is remarkable, and perhaps unprecedented.
"Today, we live in a time of threats like few others in recent memory," Haley said. "During anxious times, it can be tempting to follow the siren call of the angriest voices. We must resist that temptation.
"No one who is willing to work hard, abide by our laws, and love our traditions should ever feel unwelcome in this country."
After speaking of the need to stop illegal immigration and to carefully vet refugees entering the country, she spoke of the American tradition as "welcoming properly vetted legal immigrants, regardless of their race or religion. Just like we have for centuries."
"I have no doubt that if we act with proper focus, we can protect our borders, our sovereignty and our citizens, all while remaining true to America's noblest legacies," Haley added.
This was clearly a response to Trump's anti-Muslim, anti-immigrant rhetoric, and his call to ban all Muslims from entering the country.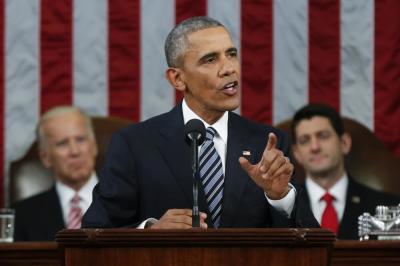 These remarks sounded similar to Obama's remarks directed at Trump.
"... we need to reject any politics that targets people because of race or religion. This isn't a matter of political correctness," he said. "It's a matter of understanding what makes us strong. The world respects us not just for our arsenal; it respects us for our diversity and our openness and the way we respect every faith. His Holiness, Pope Francis, told this body from the very spot I stand tonight that 'to imitate the hatred and violence of tyrants and murderers is the best way to take their place.' When politicians insult Muslims, when a mosque is vandalized, or a kid bullied, that doesn't make us safer. That's not telling it like it is. It's just wrong. It diminishes us in the eyes of the world. It makes it harder to achieve our goals. And it betrays who we are as a country."
And in another part of the speech he said, "As frustration grows, there will be voices urging us to fall back into tribes, to scapegoat fellow citizens who don't look like us, or pray like us, or vote like we do, or share the same background."
Haley is not the first Republican leader to lambaste Trump's plan to ban all Muslims. The day after he announced the plan, Speaker of the House Paul Ryan denounced it at a press conference.
"Normally, I do not comment on what's going on in a presidential election. I will take an exception today," Ryan said. "This is not conservatism. What was proposed yesterday is not what this party stands for and more importantly it's not what this country stands for. Not only are there many Muslims serving in our armed forces, dying for this country, there are Muslims serving right here in the House working every day to uphold and defend the Constitution. Some of our best and biggest allies in this struggle and fight against radical Islamic terror are Muslims, the vast vast vast majority of whom are peaceful, who believe in pluralism and freedom, democracy and individual rights."
For the House leader of a party to attack the party's leading presidential candidate may have also been unprecedented.
But then again, Trump is an unusual candidate.
Besides the fact that Trump has raised and spent little money in the campaign so far, and hasn't needed to given all the free media attention he receives, his strongest base of support comes from marginal Republicans. As a recent study showed, his lead is largest among working class voters, many of whom may actually be registered Democrats who tend to vote Republican in presidential elections.
Haley, who is often mentioned as a potential vice presidential candidate, also spoke about her own life experience in her defense of legal immigration.
"I am the proud daughter," she said, "of Indian immigrants who reminded my brothers, my sister and me every day how blessed we were to live in this country.
"Growing up in the rural south, my family didn't look like our neighbors, and we didn't have much. There were times that were tough, but we had each other, and we had the opportunity to do anything, to be anything, as long as we were willing to work for it.
"My story is really not much different from millions of other Americans. Immigrants have been coming to our shores for generations to live the dream that is America. They wanted better for their children than for themselves. That remains the dream of all of us, and in this country we have seen time and again that that dream is achievable."