'Barbie' review: Greta Gerwig film celebrates female empowerment but falls short on biblical values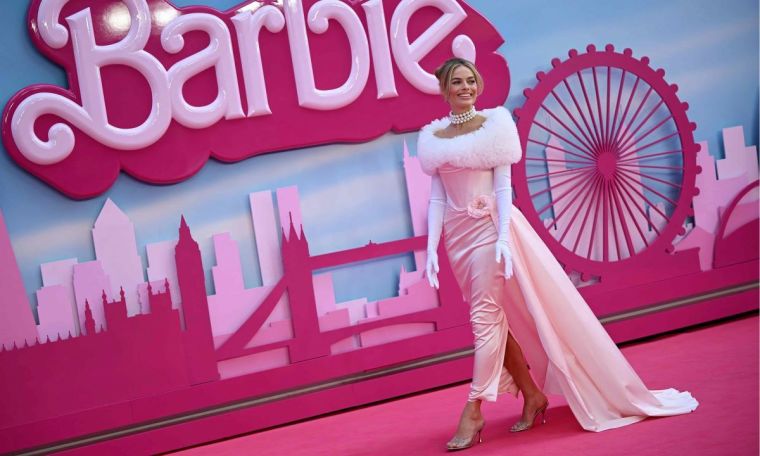 After months of fanfare and exorbitant marketing, Greta Gerwig's "Barbie" has hit theaters with equal aplomb, earning a staggering $131.5 million at the global box office in its second weekend and solidifying its place as Warner Brother's second-biggest movie of all time.
Responses have been polarizing: "Barbie," starring Margot Robbie as Barbie and Ryan Gosling as Ken, has been widely celebrated by mainstream critics, even earning the Critics Choice Seal of Female Empowerment in Entertainment. But it's also been derided by a number of conservative commentators, including one who denounced it as a "flaming garbage heap of a film."
While the vibrant outfits, detailed sets and tongue-in-cheek nods to Barbies of yore make the film an overall enjoyable watch for those who grew up loving the doll, there are elements woven throughout the film that Christian viewers — particularly those who value biblical teachings about family, community and gender — should approach with discernment. 
What's it about?
The film begins in Barbieland, a cheerful place run exclusively by Barbies: There are doctors, lawyers, presidents, a Supreme Court Justice, Pulitzer prize-winning journalists and even a pregnant Barbie. While Barbie can be anything she wants — "We fixed everything so all women in the real world are happy and powerful!" she says — Ken is just, well, Ken. He only has a good day if Barbie looks at him. Barbies, who each have their own dream house, aren't even quite sure where the Kens live. 
Everything is perfect in Barbieland. That is, until "Stereotypical Barbie" (Robbie) begins having disconcerting thoughts of sadness, anxiety and death. She develops flat feet, bad breath and cellulite — something isn't right. After visiting Kate McKinnon's "Weird Barbie" (who has been played with too much), Barbie learns a wormhole has opened between Barbieland and the real world, and it's up to her to fix it. She travels by car, bike, spaceship and finally, rollerblades — along with Ken, who hid in her backseat — to the real world. 
It's there that Barbie discovers that all is not, in fact, fixed. She's dismayed to discover she's culpable in creating a world where "women feel bad about themselves" and, in fact, singlehandedly "set the feminist movement back 50 years." Meanwhile, Ken, who's been feeling undervalued by Barbie, is delighted to learn about The Patriarchy, in which men are in charge.
What follows is a dizzying sequence of events as Barbie seeks to right past wrongs and learn who she really is, all while dodging the CEO of Mattel (Will Ferrell), who is on a mission to get Barbie "back in the box." Meanwhile, Ken has established a "patriarchy" in Barbieland, wreaking havoc with a super-macho leadership style including beers, horses and plenty of "mansplaining."
Here's what's good: 
With films including "Little Women" and "Ladybird" under her belt, Gerwig is an undeniably gifted filmmaker. She delivers a compelling narrative with her take on "Barbie," presenting a dynamic, complex character who has more depth than her plastic facade shows. The film homes in on the idea that women should be valued for their intellect, kindness, creativity and resilience — not just their physical appearance. 
Barbie is genuinely kind to others, and the film celebrates independence, perseverance and having the courage to dream big. Female relationships are celebrated, and one heartwarming storyline follows the reconciliation of an estranged mother and her teenage daughter.
There are some laugh-out-loud moments, including a rousing rendition of the power ballad "I'm Just Ken," performed by Gosling. The script is at times funny and smart (though a speech by Mattel employee Gloria (America Ferrera) about the challenges faced by modern women feels heavy-handed).
Where viewers should take caution:
Though rated PG-13, the film is largely devoid of gratuitous content. However, Barbie does get objectified in the "real world" and there are some sexual innuendos and obscenities (including several uses of the Lord's name in vain) sprinkled throughout. Sexuality isn't overtly addressed, though some of the Barbies and Kens identify as LGBT, and Hari Nef, a man who identified as trans, plays one of the female Barbies.
The film also introduces themes that contradict a biblical view of manhood and male-female relationships. Though "Barbie" tries to empower and uplift women, it often does so at the expense of men.
In Barbieland, Ken is superfluous, the less intelligent species that has no other role than to serve as a foil to Barbie's ambition. In the real world, men are equal parts misogynistic and hapless. In both worlds, the role of a man is thoroughly downplayed, while an aggressive form of feminism is over-emphasized, contrasting the biblical idea that all are created equal and in God's image (Genesis 1:26). These extremes fail to allow space for a man who respects women while also respecting himself.
"Barbie" also places a strong focus on the idea of self-reliance and an individualistic pursuit of happiness in contrast to the prioritization of community and family values. Women, it stresses, must take control and dominate others to earn respect, contrasting the biblical notion of mutual respect and complementarity between men and women.
Ultimately, "Barbie" has plenty of positive, and even redemptive moments that can serve as a catalyst for conversations about identity, worth and even gender roles. But viewers would do well to watch the film with discernment, sifting the meaningful moments from the clichés and surface-level themes that do little to inspire real change or growth.
"Barbie" also stars Issa Rae, Alexandra Shipp, Emma Mackey, Sharon Rooney, Ana Cruz Kanye, Rita Arya, Dua Lipa, Nicola Coughlan, Simu Liu, Kingsley Ben-Adir, Nautica Gatwa, Scott Evans and John Cena.