Be Focused in Your Spiritual Fight, Pastor Steven Furtick Says at Revival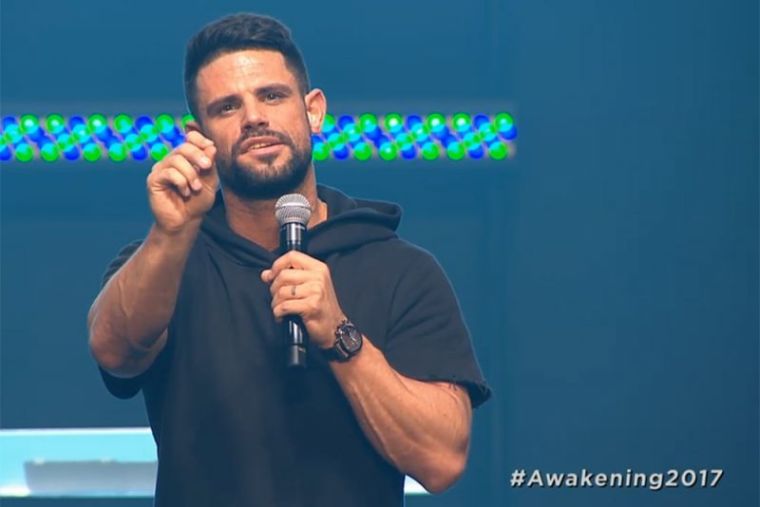 Speaking at a 21-day fasting and prayer program for revival at Celebration Church in Florida, Pastor Steven Furtick of the North Carolina-based Elevation Church encouraged the congregation to be focused in their spiritual fights.
"You can't fight unfocused and expect to win even if you're sincere, even if you want to love God at a new level," Pastor Furtick told the Celebration congregation in Jacksonville, as he began his message, titled "Focus the Fight," Thursday evening, a few days before the conclusion of the "Awakening" program.
"You must be focused to win," the pastor stressed, as he preached from 2 Kings 13:14-20, which records a conversation between Israel's king Jehoash and prophet Elisha, who was on his deathbed. You need to be "armed, aimed and dangerous," the pastor said.
"Are you asking God to do for you what you can do for you?" Furtick asked.
He read verses 14-17: "Now Elisha had been suffering from the illness from which he died. Jehoash king of Israel went down to see him and wept over him. 'My father! My father!' he cried. 'The chariots and horsemen of Israel!' Elisha said, 'Get a bow and some arrows,' and he did so. 'Take the bow in your hands,' he said to the king of Israel. When he had taken it, Elisha put his hands on the king's hands. 'Open the east window,' he said, and he opened it. 'Shoot!' Elisha said, and he shot. 'The Lord's arrow of victory, the arrow of victory over Aram!' Elisha declared. 'You will completely destroy the Arameans at Aphek.'"
Pastor Furtick noted that Jehoash did not fully get what was promised. The arrow of victory represented the potential of the victory, and it represented the process, the pastor explained.
Based on verse 18, which reads, "Then he said, 'Take the arrows,' and the king took them. Elisha told him, 'Strike the ground.' He struck it three times and stopped," Pastor Furtick noted that the prophet didn't ask the king to stop. "Have you stopped before God said 'Stop'?" the pastor asked the congregation.
Many times "it is the fear of falling short that causes us to stop short," not necessarily a lack of concern, Furtick noted.
Talking about the importance of focusing on the right thing, the pastor asked, "Are you more focused on what's leaving than you are on what's left?" Elisha told the king not to focus on who's leaving, the pastor explained.
"Are you more focused on how far you have to go, or on where God has brought you?" Furtick further asked. You feel grateful about the gap you have covered between where you used to be and where you are now, you feel grateful about the protection, for all the provisions, for all the power, he said.
The enemy wants you to focus on the wrong places, the pastor underlined.
Furtick cautioned the listeners that aim without action is religious pretension but action without aim leads to exhaustion.
Don't run from what's oppressing you, face in the direction of your greatest battle, don't be intimidated by it, don't explain it away, Furtick said. You will domino into your destiny if you face your "Aram," but don't watch "Aram;" watch the arrow over "Aram," he stressed.
Everything you need for your fight in this season of your life is right in front of you, Furtick said, and concluded by saying, "Preview your victory."
Awakening is Celebration Church's 21-day fasting and prayer program that began on Jan. 15. As part of the program, a 3-day revival kicked off Thursday and concludes Saturday.