Ben Carson Lists 7 Steps to Safeguard America: Soldiers on Borders, Declaring ISIS War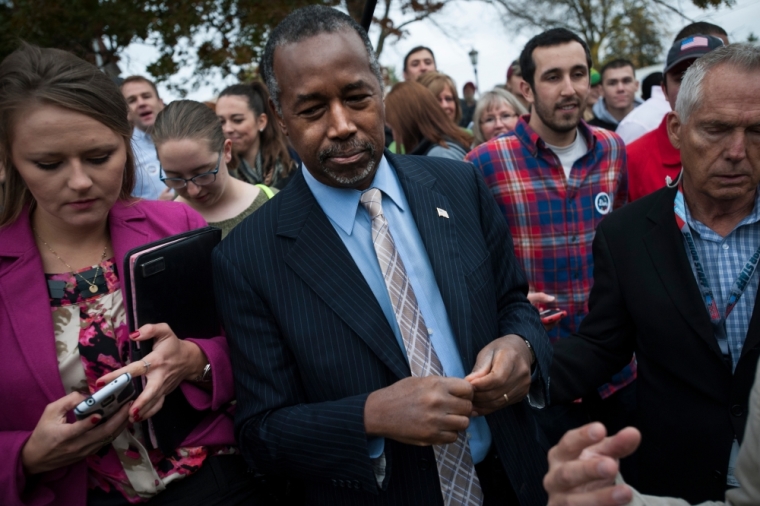 GOP Presidential candidate Ben Carson suggested a seven-point plan to safeguard America as it faces continued security challenges in the coming year, proposing a declaration of war against the Islamic State and putting soldiers on borders.
"We must act boldly and decisively to protect American citizens from terrorists at home and abroad. We can no longer dawdle while ISIS continues to persecute Christians, enslave young girls, oppress civil societies and perpetrate terrorist attacks against the free world," Carson said in his statement on Facebook on Monday.
"We must destroy their caliphate and prevent their terrorists from infiltrating our homeland. We must also secure our borders, identify radical Islamic extremism by name and root out its agents and collaborators in our own country," he added.
The retired neurosurgeon listed a formal declaration of war against IS as the very first of his "Seven Steps for a Safer America" plan.
He further suggested that the United States should form a military coalition in the Middle East with countries such as Egypt, Saudi Arabia and Jordan, and urge its allies to recruit and train Sunni Syrian men in Saudi Arabia and the Gulf to fight IS and protect civilians.
Carson added that it is also important for the United States to work with moderate Arab nations to establish a refugee safe zone in the al-Hasakah Province, which would support the Kurdish, Christian and Sunni tribes in the region. The refugee zone would serve as a safe area under international protection, he said.
Back home, the Republican candidate said that Congress should switch to a "war-time emergency visa and immigration policy," which would limit visitor visas and create mandatory check-ins for extensions no longer than three months.
Furthermore, he suggested that the government deploy the National Guard and military troops "to patrol the U.S. southern border as well as designated spots along the northern border."
Lastly, Carson said that the Department of State needs to designate the Muslim Brotherhood and other such groups that support Islamic terrorism as terrorist organizations.
Carson has made a notable focus on foreign policy issues in the past couple of months in his campaign, and in November spoke out against President Barack Obama's desire to welcome in more Syrian refugees in the country.
He suggested that there simply is no way to properly vet such refugees, and that they represent too great a risk for America.
Other Republican candidates, such as Donald Trump and Sen. Marco Rubio, R-Fla, have agreed that there is no way to vet thousands of incoming refugees. Democratic presidential candidates such as Hillary Clinton have said, however, that challenges to the vetting process should not force America to close up its borders to people.
Clinton has also spoken out against the proposal of declaring war against IS, noting that the U.S. budget cannot handle such a strain.
"If you have a declaration of war, you'd better have a budget that backs it up," Clinton said during a campaign stop in New Hampshire in November.
"I do think that we have to do a better job of understanding the threat that is posed by radical Islamic jihadist groups," she added.
While the White House is yet to sign any formal declaration of war, American air strike operations aligned with a broad coalition of other countries continue against terror targets in the war-torn Syria.
A Dec. 24 State Department blog post lists "Bringing Peace, Security to Syria" as one of its successes in 2015.