Ben Carson Among Top Five Republican Contenders Tied for Lead, New Poll Says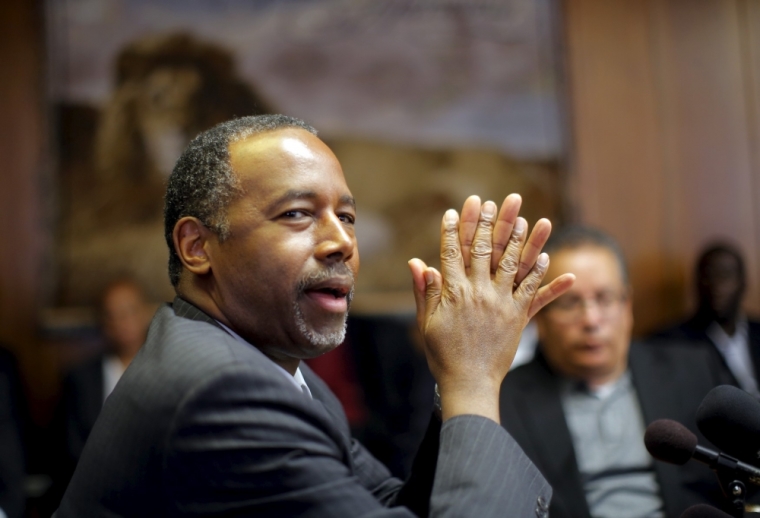 No clear front-runner has emerged in the Republican field for 2016 in a new Quinnipiac University poll, which shows former neurosurgeon Ben Carson as one of the top five finishers, each with 10-percent support.
The top five contenders are former Florida Gov. Jeb Bush, former Arkansas Gov. Mike Huckabee, Florida Sen. Marco Rubio and Wisconsin Gov. Scott Walker, apart from Carson, according to the national survey conducted May 19-26 among 1,711 voters across the country.
Before officially announcing his running for president, Carson had gained the support of only 3 percent of the vote in the last Quinnipiac poll.
"Safe to say, the 2016 Republican presidential primary is anyone's race. With no frontrunner and identical numbers for the top five contenders, it's a horserace which can only be described as a scrambled field – at least so far," Quinnipiac University poll's assistant director Tim Malloy said in a statement.
Primaries are still several months away, but the poll results are significant because Fox News and CNN have said they will allow only the top-10 finishers, as per the average of recent poll results, in their premiere debates.
Sen. Rand Paul of Kentucky gained 7 percent of the votes, Sen. Ted Cruz of Texas got 6 percent, real estate mogul Donald Trump has 5 percent, New Jersey Gov. Chris Christie received 4 percent and both Ohio Gov. John Kasich and businesswoman Carly Fiorina got 2 percent each in the latest Quinnipiac poll.
Carson, who recently announced he's in the race, earlier said God helped him "ace" his chemistry exam at university by showing him all the answers. But he promised the Lord He wouldn't have to do that for him ever again.
Carson speaks a lot about his Christian faith. He earlier told David Brody of the Christian Broadcasting Network that there's a "good chance" he would run for president as he could feel "God's fingers" touching him gently for the 2016 race.
The Quinnipiac poll also asked voters which candidate they would "no way" support, and 21 percent said it would be Trump, and 17 percent said Bush, and 15 percent said Christie.
Hillary Clinton dominated among Democratic voters nationally, with 57 percent support, compared to 60 percent on April 23, the poll said. U.S. Sen. Bernie Sanders of Vermont had 15 percent with Vice President Joseph Biden at 9 percent.
Clinton and Biden were on the top of the "no way" list with 9 percent each.
The poll had an overall margin of error of plus or minus 2.4 percentage points.