Ben Carson Endorses Donald Trump After Praying and Burying the Hatchet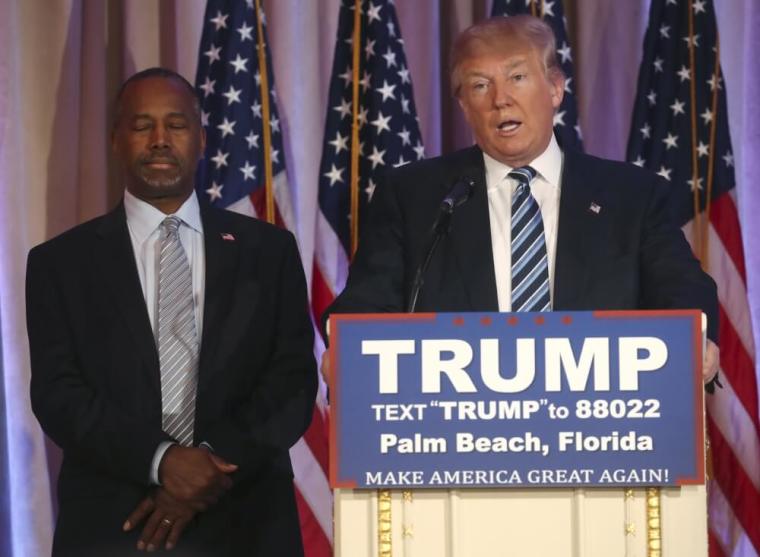 Retired neurosurgeon Ben Carson endorsed his one-time political rival Republican presidential frontrunner Donald Trump Friday after prayerful consideration and burying the hatchet.
Carson, who suspended his own presidential bid last week, said he has a lot in alignment with Trump philosophically and spiritually and believes that as people get to know the billionaire real estate mogul and reality show star beyond the media version of his personality, they will be "comforted" by what they learn.
"I've come to know Donald Trump over the last few years. He's actually a very intelligent man who cares deeply about America. There are two different Donald Trumps. There's the one you see on the stage and then there's the one who's very cerebral, sits there and considers things very carefully. You can have a very good conversation with him and that's the Donald Trump you're gonna start seeing more and more of right now," said Carson in explaining his decision.
And Trump, who repeatedly expressed deep admiration for Carson, agreed with the doctor's assessment of his vacillating personality.
"I do agree, I think there are two Donald Trumps, there is the public version and people see that. I don't know what they see. Ben said it very well. I am somebody that is a thinker. I am a big thinker and I have my ideas and they're strong and typically they have worked out. And what I want to do, the theme I have for this entire campaign is make America great again. That's what I want to do," the billionaire said.
For those who may be surprised at Carson's endorsement after the sometimes ugly political shots Trump fired at him on the campaign trail, Carson explained that they "buried the hatchet" and are now focused on saving America.
"Some people said 'but well he said terrible things about you, how can you support him? Well first of all we buried the hatchet, that was political stuff and that happens in American politics, the politics of personal destruction all that. It's not something I believe in. We move on because it's not about me, it's not about Mr. Trump. It's about America," Carson said.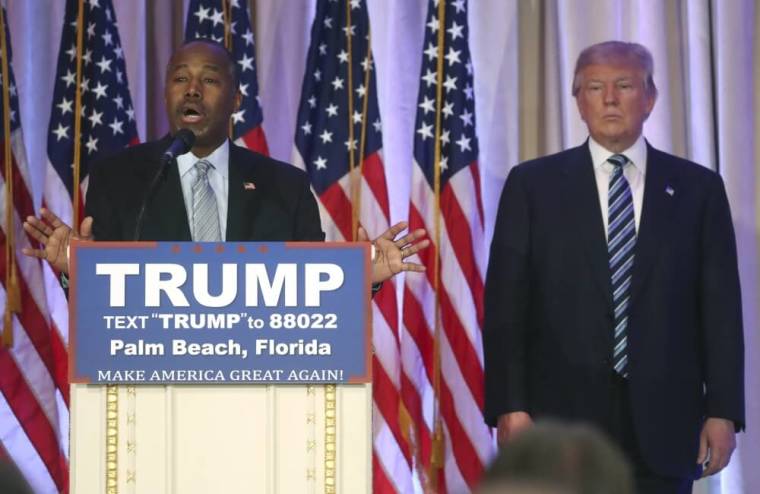 "I have found in talking with him that there is a lot more alignment philosophically and spiritually than I ever thought that there was … that actually surprised me more than anything because I do recognize how a person's image can be distorted having been a victim of that. I probably understand it better than anybody," he added.
"As the American people begin to see the real individual there and those who are helping that individual, I think we are going to be comforted as a nation. We have to start working together. We cannot allow the agents of division to continue to separate us. As a nation, our strength is our unity and we just have to sort of ignore those people who are always trying to stir up strife," Carson further explained. "Donald Trump talks a lot about making America great but it's not just talk, he means it. I'm gonna be helping him."
Trump called Carson's endorsement "very, very special" because Carson "is respected by everybody."
"Everybody wanted his endorsement. Everybody loves him and truly, truly … his life has been an incredible life, an awe-inspiring life … I just want to tell you that having his support adds total credence to what I'm trying to do and what we are all trying to do," he said.
He also praised the way Carson handled himself on the campaign trail.
"It's politics. Ben understands that. And I was really impressed with the way he fought back because he fought back with silence and strength… He has great confidence in himself and I was very, very impressed," said Trump.
Carson's endorsement comes as Trump appears to be striking a more moderate tone as he assumes he will be the nominee and is looking toward the general election.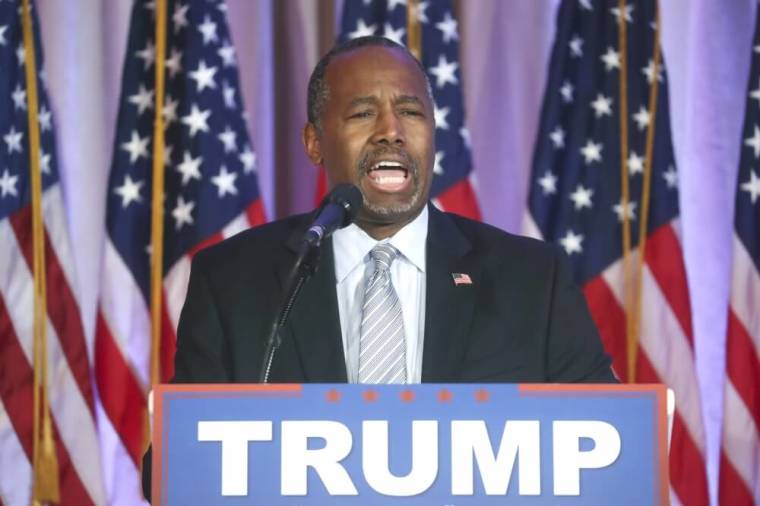 The retired neurosurgeon said Trump, will get involved with his campaign as both a surrogate and policy adviser particularly in the areas of education and healthcare where he has some experience.
When asked if Carson had negotiated any position in a possible Trump administration for his endorsement, Trump said Carson just wants to help.
"No and I thought it was lovely because when Ben called he didn't say well would you do this, would you do that, he just wants to help," said Trump while adding that Carson will play "a big, big part."
"Ben is gonna have a big, big part, I can tell you. Maybe Ben doesn't even know this yet but Ben is gonna have a big, big part. We want to keep that kind of talent," Trump said.
Asked if the Trump campaign had promised "a running mate slot" Carson noted that had not discussed any specifics.
"We have not talked specifically about a role other than being involved and helping formulate policies and trying to make America great. And as was said by many, it is great, but it is nowhere as great as it can be," said Carson.
When asked why he chose not to endorse Sen. Ted Cruz of Texas, who appears to more closely align with his conservative values, Carson said he believes Trump has what it takes to change things in Washington and noted that he is also the current frontrunner in the race toward the Republican nomination.
"I feel that Mr. Trump is willing to do what needs to be done to break the stranglehold of special interest groups and the political class," Carson said.
"One of the real factors for me is what will happen if we allow the political operatives to succeed in their endeavor to stop Donald Trump. I think it would fracture the party irreparably and it would hand the election to the Democrats and they would get two to four Supreme Court picks and America would be forever changed and that's the big picture. It's a very big picture, it's not about me, it's not about Mr. Trump, it's about America," Carson added.
He also said he had "forgiven" Cruz for the dirty tricks played against him in the Iowa caucuses during which Cruz's operatives misinformed some of his supporters that he was dropping out of the race.
"I've completely forgiven him. That's a duty one has as a Christian," he said.
Carson told reporters that while he did pray about his decision to endorse Trump, he also used the wisdom that God gave him.
"I prayed about it a lot and I got a lot of indications. People calling me that I haven't talked to for a long time saying. 'I had this dream about you and Donald Trump,'" Carson said with a chuckle.
"It's just [an] amazing thing but I also tend to think that the way God speaks to you is by giving you wisdom. And that wisdom says to me that if we allow this attempt to disrupt the will of the people to be successful, it will fracture the party in an irreparable way. And that will hand the election to people who I personally believe would destroy our country," Carson said.
"The reason I say that is because Hillary Clinton was a great friend of Saul Alinsky. She was on a first name basis with him when she was a student. Saul Alinsky wrote the book Rules for Radicals. And if you haven't read it, I recommend that you read it and see the kinds of things that are recommended to fundamentally change this nation from the great success that we have to a socialist country. And the dedication page of that book says 'dedicated to Lucifer, the original radical who gained his own kingdom.' I don't want anything to do with anything like that."