Ben Carson, Rep. Louie Gohmert, Faith Leaders Call America to Repentance at National Day of Prayer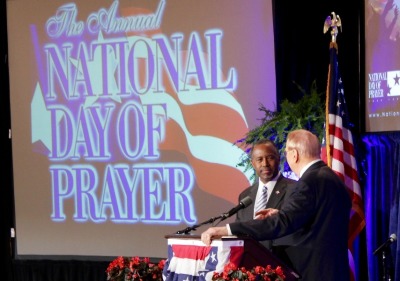 Thursday, May 7, marked the National Day of Prayer, recognized in federal law as a day "on which the people of the United States may turn to God in prayer and meditation at churches, in groups, and as individuals."
President Barack Obama issued the annual proclamation late yesterday, while governors in every U.S. state followed suit today. Rep. Randy Forbes, founding co-chair of the Congressional Prayer Caucus, also worked with 56 Members of Congress to issue "An Open Letter to America on Prayer" today.
The presidential proclamation reads in part: "In the face of tremendous challenges, prayer is a powerful force for peace, justice, and a brighter, more hopeful tomorrow… When we pray, we are reminded that we are not alone – our hope is a common hope, our pain is shared, and we are all children of God."
According to the National Day of Prayer Task Force, a nonprofit group that mobilizes prayer nationwide and promotes the annual observance, more than 43,000 prayer gatherings will occur across America today on this its 64th year.
Nearly one million people worldwide tuned in online this morning to the National Observance in Washington, DC – seeking inspiration, direction from faith leaders, and prayer points to carry to local meetings.
Many leading voices on the four-hour broadcast called for personal repentance, along with prayers of faith for religious liberty to be upheld; particular notice was given to the court case regarding the definition of marriage, currently pending before the U.S. Supreme Court.
Hosted in the Cannon Building across the street from the U.S. Capitol, the national observance tends to be a flashpoint for media. At last year's event, Dr. James Dobson called President Barack Obama "the abortion president"; because the talk radio host's wife Shirley Dobson has served as chairman of the National Day of Prayer Task Force since 1991, news headlines followed.
This year, President Obama was only mentioned as prayers were offered on his behalf for wisdom and God's favor. Media coverage has instead focused on the presence of Dr. Ben Carson, who was invited to deliver remarks many months before the announcement of his candidacy for president on Monday.
Carson, an esteemed neurosurgeon, largely shared anecdotes from his life growing up in Baltimore – centered on the character lessons his mother instilled in him. "My mother was a prayer warrior," he said. "She believed God was the answer to any problem… including having to raise my brother and I by herself."
"Remember that woman you saw on the news, who went out and got her son from the riot? That was my mother," said Carson.
"She prayed," he recalled. "That's the wonderful thing about God – you don't need to have a Ph.D. to talk to Him, you just need to have faith."
Leaders recognized another 2016 presidential candidate, Senator Ted Cruz – in attendance for part of the prayer gathering though not a featured speaker. Government officials who led in prayer included Alabama Rep. Robert Aderholt, Judge Robert Rigsby, U.S. Senate Chaplain Barry Black, and outspoken Rep. Louie Gohmert of East Texas.
Gohmert recounted the story of his daughter Katy, born 10 weeks premature. "Immediately it became clear they were losing her," he said of the pediatrician's initial report. His wife had to stay behind in Texas while Gohmert went with his tiny baby girl to a children's hospital in Shreveport, Louisiana.
"As soon as I got to the neonatal ICU, the doctor took me over to a stool he had set next to Katy's bed," Gohmert continued. "Her breathing and her heart rate were so erratic. The doctor told me, 'Sit here, talk to your daughter and caress her face.'"
"Her eyes are not working yet, she doesn't know who you are from seeing you," the doctor told Gohmert. "But she has heard your voice in the womb. She knows her father's voice. You talk to her, it will comfort her."
Gohmert beamed as he recalled the tender moment. "As I talked to her and caressed her face, she reached up with this tiny little hand and grabbed the end of my forefinger – held it tight, wouldn't let go." Her breathing and heart stabilized, the doctor reported, and according to her dad today Katy is a "beautiful, brilliant" young woman.
He related the story to prayer. "We've been given a way to reach up and grab His finger, hold on – and draw life, sustenance, courage and strength from our Father. Too many in America are not grabbing what God is willing to give."
Faith leaders from a variety of backgrounds shared their prayers – many proclaiming God's heart for the value of every human life, often disregarded in American culture.
"Father, You created each one of us, which endows every man and woman with inestimable value," prayed Father Edward Hathaway of St. Veronica Catholic Church in Chantilly, Virginia.
"May we never become blind to the dignity and worth of all of your children – especially the most vulnerable and those weakest in our midst," continued Father Hathaway.
Two rabbis opened the national observance, marking the beginning with the traditional blowing of a shofar.
Pastor of Prestonwood Baptist Church in Plano, Texas, Dr. Jack Graham served as honorary chairman of the National Day of Prayer this year. "God doesn't need America to do what God will do in the world," he preached. "But America desperately needs God."
"When we pray, God wants us to pray honestly," Graham continued. "The last thing we need is self-righteousness. All this sin that is around us has happened on our watch."
"The prophets say, the blood is on our hands. Sixty million babies aborted: that's on us, that's our generation," Graham said pointedly.
"America must get right with God," he called to these prayer leaders. "May God give us the Third Great Awakening in our own generation."
Reprinted with permission from Bound4LIFE.
After 10 years in communications/marketing at The Heritage Foundation and Focus on the Family, Josh M. Shepherd serves as Communications Manager at Bound4LIFE. He earned a degree in Business Marketing from the University of Colorado. Passionate about the next generation knowing the Father heart of God, Josh's highest earthly honor is being husband to his lovely wife Terri.