Benham Brothers' Dad Arrested for Telling Abortion Clinic Volunteer She's 'Dead in Her Sins'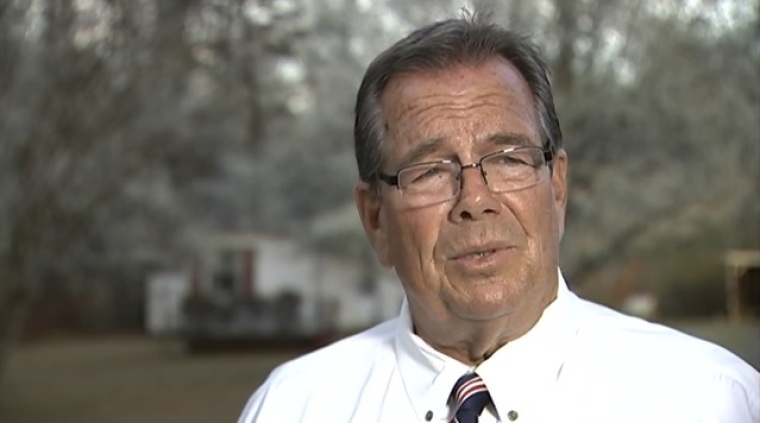 North Carolina Pastor Phillip "Flip" Benham, the father of Jason and David Benham, was arrested after being accused of threatening a volunteer during a protest outside of one of Charlotte's busiest abortion clinics last weekend.
Benham, a longtime pro-life advocate, was arrested last Saturday on a warrant and was given a $500 unsecured bond after he allegedly threatened a clinic worker at A Preferred Women's Health Center in Charlotte during a protest outside the clinic, the Charlotte Observer reports.
The 69-year-old Benham was charged with the misdemeanor crime of communicating threats.
Benham was accused of repeatedly telling a clinic volunteer, "You are dead," according to the WSOC-TV.
Although the clinic volunteer claims to have feared for her life, Benham told the ABC affiliate that the charge against him is "bogus" and that he did not threaten anyone outside the clinic.
Instead, Benham says that he told the volunteer that she is "dead in her sins" for helping facilitate the sin of abortion.
"It must have been very threatening," Benham said jokingly in a television interview. "There were 25 police officers there at the time when this girl is reporting this."
Benham said that there were as many as 250 people who showed up for the protest, including some from various local churches.
The protest was organized by a pro-life group called Love Life Charlotte, which regularly holds prayer walk demonstrations on the road where the clinic is located. Benham's twin sons, who are popular conservative real estate entrepreneurs, have also participated in the rallies in the past.
Benham said that the abortion clinic volunteer in question began using a loudspeaker to scream across the street to those gathered for praise and worship.
"So I figured I would just go get in front of that and talk to her. I did and [told her], 'You are just a dead lady walking. You really are. You are dead in your trespasses and you are dead in your sins and the only way that you are going to get into Heaven and the only way that you are going to get out of that is with Jesus,'" Benham recalled. "'What you need is Him. That is what you are longing for. That is why you are so angry.'"
Benham wonders why the volunteer didn't tell any police officers at the demonstration that she felt so threatened by what Benham had said.
"Of course, she didn't tell any of the policemen that were all around at the time," Benham said. "She decided to go ahead and get a warrant for my arrest."
Benham said that police officers told him they had to arrest him because a warrant had been issued.
"We know you weren't [threatening her]," Benham recalled the police telling him. "But we have no choice but to arrest you because there is a warrant out for you."
The clinic's director told WSOC-TV in a statement that they have long warned the city that the tactics employed by the anti-abortion demonstrators "escalate from intimidation to violence." The clinic also claims that its workers are scared by the "pattern of violence and disregard for the law."
Benham, the former national director of the pro-life group Operation Save America, asserts that he is not aware of any "convicted act of violence" that has happened because of protests outside the clinic.
"There has never has been one convicted act of violence there at all," he assured. "I've been there 17 years. For them to say something like that is so foolish. But again, I guess my speech is dangerous when I say that 'You are dead in your sins.'"
Benham said that the pro-choice advocates have been trying for years to "get me off the streets" and to "silence the Christian message."
Benham told WSOC-TV that he has been arrested dozens of times for his pro-life activism.
"These people who brought charges against me have brought a lot of charges against me and this is just one of them," Benham said. "It is an attempt to censor the Gospel of Christ from these abortion mills."
Benham asserted that he and his fellow demonstrators come as families and they are "not trying to bully anybody."
"The big bullies are right there and they are going to try to shut us up," he said. "But we are not going to shut up."
Benham added that pro-life demonstrators also "care about choice."
"At abortion mills, we are doing everything we can to help moms have a real choice because so many of them feel like they have no choice at all," Benham said. "They go into that abortion mill and they are desperate and they feel like an animal caught in a trap and they are trying to gnaw off their own leg to get free. We come with a sonogram unit and all sorts of things and nurses to help them along the way. We have places for them to stay if they get thrown out of the house."
The abortion clinic volunteer said Benham approached her and "menacingly" and "repeatedly" told her, "You are dead," and was fearing the threat would be carried out.
There is no indication that the 69 year old was jailed after the arrest. The charge is a misdemeanor.