Benham Brothers: 'God Showed Us What It Means to Follow Him'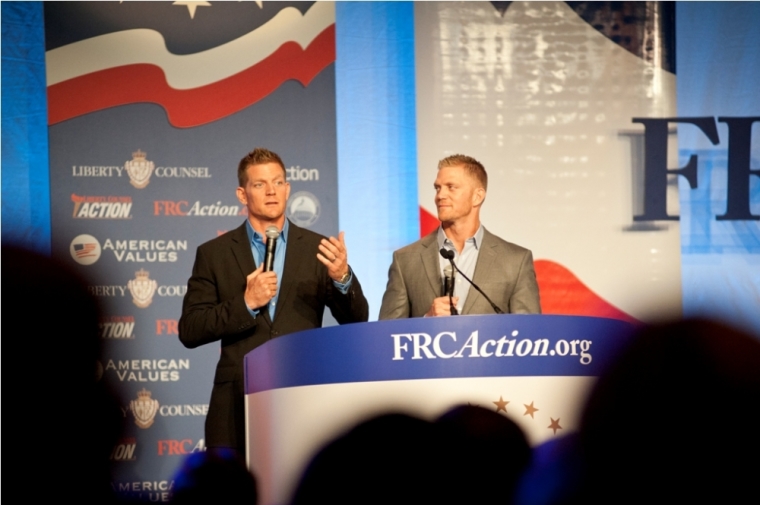 WASHINGTON — Speaking to religious conservatives gathered at the 2014 Values Voter Summit, twin brothers Jason and David Benham said losing their house-flipping show on HGTV taught them what it means to be Christ's disciples.
"It is a fun thing to follow Jesus until you find out where He's going, because He's going to a cross and He's asking you to come follow Him; and we got that experience in real life," Jason said Friday a the summit.
The brothers were filming episodes for "Flipping it Forward" in May when HGTV announced they were canceling the show. The decision followed postings from website Right Wing Watch that revealed the Benhams' traditional Christian views on marriage, sexuality and abortion.
Before HGTV called to create a reality show, the Benham brothers had built the successful real estate firm Benham Companies from the ground up based on biblical principals. And REAL Trends even named Jason Benham among the top 10 real estate professionals in the United States.
"We have sold over 20,000 houses (and) we have never given a sexual Litmus test. We have sold to everybody; and Scripture says when a man's ways are pleasing to the Lord, He makes even his enemies live at peace with him. Our ways were pleasing to God in the marketplace and clearly pleasing enough for HGTV and another large network to make us an offer for a reality television show," David said.
The show seemed to be yet another blessing for their families and the business until LGBT advocacy group GLAAD put pressure on HGTV, and the status of the brothers' show became unclear.
"God showed us what it was like to follow Him — that we had to hold this thing with an open hand because God had given us a platform and we knew that God was going to give us a platform just like the Robertsons' had, just like the Duggars had. And yet, God took it right out. And thank God we weren't holding it with a closed fist because it would have hurt to have our fingers pried loose," Jason explained.
When things started to go south, David said they prayed that they would continue to stand by their Christian principals no matter the circumstances.
"We got on our knees and we said, 'Lord Jesus, we committed to serve you with all our hearts whatever the cost. Whatever happens to this show, happens to this show, but we will not back down because you're worth it. Jesus is Lord.'"
HGTV later announced its final decision via Twitter: "HGTV has decided not to move forward with the Benham Brothers' series."
The brothers subsequently released a statement following the cancelation, saying: "The first and last thought on our minds as we begin and end each day is: have we shined Christ's light today? Our faith is the fundamental calling in our lives, and the centerpiece of who we are. As Christians we are called to love our fellow man. Anyone who suggests that we hate homosexuals or people of other faiths is either misinformed or lying."
David then shared his opinion about the show's cancelation: "What we realize now is that there is a radical agenda that has come in out nation ... the weapon of choice for the agenda in the Middle East is the sword, but the weapon of choice for the agenda in America is silence; they demand silence. It's one thing to believe in Jesus, it's another to be vocal about Jesus and His standards and His word. We weren't pushing our religion and our beliefs on anyone else, but we were living them out loud just as Christ did, and it led Him to a cross and got Him crucified."
With the show gone, the Benham brothers said they feel bolder than ever, and explained that their boldness comes from brokenness and the freedom of letting go.
"When you are on your knees before almighty God calling out to Him in repentance, saying, 'God not my will but yours be done. Whatever you have given to me is not supposed to stop with me. I'm a conduit not a cul-de-sac; it's supposed to flow through me and to those you put around me' — then you become a blessing," Jason asserted.
The brothers then encouraged the crowd gathered at the Values Voter Summit to break the silence and live their faith out loud.
The 2014 Values Voter Summit convened in Washington, D.C. Sept. 26 through 28. The conference is organized by Family Research Council Action, the political advocacy arm of the Family Research Council.