Benham Brothers: God's Judgment on America Like in Psalm 106 Is Due to Abortion
Conservatism Is Not Biblical Christianity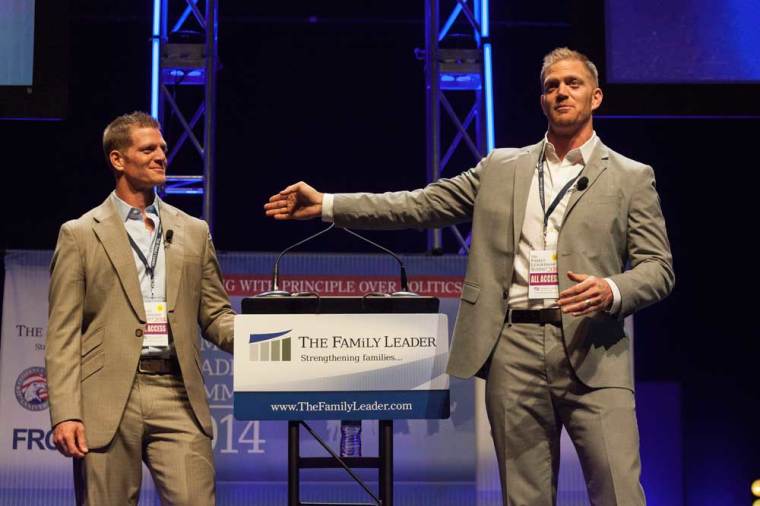 WASHINGTON — Just as God punished Israel for sacrificing their sons and daughters to the demons in Psalm 106, Jason and David Benham argued Saturday that America is already being punished by God for allowing the rise of abortion to kill nearly 60 million innocent babies in the last 40-plus years.
The Benham Brothers, former minor league baseball players who gained conservative prominence after their HGTV reality show "Flip it Forward" was nixed in 2014 due to liberal outrage over their conservative beliefs on gay marriage, spoke at the Faith & Freedom Coalition's "Road to Majority Conference" and urged Christians to wake up and lead a social reformation in America.
Speaking primarily about the transgender bathroom issue that has swept the nation following North Carolina passing a law earlier this year that struck down a transgender bathroom ordinance in Charlotte, the North Carolina natives said that the reason why the Left has been able to push transgender bathroom laws is because the Church had fallen asleep.
Jason Benham compared the Church's response to the Left's transgender bathroom push to a life-threatening moment when his brother fell asleep behind the wheel during a long road trip.
"David was in the right spot. He had his hand on the wheel and we were actually moving forward but we were just going in the wrong direction because he was asleep. When you are asleep, you are unaware of what is going on around you," Jason Benham said. "Now, all of us are having to deal with this radical bathroom stuff. It was while the church was asleep and now God is calling us, He's calling you, He is calling Christians to say 'Ok, wake up.'"
Toward the end of their 15-minute speech, the Benhams touched on the issue of abortion and asserted that the widespread murder of babies remains largely ignored by Christians even though "God gave us an incredible picture of what is truly happening behind the veil of Planned Parenthood."
"We as a Church need to wake up and bring the culture back to the almighty God," David Benham contended.
Benham warned that America's complacency with abortion has angered God and is causing Him to turn Christians over to the leadership of political leaders who hate Christians and Christianity.
"I want to read a scripture as Jason and I close. It says this, 'The Nation of Israel sacrificed their sons and their daughters to the demons and shed innocent blood of their sons and daughters whom they sacrificed to the idols of Canaan, and the land was polluted with their blood,'" David Benham recited from Psalm 106. "'They became unclean in their practices and played the harlot in their deeds. Therefore the anger of the Lord was kindled against His people. And He abhorred His inheritance. Then, He gave them into the hand of the nations; And those who hated them ruled over them.'"
"That is exactly what is happening in America," Benham continued. "For over 40 years, we have shed innocent blood, over 60 million baby boys and girls, human beings who were created in God's image. Yet, we pretend that it doesn't exist."
Benham stressed that it will take more than just "conservative policies" and politicians to bring God's will back into the American political environment.
"And if you think that our conservative policies are going to win the day, let me tell you that conservatism is pretend salt," David Benham asserted. "It acts like salt, tastes like salt but it is not biblical Christianity. No amount of conservative policies will defeat this monster that is ransacking America, only the blood of Jesus Christ."
Although Benham says that America faces a fate similar to Israel in Psalm 106, he added that the psalm also provides a "solution."
"It says this in verse 44, 'Nevertheless, He looked upon their distress, When He heard their cry; He remembered His covenant for their sake, And relented according to the greatness of His lovingkindness. He made them objects of compassion in the presence of their captors,'" Benham read. "It is time not just for political revolution, though I think that would be important, but a spiritual reformation in the name of Jesus."