Benham Brothers: LGBT Activists 'Want to Destroy North Carolina' Over Transgender Bathroom Bill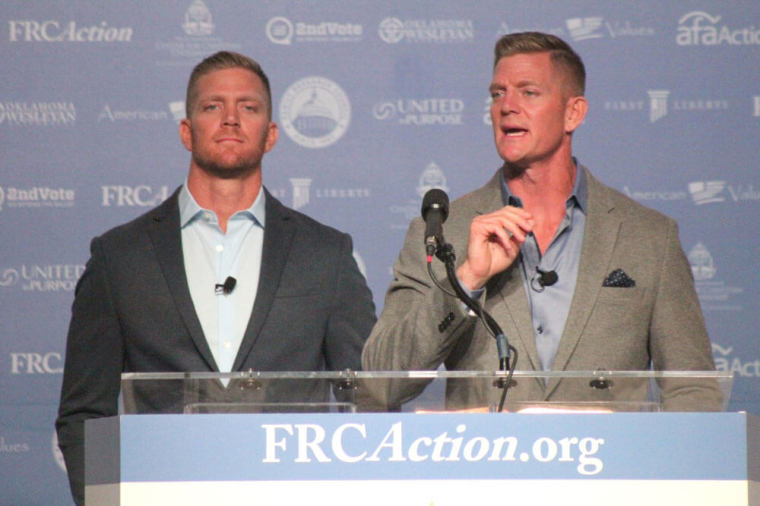 Conservative Christian activists and authors Jason and David Benham have warned that LGBT groups are looking to "destroy" North Carolina over its controversial HB2 bathroom bill, and have urged Christians to vote and support Gov. Pat McCrory, especially as the presidential candidates offer little hope for the country.
The Benham brothers said in a Facebook video recorded at the Raleigh rally for evangelist Franklin Graham's Decision America tour that they were present at a meeting that included leaders of the highest authority in North Carolina.
NC officials allegedly shared with them that representatives from LGBT activist groups, such as the Human Rights Campaign and Equality NC, are threatening to boycott businesses all over the state over McCrory's support for HB2, which bars men from going into women's bathrooms if they identify as female. Thus requiring transgender individuals to use restrooms and changing areas designated for their birth sex.
"They basically bullied him (McCrory), and like the mob, said that 'if you don't overturn HB2, we are going to go after professional athletics, we are going to go after businesses, and we will boycott North Carolina, and we will destroy you,'" the brothers shared.
"And they said 'we are going to destroy you, we are going to destroy your state, and then we are going to take the victory and go all across this nation.'"
Major organizations, such as the National Collegiate Athletic Association, have already pulled championship events from the state over HB2, which they find discriminatory against LGBT people.
Equality NC Executive Director Chris Sgro has urged McCrory to abandon the controversial bill, claiming that it is hurting the state's economy and reputation.
"Pat McCrory clearly knew that signing HB2 would not just endanger LGBT North Carolinians, but would cost us business, tourism, and events like this. The answer: we must repeal HB2 and we must have real leadership in the governor's office in 2017," Sgro said after the NCAA pulled out of the state.
David Benham told The Christian Post back in September that the "radical left" is trying to overtake America with a revolution.
"The NCAA is doing the sexual revolution's bidding. They are being used by the sexual revolution, by those pushing the radical LGBTQ agenda to redefine and reshape what America looks like," David told CP previously. "The radical revolution to overtake America follows a three-step plan — frame the issue, facilitate support, fracture dissent."
The Benhams repeated the warning in their latest video, and condemned the "radical, revolutionary agendas that desperately seek to remove God and remove His standards form our state and our nation."
The conservative brothers briefly took a moment to reflect on this past Sunday's debate between Republican presidential nominee Donald Trump and his Democratic rival Hillary Clinton, and said that "we are in trouble, with either one of them."
With that in mind, they urged Christians in North Carolina to come out and support McCrory in the gubernatorial election on Nov. 8.
"We have to be salt, we have to be light, let's not just sit there and cower," the Benhams said.