Benjamin Watson on What White, Black Christians Must Do to Bridge Racial Divide (Interview)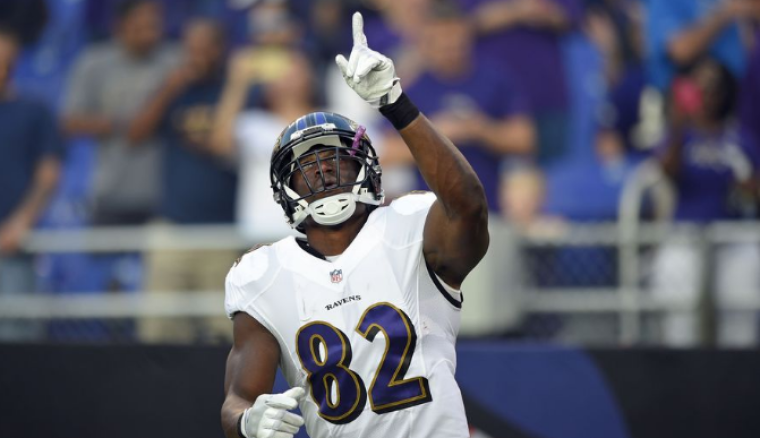 Christian NFL player Benjamin Watson has offered advice for how the Church and its believers can take the lead in helping ease racial tensions in the United States.
Watson, the author of the 2015 book Under Our Skin: Getting Real about Race and Getting Free from the Fears and Frustrations that Divide Us, told The Christian Post that in order for churches and Christians to make a difference they need to start addressing the racial issues that many in America are afraid to talk about.
"It doesn't get addressed very often," the 36-year-old Baltimore Ravens tight end told CP Tuesday. "One of the things in Martin Luther King's 'Letter From a Birmingham Jail' was his disappointment in the white Church and in many people who were saying that 'I agree that things need to change but I don't agree with your methods.' He said there was always this weight and saying how being silent when there is a certain injustice is the same as supporting it in many ways."
Watson will be participating in the upcoming "Under Our Skin" forum on race and faith that will be hosted by Tyndale House Publishers at The Crossing Church in Tampa, Florida, and feature a number of former NFL players and and hall-of-fame coach Tony Dungy.
With racial tension in America having been on the edge in the last couple years following the widely publicized police killings of unarmed African-Americans, the rise of the Black Lives Matter movement and the election of Donald Trump, the Feb. 16 event is designed to give online viewers and audience members a call to action to make a difference in their communities and churches.
Specifically for the white Church, Watson says there needs to be an "arousal of awareness" to the "reality of the pain of many in the black community and other minority communities."
"There needs to be a willingness to, because of our faith, care about the plight of someone else, even if you don't understand, even if you think black people are whining and complaining for no reason," Watson explained. "Maybe you think that is the case and that may be true in some instances, but because we are the Church, while the Gospel is paramount, the Gospel has legs. The Gospel is concerned about any sort of injustice and about loving and caring and what affects the body."
Watson then referenced the church he attended in New Orleans, the Lakeview Christian Center pastored by Keith Collins.
"It is a predominantly white church but the pastor there has made a concerted effort, considering all that has gone on over the last five years, about bringing these issues to the pulpit from a Christian perspective. From that perspective, not from the perspective of Fox News and CNN and the local news and all those," he said. "Bringing it from that perspective gets uncomfortable. White folks have to get uncomfortable a little bit and talk about race. It is uncomfortable to talk about race."
One of the main reasons people don't want to talk about race, Watson believes, is that they don't want to be called a bigot.
"I would say on the other side, from the black [believers' perspective] is understanding that all questions about race are not inherently racist. We have to give those that don't understand the ability to ask and not condemn them," the NFL player stressed. "And those who don't understand, because of their faith, have to have the willingness and desire to engage and to question. That only comes when we do those things intentionally and we are honest with each other because of the relationships that we have built."
"It is one thing to go to church with someone or be in some sort of social setting or job setting with someone; it is another thing to ask them: 'What do you think about this that just happened?' 'How do you feel about X,Y and Z?' It takes it to a whole other level but that is what happens when people really care."
Many times people get lulled into a false belief that they can't make a difference, Watson noted. But that is not true, he said, considering that each person has his or her own "sphere of influence."
"We need to break this race thing down to what can we do with the person next to us, who our kids go to the same soccer club and go to the same schools and go to the same churches with someone," he stated. "We all have our own spheres of influence and we want people to leave [the forum] and be encouraged that they can make a difference even though the world is saying that they can't. Because of the power of the Gospel, we don't have to succumb to what we are told we have to when it comes to race. We can have a unity that doesn't always agree and still has issues but we see each other as God does and hold the same amount of value for people that look like us and people that don't."
The former Georgia Bulldog and father of five, who will be releasing a new book that will serve as a guide for first-time fathers in May, added that a person's sphere of influence within his or her own family is just as important as the influence in the public square.
"I will say that the dining room table is as important as the courtroom when it comes to the change that we see and the change that we want to happen, as parents and as fathers and as mothers," he said. "The conversations and things we talk about in our household, the way we demonstrate things to our children, the honest confessions that we make when we are wrong and being able to have enough courage to admit it goes a long way to what happens out there."
With the Super Bowl LI just around the corner, Watson and his wife, Kristen, will be hosting the 2017 "Football Sunday" church program produced by Pro Athletes Outreach's media arm, The Increase.
The program, which is free and can be shown in churches across the world on the morning of Super Bowl Sunday (Feb. 5), will feature interviews from NFL stars like New York Jets' receiver Brandon Marshall and his wife, Michi; former New York Jets offensive lineman D'Brickashaw Ferguson and his wife, Kirsten; and veteran Detroit Lions wide receiver Anquan Boldin.
Watson says that each of them will talk about "some of their struggles in life and some of the things we all go through and their victories in Christ."
"This is an opportunity for pastors to use all of it or some of the program," Watson said. "It is a time where everybody is excited about football and people can invite their friends to church to watch a special video. It is an evangelistic tool."