Benjamin Watson: Trump's NFL Comment Was 'Direct Attack on Our Brotherhood'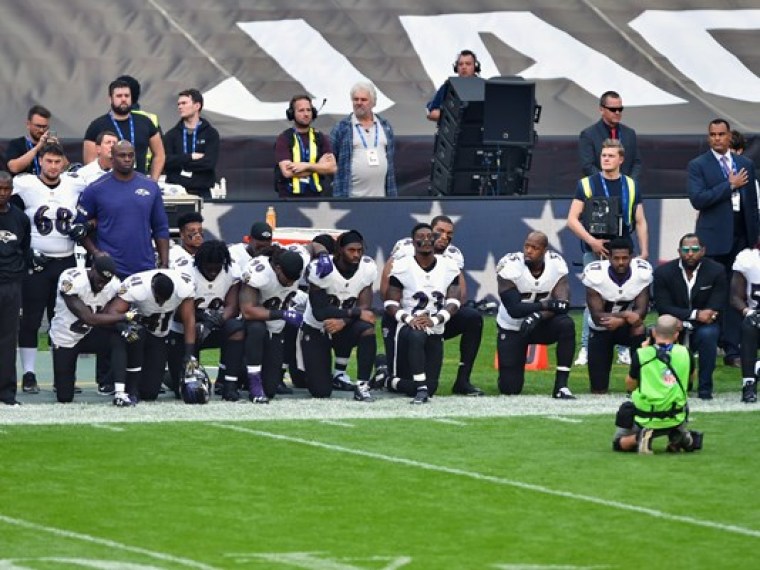 Baltimore Ravens tight end Benjamin Watson, a devout Christian and author, told ABC's "Good Morning America" on Monday that players around the National Football League felt as if President Donald Trump's national anthem comments on Friday were a "direct attack on our brotherhood."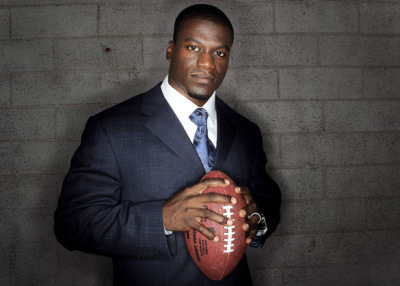 While over 200 players either knelt or sat during the playing of the "Star Spangled Banner" before the start of NFL games on Sunday, Watson, an African American, chose to stand arm-in-arm with some of his teammates during the playing of the "Star Spangled Banner" before the Ravens game against the Jacksonville Jaguars in London's Wembley Stadium.
But just because Watson and many others around the league continue to stand for the national anthem doesn't mean that they approve of Trump's comments. On Friday, the president called on NFL team owners to fire any player who chooses to kneel during the national anthem in protest of police violence against African Americans and even referred to such players by a four-word expletive.
"I will take you back to Friday. [Me and my teammates] were in London and we didn't really know about the president's comments and once that kind of filtered out and guys saw it on social media, there was a tremendous amount of emotion and there was a tremendous amount of hurt," the 36-year-old Watson explained in the interview. "We felt, as many others did, that this was a direct attack on our brotherhood."
Watson continued by stating that "the name calling is something that we don't stand for."
"Even to imply that we don't have a right to express ourselves in any way, whether you agree or not, is something that we really took to heart," Watson added.
"We felt this was a direct attack on our brotherhood." - @NFL and @Ravens star @BenjaminSWatson on President Trump's comments and reaction pic.twitter.com/Vh6pilEdZH

— Good Morning America (@GMA) September 25, 2017
According to Watson, he and some of the other Ravens players talked about how they would respond to Trump's comments, being that their game with the Jaguars was the first game to be played on Sunday.
"Chapel that morning was emotional as guys talked about what they wanted to do. Wanting to respect our country and show their love for their country but also wanting to respond in solidarity," Watson said. "It kind of was organic. We got on the field and some guys had decided to kneel that didn't before. Other guys locked arms. I locked arms and I also pointed to the skies because I really believe that the Lord will have to have His hand on us when it comes to reconciling our differences."
While a number of players on both the Jaguars and the Ravens knelt during the playing of the "Star Spangled Banner," they stood for the playing of the United Kingdom's national anthem.
Watson is not the only prominent Christian voice in football that expressed his thoughts on the anthem protests on Monday-morning talk shows. Hall of Fame coach Tony Dungy went on NBC's "Today" show and stated that Trump's comments really compelled other players who hadn't been involved in the protest movement to get involved.
Dungy said he thinks the protests on Sunday were "in favor of free speech" and a protest against Trump.
"Up until yesterday, the players would want people to know that this was not about the flag and this was not about patriotism. It was about social change," Dungy said. "Yesterday, this was a group of our family got attacked and called names and told they were unpatriotic and should be fired for what we feel is demonstrating our First Amendment right. We are going to bow up, band together as a family and they reacted. You had people who hadn't been inovled in this movement now saying I am going to side with my teammates."
"Yesterday... a group of our family got attacked ... we're going to bow up, band together as a family."- Tony Dungy https://t.co/X702fX6GJ9

— TODAY (@TODAYshow) September 25, 2017
Having authored the 2015 book Under Our Skin: Getting Real about Race. Getting Free from the Fears and Frustrations that Divide Us and being a frequent commentator on the topic of race, Watson took to his Facebook page on Sunday to host an online question-and-answer session with fans about the NFL anthem protests and Trump's comments.
One commenter on Facebook told Watson that the voices of players who protest "isn't heard because they choose the wrong method to express their protest." She added that players who want to protest should go to the courts, judges and juries "who are fully responsible for these RIDICULOUS judgements of these brutal and incompetent police officers."
"There are a few players who have been petitioning lawmakers," Watson explained. "I hope to get more involved in the future on that front."
Another commenter on Facebook said that she wishes "people who love Christ would remember He died for us — we are His heart, not a flag."
"Before we pledge to our flag, we said we gave our hearts to Him. Why can't we be the peacemakers? Why let our patriotism blind us to our calling as Jesus followers?" the commenter asked. "I think He would be hurting for those who hurt and are pleading for justice, for those who wonder if their voices will ever be heard and understood. I'm so disenfranchised with the church at this point. I'm extremely sickened by the support of righteous anger for a flag and blatant disregard for human hearts."
Watson responded:
"Many in the church have erroneously equated america with Christianity as if the two were synonymous. They have failed to live the gospel and created a form of patriotism gospel. This is not all the church by any means but there has been enough that many have been hurt and felt abandoned by the church. This should not be. We must realize that we in the church are not perfect and are influenced by our own desires and pride. The good news is that the Holy Spirit can open our eyes. This is why we need each other to encourage and sometimes correct each other."