Benny Hinn Asks for 'Seed' Donations at Trinidad and Tobago Crusade
Christian Evangelist Said to Request $100 Donations From Thousands at 'Miracle Healing Service'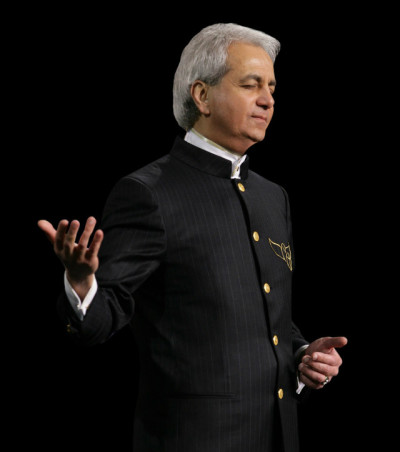 Traveling evangelist Benny Hinn's most recent "Miracle Healing Service" took place in the Caribbean nation of Trinidad and Tobago over the weekend, and the Texas-based Christian minister reportedly asked the thousands in attendance to each give a $100 donation to help defray expenses for the two-day event, hosted by a local Pentecostal church.
According to local media reports, Hinn told an estimated 12,000 people at Saturday's meeting at Hasely Crawford Stadium in Port-of-Spain that he did not accept any gifts or take "even half a cent" in payment for the weekend evangelistic services. "I am doing this freely, because I love Trinidad," he reportedly said, adding that donations would not be for him "but for the kingdom [of God]."
Newsday Trinidad and Tobago reports that the 60-year-old prosperity preacher "urged believers to contribute US$100 or its local equivalent TT$600" to help cover expenses for the Saturday-Sunday events, which many attended in hopes of experiencing a miracle healing. The publication adds that Hinn described donating as "sowing a seed" and reportedly told worshippers that giving money would result in prosperity in their lives.
"You will produce a harvest for the rest of your life. There will be a miracle in your finances and that of your family," the publication reports Hinn as saying. The evangelical Christian minister emphasized that the monies given would remain on the island "for God to take care" of the people.
The publication reports that many in attendance made contributions.
Woodbrook Pentecostal Church hosted the weekend events, which were free to the public, as is often the case with Hinn's evangelistic events.
During the Trinadad and Tobago events, Hinn was said to have been short with members of the media, chastising photographers for snapping pictures of him while he was talking and yelling at a cameraman who attempted to fix a wire leading to the stage.
Trinidad Express Newspapers reports that Hinn preached "on the eternity of the soul" and rejected the notion that religion can save people from damnation.
"Religion cannot save you, it can only destroy you," Hinn reportedly said, pointing to a belief in Jesus Christ as being necessary to enter heaven.
Benny Hinn Ministries gave a brief update Monday on its social networks regarding the Caribbean crusade, writing: "What powerful services we've seen this past weekend in Trinidad & Tobago. God has moved so powerfully with signs, wonders, and many salvations. Thank you for your prayers!"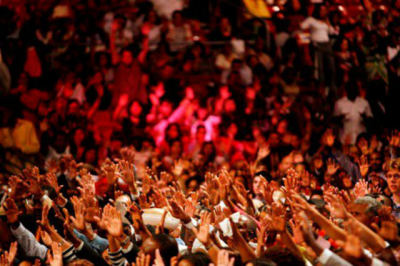 The April 13-14 crusade was Hinn's fourth visit to Trinidad and Tobago, with previous visits occurring in 1999, 2006 and 2011. The popular evangelist, who recently remarried his wife Suzanne Hinn at TBN's the Holy Land Experience in Orlando, travels all over the world throughout the year holding evangelistic "miracle healing" services. The services are marked by Hinn praying for those seeking to be healed from various ailments, a practice common among some Christians. However, the charismatic evangelist attributes his ability to heal people to an "anointing," or supernatural power from God.
While his purported healing claims have come into question, Hinn has also been criticized for his prosperity gospel, or word of faith teachings that promise worshippers material blessings from God in exchange for giving money, sometimes described as a "seed offering," with the extent of their return tied to the depth of their faith.
Hinn, who is reportedly worth $42 million, has been involved in Christian ministry for 36 years and helps to house orphans through global missions organizations, explains the concept of "seed offerings" in a recent newsletter on his website in which he makes an appeal for an "unusual seed."
"It is time we step out and do the unusual with our giving, for unusual days are here. God is looking for a people who will do the unique with Him and for Him," reads the newsletter signed by Hinn. "I am asking you today to sow an unusual seed, believing God for an unusual harvest. As you do this, I believe you will see extraordinary miracles come your way. The days ahead are dark for the world and bright for you!"
The newsletter adds, "Plant your seed-gift into the fertile soil of this ministry, knowing our Lord's clear-cut instructions: 'Give, and it shall be given unto you; good measure, pressed down, and shaken together, and running over, shall men give into your bosom. For with the same measure that ye mete withal it shall be measured to you again' (Luke 6:38). Sowing and reaping works! Unusual faith moves the hand of God!"
In the newsletter, Hinn specifically mentions "massive financial" needs for each of his 2013 crusades. He adds that "as we sow heavily into the harvest of souls ... I ask you to prayerfully consider being part of it!"
The minister, whose World Healing Center Church is located in Grapevine, Texas, has explained previously his views on prosperity teachings, saying, "I believe biblical prosperity is scriptural, and it is taught throughout the Bible." Hinn has tied such teachings specifically to his ability to "take the life-saving, miracle-working Gospel of Jesus Christ to the nations!"
Hinn was included in a 2007 Senate investigation into the financial dealings of several high-profile prosperity preachers, and shared his financial information as requested. He claims he was recognized by the U.S. Senate Finance Committee for "[engaging] in open and honest dialogue" and for "[providing] information over and above what was requested."
The evangelist, who was recently highlighted negatively in a song called "Fal$e Teacher$" along with Christian ministers T.D. Jakes, Paula White and others, shares information regarding his ministry's financial accountability on his website.