Best-Seller 'Jesus Calling' Is Built on Falsehood, Says Christian Author Randy Alcorn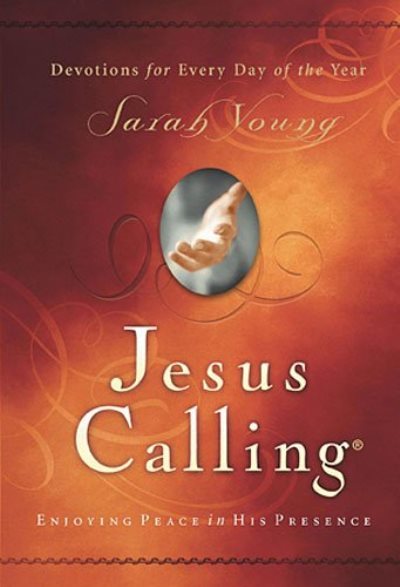 Author Randy Alcorn has been hesitant to express his concerns about the best-seller devotional Jesus Calling by author Sarah Young.  But given its popularity and the recent win of its follow-up, "Jesus Always," 2018 Christian Book of the Year, Alcorn is now speaking out.
The book is not full of heresies, he clarified. But he indicated that it is wrong for Young to portray her thoughts as if they were the real words of Jesus Christ.
While noting that he does not want to argue that "God doesn't or can't speak to you or others," his big problem with Jesus Calling — which combined with its spinoffs have sold more than 25 million copies worldwide — is that Young presents text as if it were Jesus' direct words for others.
"The biggest problem with Jesus Calling is very simple: Jesus did not speak these words. If these were His words, then Jesus Calling would be Scripture, which is by definition the words of God," the author explained.
"So if it's not (and it isn't) on an inspired and trustworthy level like Scripture itself, then it's making a false claim. In fact, regardless of whether it's biblically sound, it's an entire book built on falsehood." 
According to the book's description, the book is a daily devotional based on what she heard from God in her quiet times.
A publicist for Harper Collins responded to Alcorn's criticism when contacted by The Christian Post, by pointing to Young's explanation in the introduction to her 2004 devotional.
In the introduction, Young says, "I decided to 'listen' with pen in hand, writing down whatever I 'heard' in my mind. As J. I. Packer wrote in his book Your Father Loves You: 'God ... guides our minds as we think things out in his presence.' This is how I was listening to Him — by focusing on Jesus and His Word, while asking Him to guide my thoughts. I was not listening for an audible voice; I was spending time seeking God's Face (Psalm 27:8 nkjv).
"My journaling thus changed from monologue to dialogue. This new way of communicating with God became the high point of my day. Of course, I knew my writings were not inspired — as only Scripture is — but they were helping me grow closer to God. This became a delightful way to encourage myself in the Lord (1 Samuel 30:6 kjv)."
She adds, "The Bible is the only infallible, inerrant Word of God, and I endeavor to keep my writings consistent with that unchanging standard. I have written from the perspective of Jesus speaking, to help readers feel more personally connected with Him." 
Alcorn, who is the founder and director of Eternal Perspective Ministries, said of Young's book, "I'm certainly in favor of Sarah or anyone else journaling what they believe God is speaking to them as they read Scripture. But I'm not in favor of publishing it for others to believe these are words God is speaking to them."
"If someone wrote a book attributing their own words to Bill Gates, Tom Brady, Chuck Norris, or Julia Roberts, what would happen? In addition to the lawsuits, no one would trust the author."
He pointed out that there are very few Christian authors who claim to speak words directly from God. And even though some share their own interpretation of what Jesus said, he noted that Young "appears to be making a greater claim by saying me and mine and I as though channeling Jesus, rather than quoting His words from the Bible."
Pastor Tim Challies of Grace Fellowship Church in Toronto, Ontario, also expressed his concerns with the book in 2015, calling it "troubling."
"Jesus Calling makes the boldest, gutsiest, and, to my mind, most arrogant claim of any book ever to be considered Christian," Challies argued.
"There is no way to avoid her claim that she is communicating divine revelation, a claim that raises a host of questions and concerns, not the least of which is the doctrine of Scripture alone which assures us that the Bible and the Bible alone is sufficient to guide us in all matters of faith and practice."
Still, some popular Christian celebrities, such as Justin Bieber, have endorsed the book, with the popstar encouraging in 2016 his millions of fans around the world to read and study the devotional.