Beyonce Says Family Ties to Civil Rights Movement Inspired Gospel Performance at Grammys as Ledisi Controversy Lingers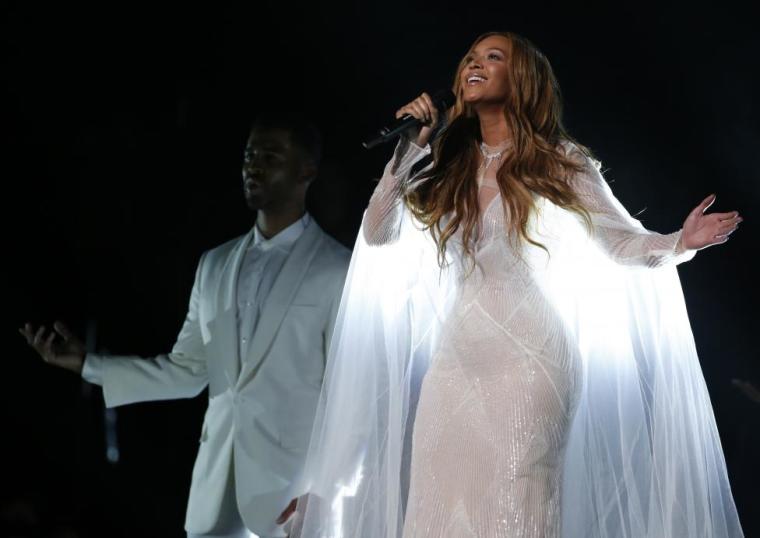 Beyonce recently shared the inspiration behind her Grammy performance after it sparked controversy on Sunday night.
The iconic pop star belted out a heartfelt rendition of Mahalia Jackson's "Precious Lord, Take My Hand," which was recreated by singer Ledisi in the Academy Award-nominated film "Selma." She said the performance was inspired by her family ties to the civil rights movement.
"My grandparents marched with Dr. King and my father was part of the first generation of black men that attended an all-white school," Beyonce said in a rehearsal interview. "My father has grown up with a lot of trauma from those experiences. I feel like now I can sing for his pain, I can sing for my grandparents' pain. I can sing for some of the families that have lost their sons."
Despite putting on a heartfelt show, Beyonce's performance was overshadowed by controversy with critics asking why the Grammy Award-winning artist was selected to sing the gospel track over "Selma" actress Ledisi.
"I don't have a clue," Ledisi, who played Jackson (a gospel singer) in "Selma," told ET Online when asked why Beyonce sang instead of her.
Beyonce is said to have approached John Legend and Common, who performed their Academy Award-winning song "Glory," about singing Jackson's song, but did not consult Ledisi. The singer told The Associated Press that she was "a little disappointed."
"But I got over that and I had to look at the positive and empower women. We have to empower each other. It's a great thing. And one day I'll be on that Grammy stage. Every artist wants to be on the Grammy's stage. That's part of our career is to be there. So my time will come when it's time," she told AP on the red carpet prior to Beyonce's performance.
She also gracefully told ET, "What I will say and what I'm excited about is that I had the pleasure of playing an iconic figure in 'Selma,' and the song, 'Take My Hand, Precious Lord.' It's been going on forever, –starting with the queen Mahalia [Jackson], the queen of soul Aretha Franklin."