Beyonce Urges Fans to Support NAACP's Efforts to Help Ease Unrest in Baltimore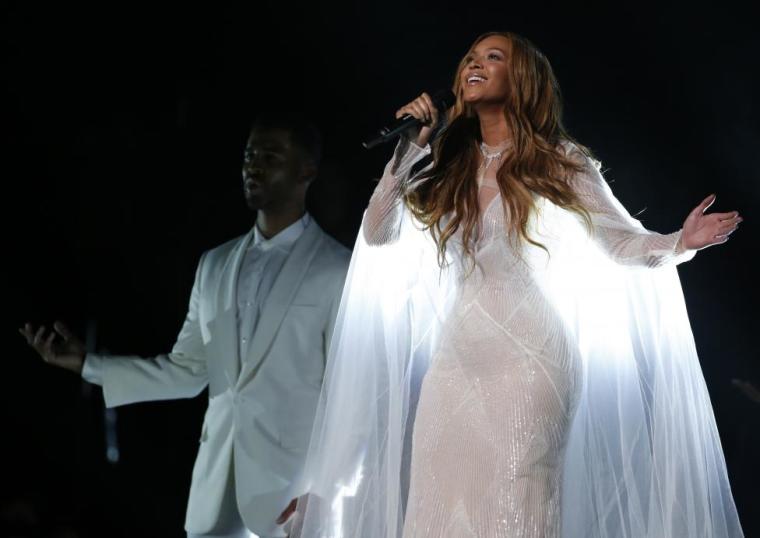 Iconic singer Beyonce recently urged fans to donate money to the National Association for the Advancement of Colored People in a bid to support the organization's efforts to ease civil unrest in Baltimore.
In an Instagram post shared with her 31 million fans on Thursday, the Grammy award-winning artist wrote "people are hurting" in a caption beneath a photo of a man wrapped in what appeared to be the American flag with various names on it, including Freddie Gray. The post garnered 300,000 likes within the first three hours of its posting.
"Join us in supporting the NAACP to help in the cleanup efforts and to provide housing, food and supplies to those affected by the unrest in Baltimore," she wrote alongside a link that directs you to an NAACP donation page.
She also posted the cover from the latest issue of Time magazine, which likens the Baltimore riots to the civil rights movement of the 1960s.
Gray is the 25-year-old African American man whose suspicious death on April 19 sparked riots in Baltimore and racial unrest. He died one week after he was fatally injured while being taken into custody by police in West Baltimore on April 12 on weapons charges.
The NAACP is America's oldest and largest civil rights organization and last week Cornell William Brooks, who is organization's President & CEO, issued a statement on Gray's death. Gray was laid to rest on Monday after an emotional service at New Shiloh Baptist Church in West Baltimore.
"The NAACP is deeply saddened by the series of events that lead to the tragic and senseless death of Freddie Gray, another African-American man, at the hands of those sworn to protect and serve the community," the statement read. "Mr. Gray's death is a grim reminder of the urgent need for criminal justice reform. This latest tragedy raises deeply troubling questions about police brutality, accountability and the excessive use of force. … We extend our sincerest thoughts and prayers to the friends and family of Freddie Gray."
Last week, the case instantly sparked national outrage and triggered looting and violent clashes between police and local activists. The ongoing riots began in Baltimore and extended to New York on Wednesday night and reported arrests in both cities are said to have exceeded the 500-mark.
On Monday, at least 500 National Guard troops were deployed in an attempt to quell the violence.
According to Gray's family, his larynx was crushed and his spinal cord was "80 percent severed at his neck," as he rode in a police paddy wagon. He then slipped into a coma before dying one week later.
Baltimore police officers who participated in the arrest have been placed on paid leave pending an investigation.
Attorneys for Gray's family suggested that he might've been illegally pursued, and an autopsy has revealed that he died from a severe spinal cord injury.
A Baltimore police investigation into Gray's death has found no evidence as a result of injuries caused during his arrest, according to CNN affiliate WJLA who cited "multiple law enforcment sources" for their findings.
Sources quoted by WJLA stated that the medial examiner determined Gray's death was caused by catastrophic injury after he slammed into the back of the police transport van, "apparently breaking his neck; a head injury he sustained matches a bolt in the back of the van."
Gray's family recently condemned the violent protests while calling for justice.
"My family wants to say, 'Can y'all please, please stop the violence,'" Gray's twin sister, Fredericka, said on Saturday. "Freddie Gray would not want this."
On Tuesday President Obama condemned the violence but also acknowledged that there are deep-rooted systematic issues across the nation.
"We have seen too many instances of what appears to be police officers interacting with individuals, primarily African-American, often poor, in ways that raise troubling questions. It comes up, it seems like, once a week now," he said later adding "There's no excuse for the kind of violence that we saw yesterday," Obama said. "It is counterproductive. When individuals get crowbars and start prying open doors to loot, they're not protesting, they're not making a statement, they're stealing."