BGEA Blasts North Korea for Claiming Billy Graham Called Kim Il Sung a 'God'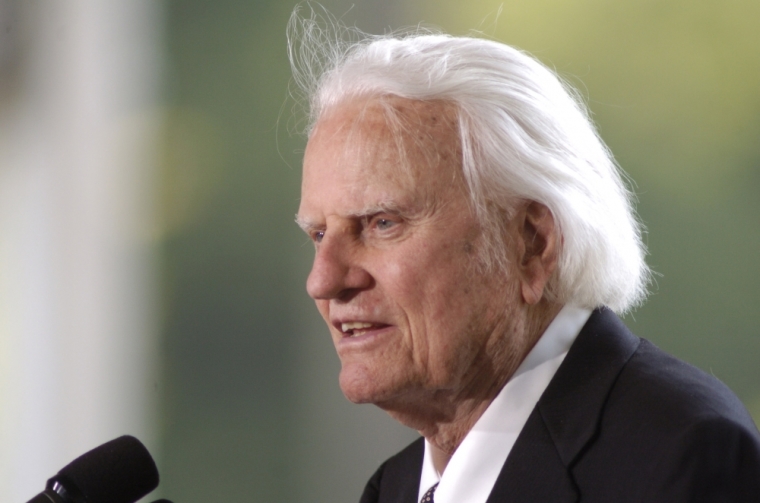 The Billy Graham Evangelistic Association is calling out North Korean media for reporting a false claim that world-renowned evangelist Billy Graham once said that former communist leader Kim Il Sung "might be a God."
According to NKNews.org, North Korea's state newspaper Rodong Sinmun celebrated Kim's 104th birth anniversary by proclaiming last Friday that even foreign religious leaders believe Kim was like a God.
As the 97-year-old Graham visited the North Korean capital of Pyongyang in 1992 and 1994, Rodong Sinmun quoted Graham as saying that he met the "greatest of all human beings" who is "the saint of saints."
"Not believing in God but believing in his people, Premier Kim Il Sung who governs the country in his own way made me think that he might be God," the publication claims Graham said in 1992. "I admit that Premier Kim Il Sung is God who exists in the world of human beings … he, with his supreme political belief and method has created the greatest heaven on earth that even God might have not been able to do."
According to The Washington Post, the North Korean article also claimed that Graham questioned why a country like North Korea would "need the Holy Bible" because "Kim is the world's God."
"Having observed the Supreme Leader Kim Il Sung's unique political leadership, I can only think that he is God," North Korea's state newspaper falsely claimed Graham said. "If God is the leader of another world, savior and ruler of the past and future life that exists in our imagination, I acknowledge the Supreme Leader Kim Il Sung is the God who rules today's human world."
The BGEA decried the North Korean media's claims in a statement released to NK News through the organization's spokesman Jeremy Blume.
"While Billy Graham made two trips to North Korea and knew the elder president Kim Il Sung, Mr. Graham has not said anything like this," the statement reads. "These words do not even remotely resemble Mr. Graham's theology or his language."
As Rodong Sinmun's false claims cannot not be verified, NK News reports that North Korean media database KCNA Watch shows that no such claim about Graham's alleged comments were included in the only three Korean language articles previously written that reference Graham.
As the North Korean regime has been known to portray the Kim family as Gods to be revered, it is not too far fetched to think that the quotes attributed to Graham were made up to support the lies being fed to the North Korean people.
Eric Foley, a pastor with the human rights group Voice of the Martyrs, told NK News that this claim made by the North Korean media should serve as ample reason for prominent figures not to go to North Korea.
"Your reason for visiting will never be heard by North Koreans," Foley said. "Only the words the government wants you to say will be heard."