'Bible Islands' Offers Virtual World for Kids, Alternative to 'Satanic' Games
'Bible Islands' Offers Virtual World for Kids, Alternative to 'Satanic' Games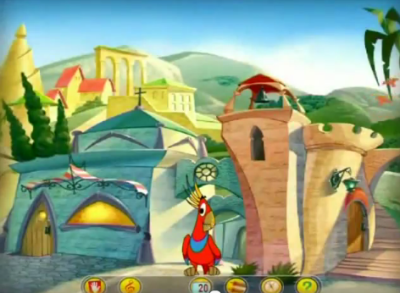 In the world of diverse and often vulgarity-filled media, "Bible Islands," a Bible-based virtual world for children, is a safe haven, Gil Ilutowich, president of the company behind the venture told The Christian Post.
"Bible Islands" is the world's first Christian online world for children – like a G-rated version of Second Life, designed to educate and spread the Gospel. Children are expected to increase their knowledge of the Bible as well as other subjects while having interactive fun at the same time, Ilutowich told CP. Furthermore, parents can feel secure about leaving their children in that virtual reality, or even joining them.
"On the Internet, there are many evil things. Many things about violence, darkness; and 'Bible Islands' – it's the opposite," Ilutowich said. "It's safe, it's interactive, it's fun, but in a way that [allows children to] learn the Bible, learn everything through games, through stories, movies,"
The virtual creation is a real alternative for the hard-to-monitor reality of the Internet, he added; "for all these Satanic games that are so violent, so bad, have bad influence on the children."
"We are coming with light to children; this is the Bible," Ilutowich told CP.
In "Bible Islands" children create their own avatars and explore the virtual world with a young, female cartoon friend, Captain Kate. They solve puzzles and play "safe" games that are designed to develop their creativity and educate them. "Bible Islands" even gives an opportunity for its members to connect with each other through "secure" messages. The virtual world also has its own virtual currency of golden coins, which children can win for succeeding in their challenges.
The task of linking three elements – children's interest, the Bible and educational material – was a challenging one, but Ilutowich claims the company succeeded.
"What we found out is that children actually like to be in Bible Islands. It's engaging," he told CP. "They have their own house, their own avatar. (…) They interact with other children in a safe mode."
"And eventually, they know the Lord through this, so what more can we ask?" he added.
Ilutowich considers this task a spiritual call, a ministry, he told CP. Technology opens routes that allow spreading the knowledge about Gospels in ways not available before.
"It's within the New Testament – when the Messiah comes, all eyes will be able to see him," he told CP. "So we are living in that time now." Since children do not read books anymore, "this is the time to bring the Gospel, through the technology, through the Internet, so every eye would be able to see Jesus and see the Bible and the stories from the Bible and know what God is."
"Bible Islands" recently started cooperating with other Christian companies and organizations, including Thomas Nelson, the largest Christian publisher, and OneHope, an international children's evangelism ministry based in Florida. OneHope missionaries are going to spread the Gospel through "Bible Islands" to some 19 million children across the globe every year, Ilutowich said.
Ilutowich is head of Compedia, a game publisher established in 1988. Compedia has sold millions of games in 40 countries and has dozens of award-winning titles available in 35 languages. Another game created by the company is "JLand" – a virtual world for Jewish children.
All games were developed in cooperation with leading pedagogical advisors and child psychologists, according to a statement on the company's website.