Biblical Illiteracy in US at Crisis Point, Says Bible Expert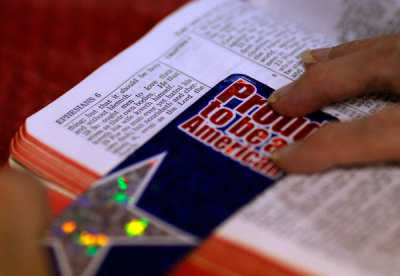 For the past 15 years that Kenneth Berding has been teaching the New Testament, he admits that his students have always had little knowledge about the Bible. But today, he says, biblical illiteracy has reached a crisis point.
"All the research indicates that biblical literacy in America is at an all-time low," Berding, professor of New Testament at Biola's Talbot School of Theology, told The Christian Post. "My own experience teaching a class of new college freshman every year for the past 15 years suggests to me that although students 15 years ago knew little about the Bible upon entering my classes, today's students on average know even less about the Bible."
In an article, titled "The Crisis of Biblical Illiteracy and What We Can Do About It," for Biola University's magazine, Berding described the problem as a famine. And he's not being overly alarmist, he maintained.
"Christians used to be known as 'people of one book.' They memorized it, meditated on it, talked about it and taught it to others," he wrote. "We don't do that anymore, and in a very real sense we're starving ourselves to death."
"If I sound alarmist, I'm not alone. These days many of us don't even know basic facts about the Bible."
According to the 2014 "The State of the Bible" report by Barna Group and American Bible Society, a majority of U.S. adults (81 percent) said they consider themselves highly, moderately or somewhat knowledgeable about the Bible. Yet less than half (43 percent) were able to name the first five books of the Bible. The statistics are similar to the previous 2013 report which also showed that only half knew that John the Baptist was not one of the 12 apostles.
In his own experience, one student, Berding recalled, did not know that Saul in the New Testament was different from King Saul in the Old Testament. Another student thought the Old Testament figure Joshua was the son of "a nun," unaware that "Nun" was actually the name of the father and not a member of a Catholic community of women.
What's contributing to the decline in biblical literacy is the way Americans view the Bible, Berding believes.
"[M]any Americans don't consider the Bible to be authoritative, that is, they don't consider the Bible to place a claim on their lives," he lamented. "They may consider the Bible to be important in a general sort of way, but this is a far cry from believing that God has communicated His will through this book and therefore it is binding upon your actions."
The 2014 Bible survey found that although most people own a Bible, just a little over a third (37 percent) of Americans read the holy book once a week or more. Over a quarter (26 percent) of Americans never read the Bible.
The Bible is basic to the Christian life, Berding underscores, and it is through this book that the Gospel message – "the death and resurrection of Jesus Christ is the solution for broken and needy sinners" – is revealed.
So when Christians are disengaged from or just lightly engaged with the Word of God, they are sinning, Berding stated bluntly.
"James, the half-brother of Jesus and the first century leader of the church in Jerusalem, put it this way: 'Therefore, to one who knows the right thing to do and does not do it, to him it is sin,' (James 4:17)," the California professor explained. "Neglecting to read the most precious of all books, God's revelation to us in the Bible, is sin."
Christians are to read the Bible and to read it so frequently that they learn it well enough to be able to think about it throughout the day, he emphasized.
"I do not believe that most Americans realize that their very light (or lack of) engagement with the Bible is serious," Berding, whose concerns are laid out in Bible Revival: Recommitting Ourselves to One Book, pointed out.
"Some of this is because they have breathed in postmodern assumptions that distrust metanarratives."
Other reasons contributing to the decline in biblical literacy, he listed, include: self-reliance (not believing that there should be any authorities outside of themselves); distractions such as social networking, texting and entertainment; unwarranted overconfidence (the sense that we know a lot about the Bible because we grew up going to church); and being "too busy."
"[W]e have somehow been hypnotized into believing that it is not very important that we carve out dedicated time to read and learn the Bible," he added.
Berding fears that although the U.S. Christian movement may appear strong, particularly to someone overseas, the foundation is crumbling largely because of a lack of engagement and submission to the Bible.
"The building hasn't come down yet, but the next strong wind might just do the job."