Biden broke law by halting border wall construction approved by Congress, GOP lawmakers say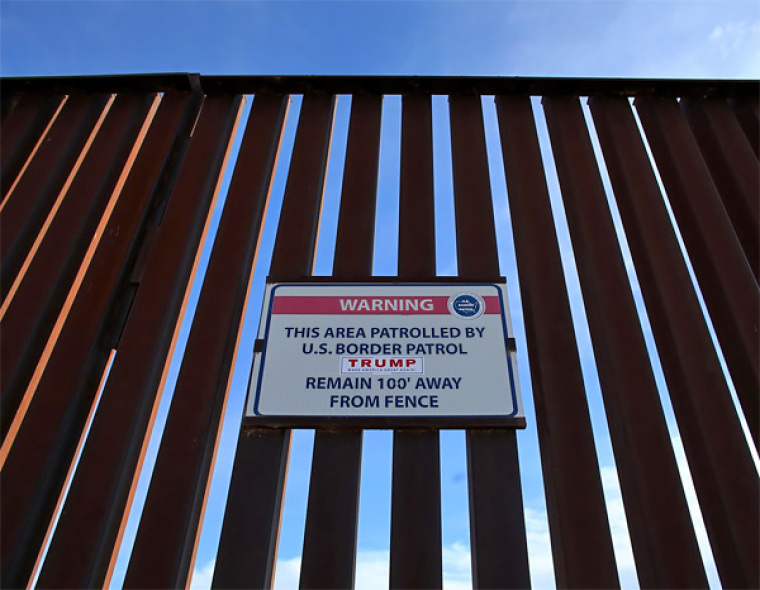 Republican lawmakers urged the U.S. Government Accountability Office to weigh in on the legality of President Joe Biden halting border wall construction, which they argue violates federal law and has caused "an unfortunate, yet entirely avoidable scenario" at the overwhelmed southern border.
Biden rolled back many Trump-era policies on his first day in office through sweeping executive orders, including a proclamation to suspend border wall construction and re-direct Congress-approved funds. The proclamation argued the border wall "is not a serious policy solution" and a "waste of money."
Freezing funds appropriated for border wall construction is unauthorized, two congressional letters written to the Government Accountability Office claimed.
Congress already approved almost $1.4 billion in funding for the border wall in December 2020 for the fiscal year 2021 as part of President Donald Trump's $900 billion stimulus package.
More than 60 House members and four GOP senators signed a letter released Tuesday asking the GAO to investigate and give a legal opinion on Biden's decision to freeze funds approved by Congress to suspend border wall construction.
The members of Congress contend this action violated the Impoundment Control Act.
The House members wrote the letter asking to be added as co-requesters of the letter sent by 40 GOP senators on March 17. 
The March 17 letter signed by senators including Minority Leader Mitch McConnell, R-Ky. also argued that Biden's action to end border wall construction violated the Impoundment Control Act. The senators called for the GAO's legal opinion on the matter.
The letter said Biden's executive order led to compromised operational control of the southern border and a national security crisis. 
"They are also a blatant violation of federal law and infringe on Congress's constitutional power of the purse," the letter reads.
The senators further alleged that the Biden administration's actions have "real consequences for our nation."
"GAO has rightly concluded that '[f]aithful execution of the law does not permit the President to substitute his own policy priorities for those the Congress has enacted into law,'" the senators' letter stated. "Yet with this Proclamation, the President has done just that. The legal result of those actions is an impoundment of funds in violation of the ICA. The practical result is a growing crisis across our southern border. We will abide neither."
Over 452 miles of the southern border wall were constructed during the Trump administration, according to Customs and Border Protection data from January 2021. 
Texas Sens. Ted Cruz and John Cornyn led a delegation of GOP senators to visit the southern border last week to see the unfolding crisis at the border.
Sen. James Lankford, R-Okla., posted a video on Instagram to show overcrowded immigration facilities. One video showed a pod designed to hold 80 people that held 709 kids.
"I understand why the Biden team does not want cameras in this location …," Lankford said. "None of this was true three months ago. Literally, when President Biden came in and announced that he was changing the policy, they showed us the stats [where] it skyrocketed in February and March for these individuals to come it, and it has created this huge crisis."
He shared that many individuals are released into the U.S. with limited processing due to the border patrol being overwhelmed with the massive surge of immigrants.
"This is a massive crisis that's going to be rolling for a very long time in the United States with the amount of drugs that are going to flow through freely and the amount of criminals that are able to move …," Lankford shared. "This is a rolling, growing, accelerating crisis."
Lankford had previously voiced concern with Biden's plans to halt border wall construction on the Senate floor on March 16. 
"Now, it may be hard to be able to see in this, but miles and miles of new fencing are going in, but on the day January the 20th, construction was halted. And in this particular area, miles and miles of fencing, except for these gaps in the fence," he said. 
"See, those gaps were put in there to be actually gates. So if they have to take care of the fence, they can get access to both sides of it for this miles and miles and miles, and fencing is done except for the gate area. And literally, the steel for the gates are laying on the ground. Why in the world would you do construction and have it stop to say, 'you can build everything except close the gates?'"
Biden on Wednesday appointed Vice President Kamala Harris to "lead the effort" to address border and immigration challenges.
"There's no one better capable to organize this," Biden said.
"Needless to say, the work will not be easy, but it is important work," Harris said.
Neither Biden nor Harris has visited the southern border since assuming office.
In Biden's first formal press conference since taking office on Thursday, he said he should be "flattered" immigrants are trying to cross the southern border because he is "the nice guy."
Biden said a "significant increase" at the border happens every year in the winter months and claimed, "nothing has changed."
There are currently over 16,000 unaccompanied migrant minors held in custody as facilities are overcrowded, according to CBS News.
Secretary of Homeland Security Alejandro Mayorkas said in a statement Wednesday that the U.S. is set to receive more migrants at the border than any time in the past 20 years.
In a Fox News interview, Trump said the immigration surge and border crisis under Biden is a "horrible situation" and "no one has seen anything like it."
Last Sunday, Mayorkas argued that blame for the unfolding crisis at the southern border should be put on the Trump administration and alleged that the previous administration's disruptions in the immigration system are the reason why holding facilities are being overwhelmed with unaccompanied minors. 
"There was a system in place in both Republican and Democratic administrations that was torn down during the Trump administration," Mayorkas said on CNN's "State of the Union."