Biden touts efforts to protect 'religious freedom,' condemns persecution in annual proclamation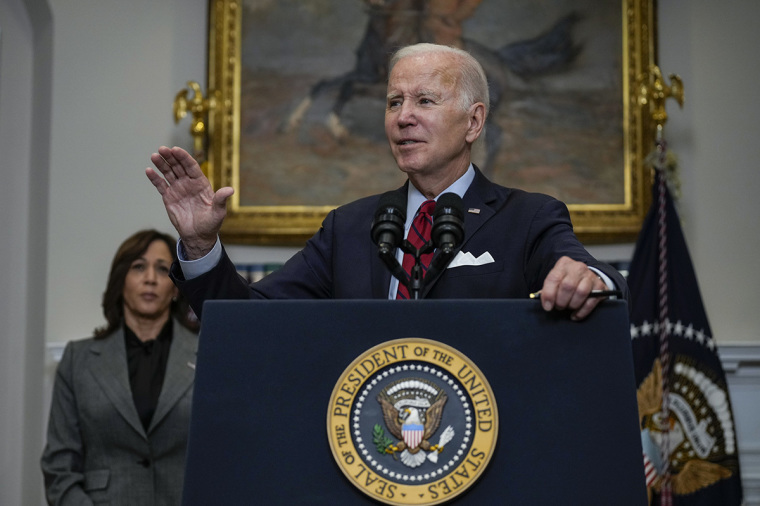 President Joe Biden touted his faith and condemned religious persecution worldwide in declaring Monday Religious Freedom Day, even as critics contend that his administration has demonstrated hostility to religious liberty in the United States.
Biden issued a presidential proclamation Friday designating Jan. 16 Religious Freedom Day. In the message, the president stressed how "faith has sustained me throughout my life," adding, "for me and so many others, it serves as a reminder of both our collective purpose and potential in the world."
The Religious Freedom Day proclamation has been issued annually by presidents dating back to 1993, marking the 1786 passage of the "Virginia Statute for Religious Freedom" authored by Thomas Jefferson. 
The 80-year-old Catholic lamented that "for far too many people within our borders and beyond, practicing their faith still means facing fear and persecution." He stressed that "religious freedom" is the "freedom to practice religion fully and freely or to practice no religion at all" and "is enshrined in our Constitution." 
Biden listed his administration's efforts to advance religious freedom worldwide, including allocating $20 million to "promote religious freedom and protections for members of religious minorities globally" to "ensure that people everywhere can practice their faiths free from fear."
He also listed the establishment of the "Protecting Places of Worship Interagency Policy Committee." The president recalled that the White House hosted its first summit on combating hate-motivated violence in September. 
"In December, I established a new interagency group to increase and better coordinate the Federal Government's efforts to counter antisemitism, Islamophobia, and other forms of bias and discrimination within the United States," he stated.
"As a founding member of the International Religious Freedom or Belief Alliance, we also have coordinated with partners around the world to promote the rights of religious minority groups and combat persecution."
He also highlighted the implementation of "training on religious freedom and its central importance to our work."
Biden's proclamation comes as his administration has faced pushback from religious liberty advocacy groups for policies that critics say force religious adherents in the U.S. to take actions that violate their deeply held beliefs.
The administration implemented a rule barring healthcare providers from refusing to discriminate based on "sexual orientation and gender identity." Opponents warn that it could force religious doctors, hospitals and healthcare providers to perform or cover genital-mutilating surgeries on trans-identified individuals in violation of their religious beliefs about gender and sexuality.
Both the 5th U.S. Circuit Court of Appeals and the 8th U.S. Circuit Court of Appeals have found the rule unconstitutional. 
In December, Biden signed the so-called Respect for Marriage Act after being passed by the Democrat-controlled Congress with support from a handful of Republicans.
Religious freedom groups expressed concern that the law could trample on conscience protections for religious business owners who object to same-sex marriage. Some business owners believe that providing services celebrating such unions, including wedding cakes, floral arrangements and websites, would violate their convictions that marriage is a union between a man and a woman.
While the president condemned the "intimidation, violence, and unequal protection under the law" faced by religious communities worldwide, pro-life advocates believe that his administration has not done enough to thwart the "intimidation, violence, and unequal protection under the law" that they experience in the U.S.
The conservative advocacy group CatholicVote launched a $1 million ad campaign ahead of last year's midterm elections to highlight what the organization characterized as the "inaction of the Justice Department" in response to the targeting of churches for vandalism.
The ad featured video footage of headlines reporting attacks directed at churches followed by an empty podium to indicate a lack of response from "our second Catholic president."
CatholicVote previously sent a letter to the U.S. Department of Justice about the attacks on churches and pro-life pregnancy centers amid a rising trend of vandalism and arson following the leaking of the U.S. Supreme Court's June opinion overturning the national right to abortion.
Catholic Vote urged the administration to "commit to vigorous efforts to prevent them, and to investigate and prosecute them; and to proactively engage with the affected faith communities to ensure their concerns and security needs are being met." 
"The relative silence from the Administration endangers Americans even more," the letter contended.
Bill Donohue of the Catholic League for Religious and Civil Rights echoed similar concerns in a letter to top Republicans on the U.S. Senate Judiciary Committee. He suggested that the Department of Justice was imposing "unequal justice under the law" by raiding a pro-life activist's home with a SWAT team while taking little action to address the violence directed at churches and pro-life pregnancy centers by pro-abortion groups. 
Donohue's letter followed the arrest of pro-life activist Mark Houck on charges that he "twice assaulted a man because he was a volunteer reproductive health care clinic escort" in violation of the Freedom of Access to Clinic Entrances (FACE) Act. A GiveSendGo fundraiser set up to cover Houck's legal expenses asserts that the clinic escort was "harassing" the pro-life activist and his son as they prayed outside a Philadelphia Planned Parenthood clinic and that Houck "pushed him away" as he "continued yelling at Mark's son."
"There seems to be much interest in pursuing alleged wrongdoing by pro-life activists, yet little interest in pursuing alleged wrongdoing by abortion-rights activists," Donohue wrote. "This kind of overreaction to a minor infraction of the law is deeply troubling, and it becomes even more troubling when paired with the underreaction by the Department of Justice when the pro-life side is targeted."