Big Daddy Weave Goes Back on Tour After Jason Weaver's Release From Hospital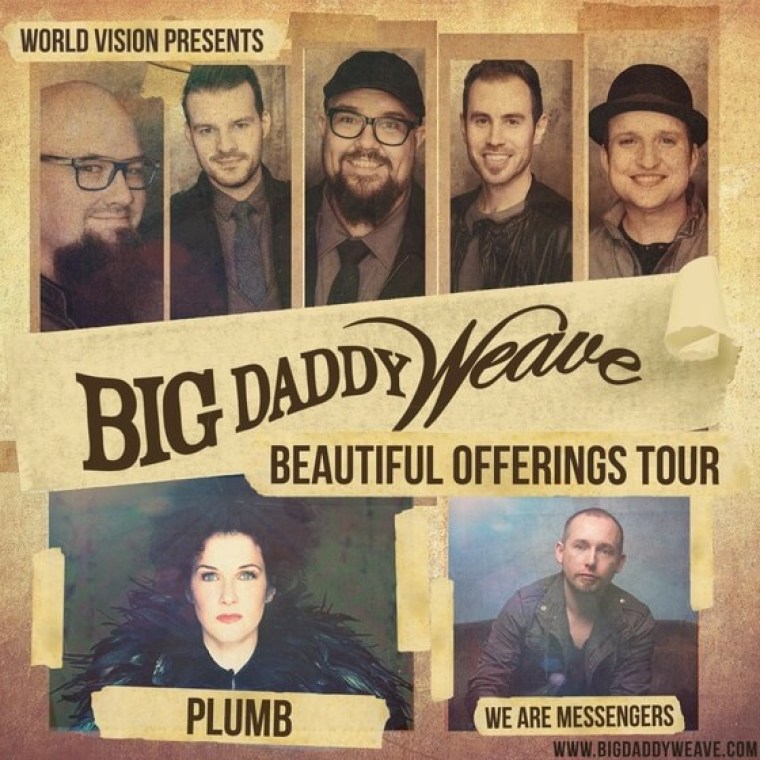 Big Daddy Weave is gearing up to head back out on tour just one month after a life-threatening infection led to bassist Jason Weaver having an emergency double amputation.
The band had quite the scare when Jason had to undergo surgery to remove both of his feet last month. Through it all the band stayed hopeful and now that Jason is home recovering, the guys have decided to head back out on the road for the fourth edition of their Beautiful Offerings Tour.
Hitting venues across the country, the tour is set to kick off Aug. 18 in Watertown, South Dakota, featuring Plumb and breakout artist We Are Messengers. The 50-city tour, sponsored by World Vision, will conclude Nov. 20 in Charlotte, North Carolina.
"I am looking forward to this tour in so many ways," said Big Daddy Weave's frontman Mike Weaver in a statement to The Christian Post. "One of the coolest things about the Beautiful Offerings Tour is how God brings something so unique and different each night.
"That's one of the ways that we know it's Him. It's distinctly something fresh in every new place. In that, it's fantastic having Plumb on the fall tour and everything she brings to the night and Darren Mulligan of We Are Messengers and his heart for ministry. We can't wait to see how God uses this."
"In this season of difficulty and battle, we have been blown away by the support and prayers of so many," Weaver continued, talking about the amount of love he and his family received after his brother, Jason, had to have surgery. "Please continue to pray for Jay, his family and all treating him. We're trusting God that you will see him at a Big Daddy Weave show very soon."
Jason has had diabetes for 15 years and the illness, although not the direct cause of his infection, severely weakened his body's immune system and ability to stave off the infection, which resulted in the amputation of both of his feet.
When Jason left the band's tour to start his hospital treatment, Ben Blascoe from Citizens Way sat in for him. In a recent interview with CP, when asked if Jason would ever perform again, Weaver said with confidence that he believes his brother and bandmate would.
"Yes, we are really confident that that's the case. And whether it's immediately, like in a wheelchair kind of setup or in the future with a prosthetic, I'm so confident of that, and I know that he'll do that," he declared as the band's lead singer.
In addition to continued prayers for Jason and his family, Big Daddy Weave asks that supporters keep up with his progress at Pray for Jay on Facebook and fans can also contribute toward his medical expenses at YouCaring Pray for Jay.
For Big Daddy Weave's Beautiful Offerings Tour dates and more information on the band, visit: Big Daddy Weave.