Bill Clinton: We Are Better Off Than 4 Years Ago; Obama Needs More Time
Former President Bill Clinton laid out the Democrats' case for reelecting President Barack Obama in his keynote address Wednesday night at the Democratic National Convention in Charlotte, N.C. While other Obama surrogates recently dodged the question of whether Americans are better off than they were four years ago, Clinton was definitive, arguing that Americans are better off and Obama needs more time to help the country recover from the Great Recession.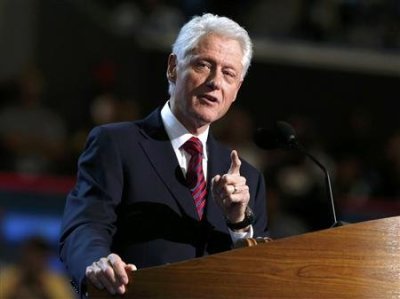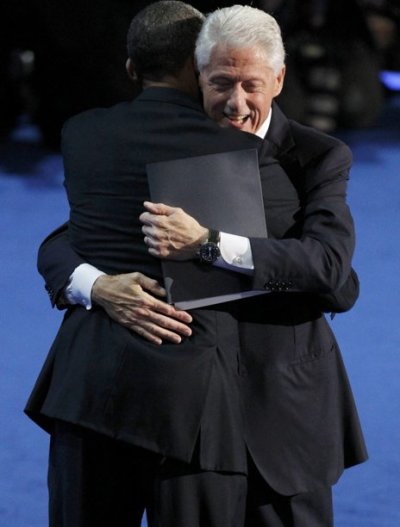 "Are we better off than we were when he took office, with an economy in free fall, losing 750,000 jobs a month. The answer is yes!" Clinton said.
Clinton was responding to Obama's rival, Mitt Romney, who said in his acceptance speech, "Every president since the Great Depression, who came before the American people asking for a second term, could look back at the last four years and say with satisfaction, 'you're better off than you were four years ago' – except Jimmy Carter, and except this president."
When several Obama surrogates were asked Sunday whether or not Americans are better off than they were four years ago, they mostly dodged the question. Gov. Martin O'Malley even answered "no" before backtracking later that day.
The economy is already improving, Clinton argued, but Americans do not feel it yet.
"No President -- not me or any of my predecessors could have repaired all the damage in just four years. But conditions are improving and if you'll renew the president's contract you will feel it. I believe that with all my heart," Clinton argued.
The Republican argument against Obama, Clinton claimed, could be summed up this way: "We left him a total mess, he hasn't cleaned it up fast enough, so fire him and put us back in."
Clinton summed up his argument in favor of Obama by saying, "He inherited a deeply damaged economy, put a floor under the crash, began the long hard road to recovery, and laid the foundation for a modern, more well-balanced economy that will produce millions of good new jobs, vibrant new businesses, and lots of new wealth for the innovators."
Clinton, who had a reputation for long State of the Union speeches as president, spoke for 48 minutes. The speech was heavy on policy yet was written for a broad audience. He spoke about the 2009 stimulus bill, the government managed bankruptcies of General Motors and Chrysler, energy policy, student loans, welfare reform and health care.
He also took time to praise bipartisanship and some previous Republican presidents. He encouraged the Democratic delegates to cooperate with Republicans on policy goals.
President Eisenhower was hailed for sending federal troops to Little Rock, Ark., during the fight over desegregating the school system, and for building the national highway system. Clinton praised President George W. Bush for "saving the lives of millions of people" by passing PEPFAR, the bill that brought AIDS relief to poor countries. And he spoke about working with Presidents Reagan and George H. W. Bush while he was governor of Arkansas.
"When times are tough, constant conflict may be good politics but in the real world, cooperation works better. After all, nobody's right all the time, and a broken clock is right twice a day," Clinton said.
Clinton also claimed that Obama tried to be bipartisan, but Republicans were unwilling to work with him.
"One of the main reasons America should reelect President Obama is that he is still committed to cooperation," Clinton argued.
Clinton also spoke about the national debt, saying, "We have to deal with it or it will deal with us."
He reminded the audience of the four years of budget surpluses while he was president and had a Republican Congress in the late 1990s.
"People ask me all the time how we delivered four surplus budgets. What new ideas did we bring? I always give a one-word answer: arithmetic," Clinton said.
At the end of the speech, Obama appeared on the stage and, to the delight of the audience, gave Clinton a warm hug. Obama's acceptance speech will be Thursday night.
 Bill Clinton speaks at the 2012 DNC (C-SPAN) - Full Speech