Bill Gates, Sheldon Adelson, Warren Buffett Push for Immigration Reform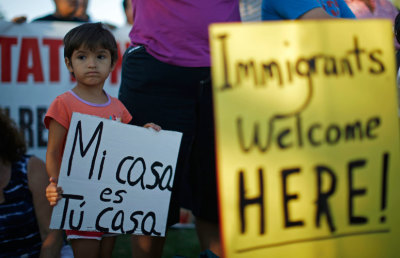 Three influential businessmen, who are among America's richest people but differ in their political views, have blasted Congress and come together to push for the passing of an immigration reform bill.
Microsoft founder Bill Gates, Republican donor and casino magnate Sheldon Adelson, and Berkshire Hathaway CEO Warren Buffett, who is a friend of President Barack Obama, wrote in an op-ed in The New York Times Friday that if they can overcome their political differences, then why has Congress not been able to.
"The three of us vary in our politics and would differ also in our preferences about the details of an immigration reform bill," they wrote. "But we could without doubt come together to draft a bill acceptable to each of us. We hope that fact holds a lesson: You don't have to agree on everything to cooperate on matters about which you are reasonably close to agreement. It's time that this brand of thinking finds its way to Washington."
It's time for the House to draft and pass a bill that reflects both America's humanity and its self-interest, they said, drawing attention to immigrants' purchasing power and other resources.
"Most Americans believe that our country has a clear and present interest in enacting immigration legislation that is both humane to immigrants living here and a contribution to the well-being of our citizens … We believe it borders on insanity to train intelligent and motivated people in our universities – often subsidizing their education – and then to deport them when they graduate."
Although Bill Gates has supported same-sex marriage, he has embraced Democrats as well as Republicans.
Sheldon is CEO of Las Vegas' Sands and has financially supported Republican candidates. According to the Center for Responsive Politics, Sheldon, his wife and their companies spent $93 million on Republican and conservative efforts in 2012.
Buffett is close to Democrats and has given over $200,000 to Obama and the Democratic National Committee. Obama called a millionaire tax provision, which could not be implemented, the "Buffett Rule."
"They are telling us that immigration reform – long overdue – is now hopeless. Americans deserve better than this," they wrote. "The current stalemate – in which greater pride is attached to thwarting the opposition than to advancing the nation's interests – is depressing to most Americans and virtually all of its business managers. The impasse certainly depresses the three of us."
The three businessmen reminded Congress that U.S. citizens are paying 535 people to take care of the legislative needs of the country, and that it's time for them "to remember what they owe to the 318 million who employ them."
A comprehensive, bipartisan immigration bill passed by the Senate over a year ago includes a pathway to citizenship, but House conservatives have objected to it, saying the measure provides for amnesty for lawbreakers.
"For the future, the United States should take all steps to ensure that every prospective immigrant follows all rules and that people breaking these rules, including any facilitators, are severely punished," the three wrote. "No one wants a replay of the present mess."