Bill O'Reilly, Laura Ingraham Debate: The Bible is Not Enough to Oppose Same-Sex Marriage
Bill O'Reilly has insisted that the Bible is not substantial enough to support the debate against same-sex marriage and accuses those who do so of being "Bible thumpers." In his talk show on Tuesday night, Laura Ingraham responded to his remarks as "disrespectful."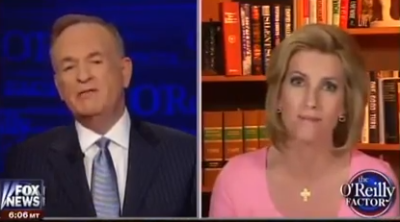 The debate over O'Reilly's controversial statement about "Bible thumpers," which started last week, continued in to Tuesday night when conservative radio talker Lauara Ingraham appeared as a guest on O'Reilly's show. O'Reilly dismissed the controversy that had begun over his statement, defending it as true.
"Zealots picked up on my statement that opponents must do more than thump the Bible if they want to win the civil debate. That's absolutely true," O'Reilly said.
"I don't think you really needed to say that," Ingraham responded.
Ingraham went on to defend the advocates of traditional marriage by stating that their opinions on same-sex marriage were linked to "deeply held religious beliefs." She went on to suggest that equality should reflect tolerance to both sides.
"We believe people should be treated with respect," she said of herself and O'Reilly. "I certainly believe that people should be treated with tolerance."
"There should be a meaningful debate on this," she continued, adding that using the term "Bible thumper" was not "helpful" to illustrating O'Reilly's stance and therefore "unnecessary."
"But using the Bible to defend traditional marriage does create a meaningful debate," O'Reilly stated.
"If you're going to stand up for heterosexual marriage and exclude gay marriage- if you're going to do that, you've got to do it outside of the Bible," he said. "You can't cite the Bible because you'll lose."
"That's disrespectful to people who try to live their lives by the Bible," Ingraham said.
"There are Bible thumpers that all they do is say 'I object to gay marriage because God objects to gay marriage.' You don't win a policy debate in America with that," O'Reilly affirmed.
"For some people its not about winning a debate it about living the life that they want to live for themselves for their communities and their families," Ingraham responded.