Billy Graham Embargoed Docs on Relationship With Barack Obama Until His Death; Now Set to Go Public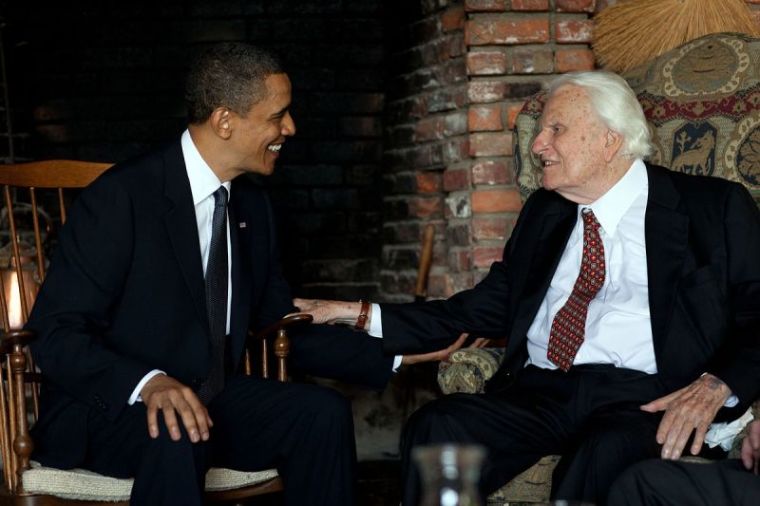 Billy Graham's embargoed archival collections, which are said to detail his personal relationships with former presidents, including Barack Obama, and other major figures, like Pope John II, are now set to go public following his death.
The Billy Graham Center Archives at Wheaton College announced on Friday that two new collections of archives on Graham's ministry are set to go public on March 19. In accordance to the late evangelist's wish, they had been embargoed until his death.
"These collections are a treasure house for anyone interested in Rev. Graham, American evangelicalism, or global Christianity, among many other possible subjects," said archivist Bob Shuster. "People will benefit from Rev. Graham's generosity in making them available for many years to come."
While Collection 580 includes documents such as letters, sermons, reports, memoranda, transcripts, clippings, manuscripts, and other materials on evangelicalism kept by the Billy Graham Evangelistic Association, Collection 685 includes photos, notes, and phone conversations of notable figures the North Carolina evangelist corresponded with.
"Most of these notebooks document Graham's personal relationship with every U.S. president from Harry S. Truman to Barack Obama. One notebook relates mostly to Pope John II; two others document contacts with various world leaders," Wheaton College noted.
"The documents in both collections are closed until they are 30 years old; some documents have additional restrictions," it added.
The archives page includes a searchabale online database of documents, and says that its aim is to make available materials "on the history of North American nondenominational Protestant efforts to spread the Christian gospel."
"Although anyone may use the collections, these materials are especially intended as a resource for the evangelistic mission of the church," it says in its mission statement.
Graham was known as the "pastor to the presidents" for his personal relationships with America's leaders. Every single living former president, including current President Donald Trump, paid tribute to the evangelist following his passing late in February.
Graham first met Obama back in 2010, when the latter visited the evangelist at his log cabin home in North Carolina.
The two talked about a "variety of topics," it was reported at the time by Graham's spokesman, Larry Ross, with the meeting concluding with prayer and with Graham giving Obama a Bible.
"I am pleased to have had President Obama in my home this afternoon," Graham said back then. "He requested a meeting since he was spending the weekend nearby in Asheville. My son Franklin and I enjoyed a brief visit with the president, followed by a time of prayer together."
The former president tweeted out last month following Graham's death:
"Billy Graham was a humble servant who prayed for so many — and who, with wisdom and grace, gave hope and guidance to generations of Americans."
Although LGBT activists criticized Obama for praising the evangelist, pointing to a contradiction between Obama's embrace of gay marriage and Graham's warnings on homosexuality, the former president did not take down his post.