Billy Graham Is 'Very Weak' But Mind Is Clear, Franklin Graham Says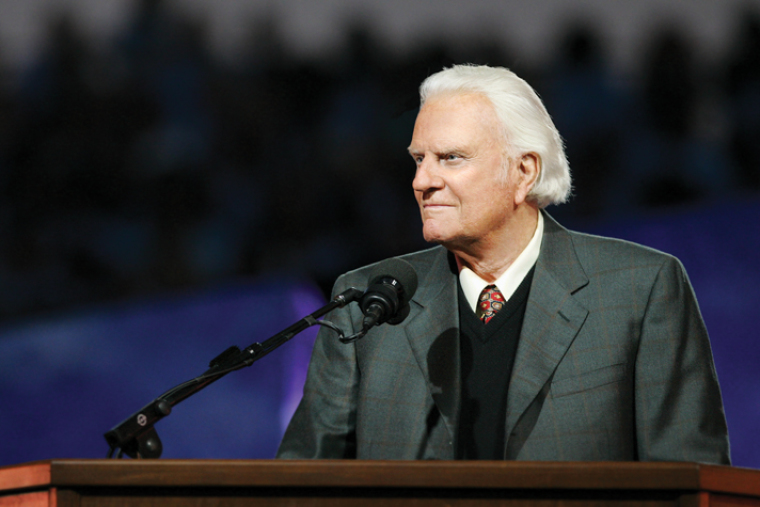 Billy Graham is very weak as he's 96 years old, but his mind is still clear and he talked a little about his preaching in Wisconsin after a recent football game between the Packers and the Cowboys, his son, Franklin Graham, said.
"He's very weak," Franklin Graham told NBC in an interview. "He's 96 years of age so he doesn't have a lot of stamina and he doesn't carry on long conversations, but his mind is still clear and we're thankful for that."
After the Packers beat the Dallas Cowboys on Sunday, "One of the nurses beside him, she said 'Dr. Graham did you ever preach there'? He said, 'oh yes' and we talked a little bit about that," said Franklin Graham, president of the Billy Graham Evangelistic Association.
He said he is grateful that God has given him "this much health and that he's still with us at 96 years of age."
Last year around the same time, Graham said his father is "doing ok, just ok."
Billy Graham was hospitalized after his 95th birthday celebration for observation and lung tests in November 2013, and has been very weak since then.
"My father is ready to go to Heaven and whenever that day comes, he's ready," Franklin Graham said last January. "He's worked hard all of his life and faithful to preaching the gospel of Jesus Christ his entire life. And so he's ready to go home and I'm praying that the Lord will leave him a little longer. We need him."
He said the family still needs Graham. "He's a great father, been a great friend and just… I enjoy having lunch with him every Sunday. I have my own personal reason for wanting him to stay around a long time.
"He can be this way for many months but he can also get his strength back and that's what I'm praying. It be God's will that he can get his strength back because we still have some work for him to do," Franklin Graham added.