'Billy Graham Loved, Hugged Me in Prison When I Was Cleaning Toilets': Jim Bakker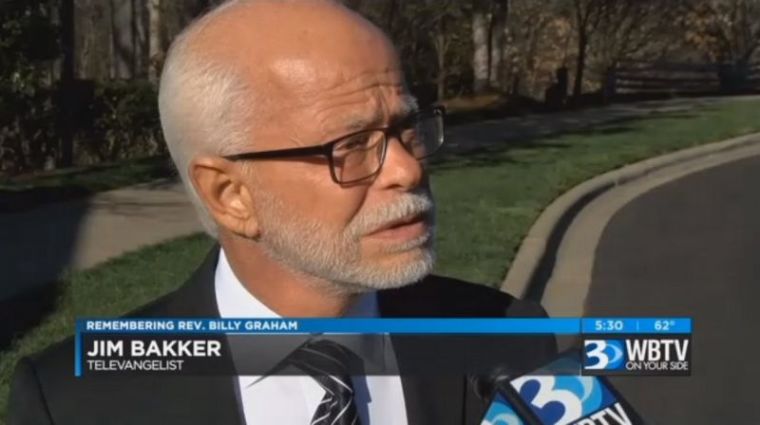 Controversial televangelist Jim Bakker has said that the late Rev. Billy Graham once visited him in prison in some of the lowest moments of his life, where he hugged him and told him that he loves him.
Bakker, whose ministry came to a grinding halt in 1987 after he was accused of paying hush money to his secretary for alleged rape, and later served five years in prison for various fraud charges, traveled to Charlotte on Tuesday to pay his respects to Graham, who died at the age of 99 last week.
The televangelist, who hosts "The Jim Bakker Show" in Missouri, told WBTV that Graham showed him remarkable kindness and visited him when he was in prison.
"Billy Graham came into my prison when I was there. He wrapped his arms around me when I was a mess. I was cleaning toilets at that moment and I was at a very low moment in my life," Bakker said. "Billy Graham walked in and threw his arms around me and said, 'Jim, I love you.'"
Graham's wife, Ruth, who died in 2007, even invited him to their home in North Carolina after he was released from prison.
"And Ruth Graham is so amazing, it would take me hours to tell. As I got out of prison, I was at the Graham home, I was at the church with Ruth Graham and all," he recalled.
"But they represented Jesus Christ to somebody who the world said was fallen and would never preach again."
Bakker said that he has received love from the whole Graham family and noted that he is looking forward to walking with the late evangelist in Heaven one day.
Bakker, who has often preached about the end of the world, wrote last week for the "The Jim Bakker Show."
"Some believed and have declared that the death of Billy Graham would signal the beginning of the last days. I don't know this to be a fact, but I do know, according to the Scriptures, we are truly living in the final days before the coming of our Lord, Jesus Christ."
He reflected that the number 99, the age at which Graham died, is a number that means fruitfulness.
"At an age of double fruitfulness, Billy enters Heaven, leaving an abundant legacy of fruitfulness that no man has ever before achieved," he wrote.
Baker, who in 1987 was dismissed as an Assemblies of God minister, continues to garner controversy for statements he makes on his show, such as arguing in August 2017 that Christians will start a "civil war" if President Donald Trump is impeached.
Other Christian leaders, such as Saddleback Church Pastor Rick Warren, have praised Graham for his willingness to speak with people of all backgrounds and beliefs, and share the Gospel.
"He put Catholics and Protestants, Calvinists and Charismatics, Fundamentalist and Evangelicals, Liberals and Conservatives, all on the platform together. He was criticized for it, but he knew that God blesses unity and harmony," Warren recalled in a Facebook post last week.