Billy Graham: Neutralize Toxic People by Showing Them Compassion, Like Jesus Christ
Billy Graham: Neutralize Toxic People by Showing Them Compassion, Like Jesus Christ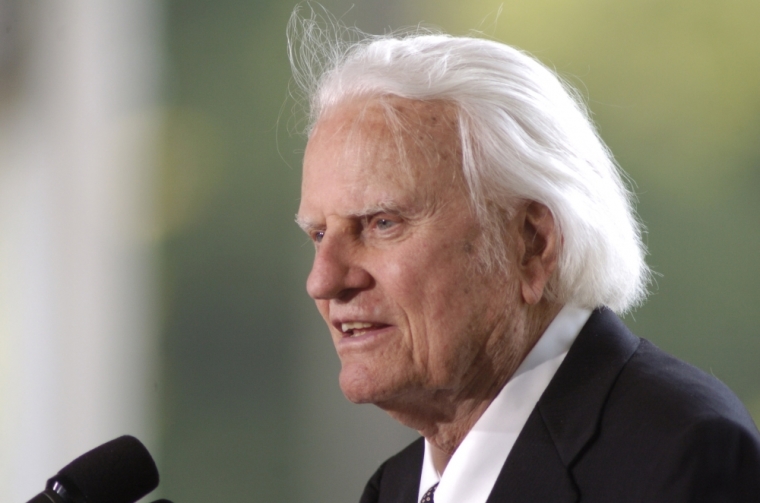 Christians should see those who are negative and critical through God's eyes of compassion and love, the Rev. Billy Graham says.
Graham, the world-renowned evangelical leader and founder of the Billy Graham Evangelistic Association, wrote in a question-and-answer advice column published in the Kansas City Star that Christians shouldn't allow negative people to poison there souls by offering them love and compassion, just as Jesus would.
While it can be "hard to be around [negative people] or keep them from getting under our skin," Christians must take the high road and avoid allowing critical people from "[poisoning] your own soul," the religious leader writes.
"I don't know why some people are like this (even when they seemingly have little to complain about). Perhaps they are just seeking attention; perhaps they are inwardly angry or unhappy for some reason, and think life has treated them badly; perhaps tearing others down makes them feel superior to everyone else," he continues.
Graham says that while "jealousy, anger and pride can be very destructive emotions" and it is wrong for a person to constantly criticize others, Christians can respond to these types of people with grace.
"Instead of rejecting this [negative] person, ask God to help you begin to see her through his eyes of love and compassion. Then pray for her, and ask God to give you an opportunity to be a friend to her and share Christ's love with her. God loves her in spite of her attitude, and Christ wants to come into her life and make her a new person," he adds.
The Baptist minister then references Zechariah 8:16-17, which reads: "Speak ... jjudgments that are true and make for peace; do not devise evil in your hearts against one another."
Graham has spoken about the dangers of being judgmental before, writing in a previous column in the Kansas City Star that being judgmental should actually be seen as a sin against God.
People who are excessively critical or judgmental are sinning "because they probably aren't telling the truth, that is, what they're saying about the person they're criticizing often isn't true. Even if partly true, it's not the whole story, and it only brings hurt and conflict.
"Not only is this wrong, but it's also untrue, and it keeps them from admitting their need for God's forgiveness and help," Graham says.
The evangelical leader cites Matthew 7:1,3 which reads: "Do not judge, or you too will be judged. ... Why do you look at the speck of sawdust in your brother's eye and pay no attention to the plank in your own eye?"
The Baptist minister concludes his point by referencing Romans 12:16,18, which calls on Christians to live in harmony and at peace with fellow mankind.
"Live in harmony with one another. Do not be proud, but be willing to associate with people of low position. Do not be conceited … If it is possible, as far as it depends on you, live at peace with everyone," the verses read.