Billy Graham's Daughter: God Keeping My Father Alive Might Have Something to Do With the 'Return of Jesus'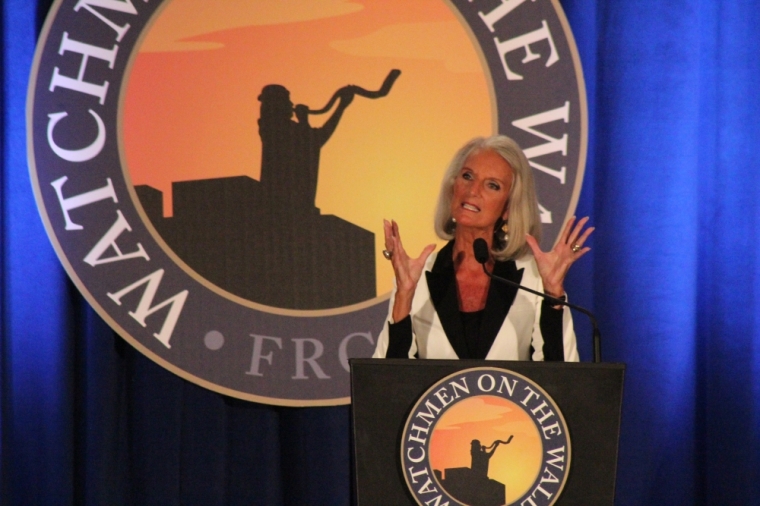 WASHINGTON — Billy Graham's daughter Anne Graham Lotz told a gathering of pastors Thursday that the 97-year-old legendary evangelist's vital signs are great and there must be a reason why God is keeping him alive.
Lotz, the founder of AnGeL Ministries, the new chairwoman of the National Day of Prayer and the author of the new book The Daniel Prayer: Prayer That Moves Heaven and Changes Nations, was a featured speaker at the Family Research Council's 2016 "Watchmen on the Wall" conference and addressed the need "to reach the lost."
Before warning the pastors about how God is "abandoning" America because of the country's embrace of sexual immorality, Lotz took an opportunity in the first minute of her remarks to provide an update on her father's health.
Lotz explained that her father, the founder of the Billy Graham Evangelistic Association, is confined mostly to his bed and wheelchair but still has a clear mind. She added, however, that his mind "doesn't move as quick as it used to."
Although Lotz said it takes a while for her father to process things he is told, he is still "affectionate and loving."
"I am not sure he is aware so much of the world's situation but his appetite is good, his vital signs are good and I know God is holding him for some reason," Lotz said.
Lotz, who has previously said that she believes the Rapture will occur during her lifetime, reasoned that the fact that her father is still alive might have something to do with the return of Christ.
"I thought it had to do with the Return of Jesus and I won't go there right now, but I wonder also if [my father] is here ... to be an encouragement to you — that there is a man that is still faithful, still has a heart for the Gospel, heart for God, heart for the lost and still prays," she continued. "In fact, he prays in his preaching voice. He is still kicking. Maybe that will encourage you to be faithful through persevering in the ministry to which God has called you."
In an interview with The Christian Post following her speech, Lotz clarified what she meant when she said her father's aliveness could possibly have something to do with the coming of Christ.
"My father's life is very unique. His life in ministry will never be equalled. The fact that he is still on this planet at 97 years of age, that is not an accident," she explained. "God is not whimsical and he does everything intentionally. The fact that my father is still here, God is holding him for a reason."
"One of the things that I thought possibly — only God would know — when my father goes to Heaven, one more time, the Gospel will be preached to the whole world," Lotz continued.
She cited Matthew 24:14, which states: "And this Gospel of the Kingdom will be preached in the whole world as a testimony to all nations, and then the end will come."
"Every news outlet, I would think, they won't be able to talk about Billy Graham without talking about the Gospel, I wouldn't think unless they do contortions," she stated. "So, maybe God is holding him for that particular moment in time, in timing for things that will happen at the very end of this age."
In her speech, Lotz called on Christians to repent, pray and brace for God's hand of protection and hand of favor to be lifted off America.
Lotz, who has frequently warned that God's judgement is coming to America, said the fact that American schools are teaching children about evolution is another major reason why God is distancing Himself from America.
"God is backing away from America. He has said again and again and again, 'If you forsake me, I will forsake you. If you abandon me, I will abandon you,'" Lotz stated. "So, we see God abandoning America as we shake our fist in His face and insist on our immorality and all the things we are doing."