At Billy Graham's Funeral, Daughter Anne Graham Lotz Urges Church, World to 'Wake Up'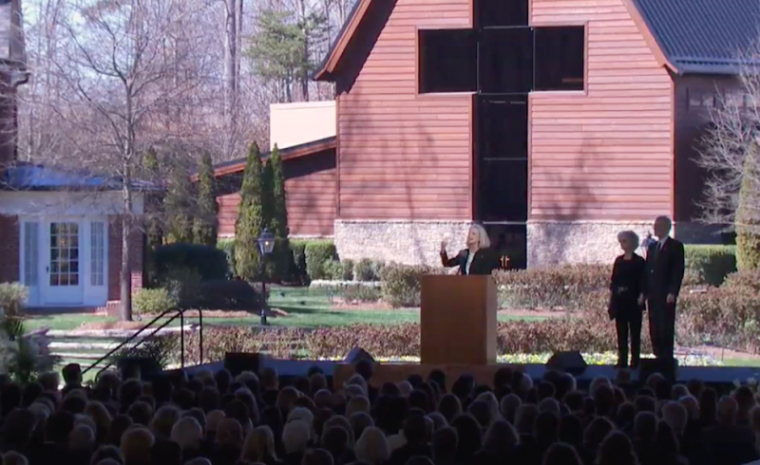 It was Billy Graham's last crusade.
Under a large white tent evoking her father's "Canvas Cathedral" revival nearly seven decades ago, Anne Graham Lotz urged the Church, the world, and herself to "wake up!" as she joined her siblings and some 2,000 others at the funeral of her iconic evangelist father, Billy Graham, in Charlotte, North Carolina, on Friday.
"I believe, from Heaven's perspective, that my father's death is as significant as his life. And his life was very significant. But I think when he died, that was something very strategic from Heaven's point of view," Lotz said about her father's passing.
The world-renowned evangelist is credited with inspiring more than 3 million people to commit their lives to Christ in a ministry that spanned 185 of the world's 195 countries, according to the Billy Graham Evangelistic Association.
Like a modern-day Moses, Lotz said her father brought liberation to people through the Gospel and she sincerely believes her father's death on Feb. 21 at the age of 99 "is a shot across the bow from Heaven."
"My father also is a great liberator. He brought millions of people out of bondage to sin and it gets us to the edge of Heaven, edge of the Promised Land, and then God has called him home. And could it be that God is going to bring Joshua to lead us into the Promised Land to lead us to heaven?" Lotz mused.
"And do you know what the New Testament name is for Joshua? It's Jesus. And I believe this is a shot across the bow from Heaven. And I believe God is saying, 'Wake up Church! Wake up world! Wake up Anne! Jesus is coming. Jesus is coming,'" she said, pledging to preach God's Word for the rest of her life.
Donald J. Wilton of First Baptist Church in Spartanburg, South Carolina, who was Graham's longtime pastor recalled Graham's deep belief in the Bible he loved and how "it governed how he lived, and it governed how he died."
Graham's son, the Rev. Franklin Graham, who serves as president of the Billy Graham Evangelistic Association, said in the main address that his father believed every word of the Bible even though he never understood all of it.
He praised his father for the love he had for his late mother and noted that "the Billy Graham that the world saw on television, the Billy Graham that the world saw in the big stadium was the same Billy Graham that we saw at home. There weren't two Billy Grahams."
The crowd that gathered at the service also heard family tributes from Graham's sister, Jean Ford, and his other children, Virginia "Gigi" Graham, Ruth Graham, and Nelson "Ned" Graham.
"We learned hard work, we learned to love the Lord, we learned to pray, we learned to love the Scriptures, and that has never left any of us," Ford said of the upbringing she shared with her famous brother.
According to a news release, Graham will be buried at the Billy Graham Library Prayer Garden next to his wife, Ruth, located at the Billy Graham Evangelistic Association in Charlotte.
"The private ceremony and interment will be held after the funeral service, at the foot of the cross-shaped Prayer Garden on the northeast side of the Billy Graham Library," the release said.
It further noted that Graham's grave marker was made of North Carolina stone and he selected John 14:6 as the Bible reference on his marker. The scripture reads: "Jesus answered, 'I am the way, the truth, and the life. No one comes to the Father except through Me.'"