Bipartisan Deal Reached on Background Checks for Firearms Purchases
A bipartisan deal on expanding background checks to more firearms purchases has been reached between two senators, according to a Senate aide and lobbyist.
The Associated Press reported that Democratic Sen. Joe Manchin of West Virginia and Republican Sen. Pat Toomey would announce their agreement on Wednesday and speculated that it could draw support for President Barack Obama's push to alleviate gun violence.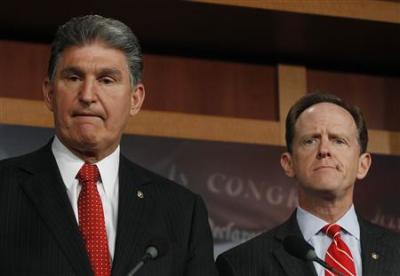 According to one NBC News report, the two senators reached a compromise agreement in principle that would draw support from Republicans, on Tuesday evening. They spent the night working out the final details.
The agreement is expected to apply to all commercial sales, such as at gun shows and on the Internet. Private deals that are not for profit, such as those between relatives, are expected to be exempt. The current system only covers sales through licensed gun dealers.
Although the National Rifle Association is unlikely to support the deal, the agreement is said to represent a major breakthrough for a set of new gun laws that President Obama proposed after the Sandy Hook Elementary School shootings last December.
Outspoken advocate for gun safety Mark Kelly, who is also the husband of former Representative Gabrielle "Gabby" Giffords, recently noted that background checks are necessary to prevent future massacres from happening. He also threw his support behind the NRA's push to include mental health records in its system.
"I think any bill that does not include a universal background check is a mistake. It's the most common sense thing we can do to prevent criminals and the mentally ill from having access to weapons," Kelly told "Fox News Sunday."
In March, some 4,000 clergy members across the U.S. joined with colleagues in Newtown, Conn., in signing a letter lobbying the U.S. Senate Judiciary Committee to enact greater gun control measures, especially for a ban on assault weapons.
"The moral mandate to protect the weak in our care is clear and present in all of our faith traditions. Our varied faith traditions teach us to seek the peace of the city, to love our neighbor, and to cherish human dignity," said the letter.
"After the news crews and cameras leave, after the rest of the nation turns away and resumes their normal routines, it is we who are asked to answer why this happened; to bind up the brokenhearted; and to explain why nothing in Newtown or our many communities will ever be the same again," the clergy further noted in the letter.
They also pointed out that they believe the issue of gun violence in America is a spiritual one, and a change in gun laws would hopefully "spark off a spiritual awakening in America that will transform us into a culture of compassion, reconciliation and civility."
Nearly 90 percent of Americans currently support the idea of having universal background checks for gun purchasers.