Bishop T.D. Jakes Adds Tyler Perry's Madea to MegaFest 2015 Line Up
Bishop T.D. Jakes Adds Tyler Perry's Madea to MegaFest 2015 Line Up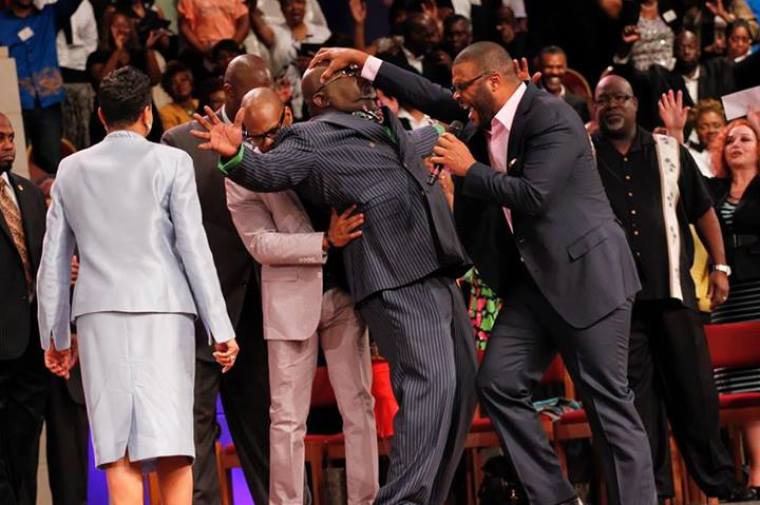 Tyler Perry, the man who once famously laid hands on Bishop T.D. Jakes in church, will join the megachurch pastor and other evangelical leaders this summer at MegaFest when his new stage play, "Madea on the Run" makes a tour stop in Dallas.
Last month, Jakes added internationally-acclaimed pastor Joyce Meyer and Australian activist Christine Caine to the powerhouse lineup of speakers who are set to hit the stage at MegaFest, which is said to be the nation's largest Christian family festival. Perry, who will appear at the event as his Madea character, is set to bring laughs to the tens of thousands of attendees expected at the three-day festival to be held Aug. 20-22.
"Madea always makes us all laugh while teaching valuable lessons that we remember long afterwards," Bishop T.D. Jakes said. "We are excited to welcome Tyler Perry back to MegaFest. Tyler is a friend and constant supporter of ours. We are happy to extend this platform to his fan base knowing that MegaFest attendees will enjoy this hilarious play."
The play has been touring since March and it will be Perry's first to hit MegaFest.
Other speakers to be featured include the likes of Bishop Tudor Bismarck, R.A. Vernon, Archbishop Nicholas Duncan Williams and Jakes' wife, pastor Serita Jakes.
Since launching in 2004, MegaFest has grown to become one of the largest faith-based multi-day festivals in the United States with organizers saying it has so far reached nearly 1 million people worldwide.
With its focus on family and unity, the event attracts tens of thousands of attendees and offers uplifting seminars, empowering speeches, music and other family-oriented entertainment.
"MegaFest harkens back to a simpler time when families spent quality time together," Jakes, also a prominent film producer, said previously.
"With so much chaos and turmoil ensuing in the world today, it will be critical for families to reconnect and recharge their batteries in a fun-filled, inspirational environment. It is also a great opportunity to showcase the best that Dallas has to offer — from its dynamic business community, to its arts and entertainment to its renowned shopping, restaurants and hospitality venues. MegaFest is a can't-miss opportunity for all."
FOR MORE INFORMATION CLICK HERE