Bishop T.D. Jakes Gives Opinions On Eddie Long and Penn State, Syracuse Sex Scandals
Bishop T.D. Jakes of The Potter's House in Dallas recently addressed the impending divorce of Georgia televangelist Bishop Eddie Long, saying his prayers are with the couple.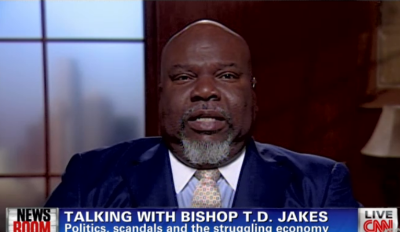 "For people who are high-profile, like yourself, like me, him or others, it's very difficult to maintain a private life when you are living in a fishbowl all the time," Jakes told CNN's Don Lemon on Saturday. "Sometimes you need to cut off all the lights and put your priorities back into alignment. And my prayers are that the Longs will use this opportunity to get that done."
Long, the founding pastor of New Birth Missionary Baptist Church in Atlanta, Ga., announced on Dec. 4 that he is leaving the pulpit for a while, to focus on his personal life, after his wife made it public news that she has filed for a divorce.
Vanessa Long issued a statement on Dec. 2, saying that after "a great deal of deliberation and prayer, I have decided to terminate my marriage to Bishop Eddie L. Long."
Jakes, who recently authored The T.D. Jakes Relationship Bible, commented on CNN: "I find that the Bible is full of relational information – whether it's in the workplace, whether it's dealing with the mothers, daughters, fathers, sons, or, most importantly, our relationship with God. The cross itself is not just the vertical, between us and God, but also horizontal, and implication that God is also concerned about how we get along."
The impending divorce comes a year after Eddie Long was accused of having had sexual relations with four of his male congregants, now in their 20s. They claim the pastor repeatedly coerced them into sexual acts. The allegations were joined by those from another young man, who was not a member of Long's church.
In May of 2011, an out-of-court settlement was reportedly reached between Long and his accusers in which each man was to receive undisclosed sums of money as long as the case was not discussed. Sources estimate the cost of the settlement to have been around $15 million.
Jakes commented on the sexual misconduct allegations, saying that "if there was actually misconduct," the young men involved in the case were old enough to make their own decisions. They are not juveniles, he noted.
TD Jakes: Long Needs to Realign Priorities
"I think it's a little different from a 10-year-old who can't speak for himself," Jakes said. "When you take these older boys, who can make decisions, old enough to drive a car, old enough to go to war, if there is a deliberate action done here, we can't take a cash settlement if we really want justice done, because it leaves the public wondering what really happened."
The only people who know what really happened between the boys and the bishop are the boys and the bishop, Jakes said. And at this point, the public might never find out the truth. However, the story could be used as a conversation starter for "how we interact with leadership and how we interact with people, and what our expectations are of people."
Jakes was also asked to respond to the recent Penn State and Syracuse University sexual abuse scandals involving minors.
"This has been going on for years and years and years, it's just that with social networking and the 24-hour media cycles that we have today it has come to the surface in a way that it has not done historically," the bestselling author noted. "But with one in six boys molested in this country before the age of 18 – and one in four girls – this is not a new story."
While stressing that he's not downplaying the importance of the highly publicized scandals, he pointed out that a majority of the abuse cases across the nation are not brought to the national spotlight and do not involve celebrity figures. Nearly 50 percent of molested boys are victims at home, by people that they know, Jakes lamented.
"I don't want us to demonize these people [related to publicized scandals] as the epitome of evil, at the expense of overlooking people in our communities, and our neighbors, and even our relatives, who have access to our children," the bishop said. "It's time for parents to really take a sharp wake-up call and build the kind of communication mechanisms with their children so that we can really check to make sure that this is not happening not only at Penn State … but also in our own neighborhoods and communities."
The entire CNN interview is available here.