Bobbi Kristina 'Deathbed' Photo Sparks Fury; Father Bobby Brown Vows to Get Justice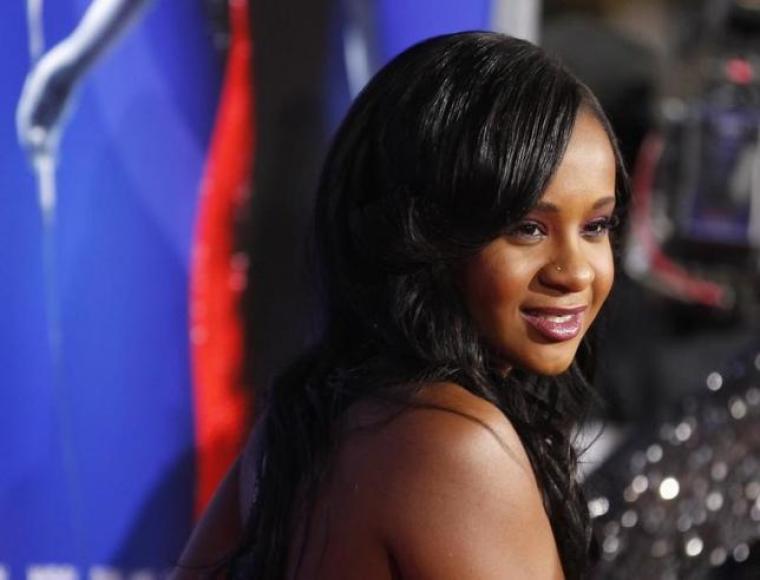 Bobby Brown has vowed to get justice for his sick daughter, Bobbi Kristina, amid reports that an alleged family member is shopping around a so called deathbed photo of her to media outlets.
Last month, the 22-year-old only biological daughter of the late Whitney Houston was moved to hospice care, five months after she was found unresponsive in a bathtub at her Roswell, Georgia, home just outside of Atlanta. On Friday, gossip website TMZ.com reported that someone was attempting to sell a photo of Bobbi Kristina laying in her bed at the hospice center for $100,000. It was allegedly taken by an extended family member.
"I'm just looking to get justice," Brown told a TMZ in Los Angeles on Sunday when asked about the disturbing report.
Bobbi Kristina has reportedly deteriorated since being taken off life support in late June and one family source said recently that the actress "barely has any signs of life." Her aunt, Pat Houston, previously said in a statement that the family is leaving her "in God's hands now."
Also on Friday, Bobbi Kristina's aunt, Leolah Brown, blasted the person attempting to sell the deathbed photo of her niece as "evil" and said whoever is responsible will be revealed "in God's time."
"YOU will not do to my niece what YOU did to Whitney! … You people are far more evil than the world could ever imagine," an enraged Leolah wrote in a lengthy Facebook post. "Yeah, the clock is ticking and I await for the day that is ALREADY HERE and soon to be revealed in God's time!"
She added: "WHITNEY HOUSTON IS WORKING FROM THE GRAVE THRU ME! TRUST! I'm on a mission to make sure my niece gets justice by ANY means necessary!"
In June, Bedelia Hargrove, Bobbi Kristina's court-appointed conservator, filed a civil complaint against her boyfriend Nick Gordon in Georgia's Fulton County Superior Court. In the lawsuit he's accused of physically abusing the socialite prior to the bathtub incident.
The lawsuit claims Bobbi Kristina had complained about Gordon to a friend prior to being found on Jan. 31 and that she made arrangements to meet with the person to discuss her relationship woes but never showed up.
"[Bobbi] had confided to someone that [Gordon] was not the man she thought he was and set up a time on Jan. 31 to meet with this person to further discuss this revelation," the complaint states. "[She,] however, never made it to the meeting. Instead, on the morning of Jan. 31, [Bobbi] became embroiled in a loud argument with [Gordon] at her townhome."
Following the altercation she was allegedly found unconscious at home.
"The loud argument ended and [Bobbi] was later found unresponsive and unconscious, face down in a bathtub, with her mouth swollen and another tooth knocked out," the complaint alleges.
Gordon is accused of assaulting the socialite on multiple occasions by "punching her in the face, knocking out a front tooth, and dragging her upstairs by the hair."
Earlier this year, Gordon denied assault allegations in an interview with talk show host Dr. Phil McGraw.
"I would never hurt anybody," Gordon said.
Gordon is also accused of stealing from her while she was in the hospital, but he has maintained his innocence. The lawsuit is seeking a minimum of $40 million in damages.
"He feels — and we all feel — like Nick has been a scapegoat in this case," a close relative of Gordon's told People.com. "It's scary for him, because he hasn't done anything wrong. He is completely innocent."
Police in Roswell reportedly launched a criminal investigation into Bobbi's case in recent months amid concerns of "foul play" among her family members.
"I'm just waiting for whatever happens," Bobbi Kristina's grandmother, Cissy, previously told "Entertainment Tonight." "We go to the hospital every day and pray and I talk to her because she can still hear and I rub her hand. We do what we can do. The rest is all up to Him."
In 2012 Bobbi's mother, Whitney, was found dead in a hotel bathtub in Beverly Hills.