Bobby Jindal Has the Most Amazing Response When Planned Parenthood Shows Up at His House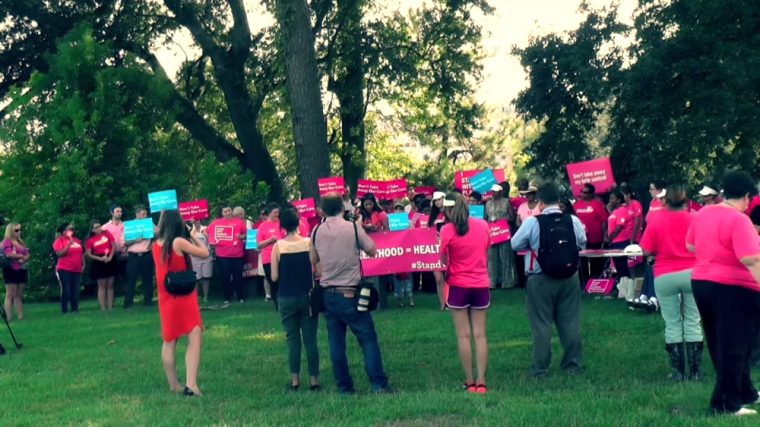 By setting up a streaming loop of the now infamous undercover abortion videos outside the governor's residence, Louisiana Governor Bobby Jindal challenged pro-Planned Parenthood protestors in an innovative way.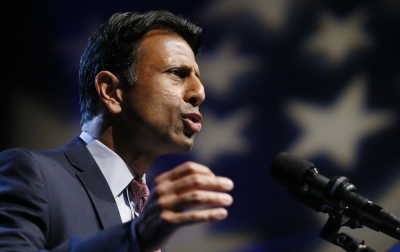 A half a dozen pro-Planned Parenthood protestors, many adorned in pink, showed up at the governor's residence to decry Jindal's actions to strip the popular abortion provider of state Medicaid funding in August. The protestors held pink and blue Planned Parenthood placards that read "Don't take away my care," and "I stand with Planned Parenthood."
On Twitter, Jindal, who is running for Republican nomination for president, said Friday that "Protesters stayed far away from the Planned Parenthood videos we had playing on my lawn."
His presidential campaign released a video depicting the incident. (See below.)
Jindal set up a giant screen playing all of the seven released videos by the Center for Medical Progress on the front lawn of the governor's residence.
Jindal released a statement through his office saying, "Planned Parenthood has a right to protest today, but Governor Jindal's office will ensure that anyone who shows up will have to witness first-hand the offensive actions of the organization they are supporting."
"We hope the protesters will take a minute to watch them so they'll have an opportunity to see first-hand our concerns with Planned Parenthood's practices," Jindal added.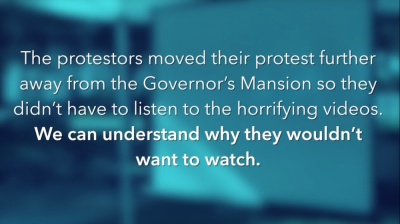 The statement also noted that "many Planned Parenthood supporters, including President Obama and members of the White House, said they have not or will not view the horrific Planned Parenthood videos."
Planned Parenthood denounced the move calling it a stunt.
"Governor Jindal isn't even in Louisiana today, but he's made sure to prove that he's always ready to put politics before Louisianan's health," Melissa Flournoy, the Louisiana state director for Planned Parenthood, wrote in a statement. "This stunt is proof he doesn't have any real answers for the people of Louisiana."
At the time of the protest, Jindal was campaigning in South Carolina at a town hall event at Wofford College with South Carolina Senator Tim Scott.
The Facebook page for Planned Parenthood Gulf Coast posted pictures of the rally in Baton Rouge and wrote:
"Together, we called on Jindal to put politics aside and protect women's access to health care at Planned Parenthood.
"Rather than responding to the devastating state of health care access in Louisiana and the appeals of his constituents, Jindal screened footage from the heavily edited videos released by anti-abortion extremists outside of his mansion," read the post.
Jindal has been relentless on the campaign trail in his criticism of the popular abortion provider. As The Christian Post has previously reported, Benjamin Clapper, executive director of Louisiana Right to Life, has called Jindal the most pro-life governor in the history of Louisiana. The state has joined at least 11 other states who have investigated the practices of the organization after footage was released of medical officials seemingly bartering over the price of aborted baby parts, which violates federal law.
Writing at Ricochet on Thursday, Jon Gabriel called Jindal's move "a smart piece of political jujitsu."
"Unlike most politicos, Jindal understands that a major source of liberal power is their ability to set the narrative," Gabriel added.