Bobby Jindal Invites Other 49 Governors to Attend National Prayer Rally: 'We Need an Appeal to Heaven for Heaven's Intervention'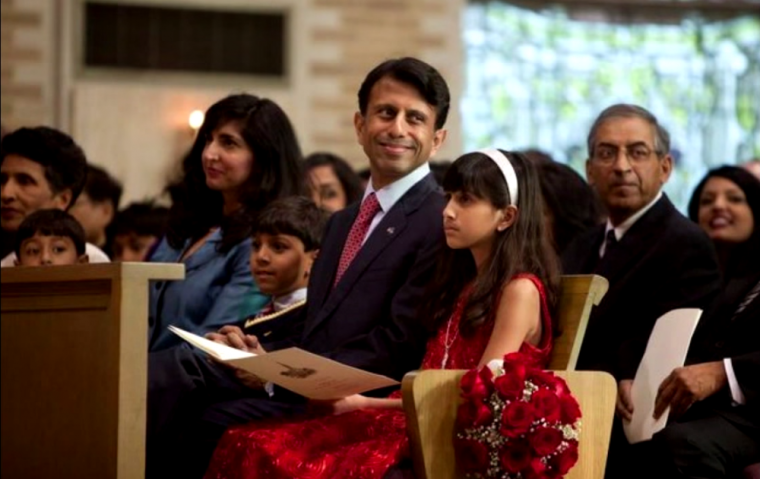 Louisiana Governor and potential 2016 presidential candidate Bobby Jindal sent a letter to the governors of the 49 other U.S. states inviting them to participate in the national prayer gathering that he has organized in Baton Rouge this Saturday.
A copy of Jindal's letter was released to the Christian Broadcasting Network's David Brody. In the letter, Jindal states that "America, our great nation, is in need" and has called on the governors to come participate in an "apolitical" gathering for a "solemn assembly of worship." At the event, Jindal writes that worshippers will call on "our great Creator to intervene on behalf of our people and nation."
The prayer rally, which has been named, "The Response: A Call To Prayer For a Nation In Crisis," will take place at the Pete Maravich Assembly Center, the home of the Louisiana State University basketball team. The worship event is scheduled to last about six hours from 10 a.m. to 4 p.m. Jindal had previously issued an invite to everyone in America to join in the six hours of prayer, although the assembly center only seats a little over 14,000.
"There will only be one name lifted up that day — Jesus," Jindal wrote. "There will be no politicians giving speeches and no preachers pontificating."
Jindal's letter also provided the governors with a biblical reminder of the necessity of prayer from 2 Chronicles 7:14: "If my people, who are called by my name, will humble themselves and pray and seek my face and turn from their wicked ways, then I will hear from heaven, and I will forgive their sin and will heal their land."
Jindal also quoted Joel 7:14: "Declare a holy fast; call a solemn assembly. Summon the elders and all who live in the land to the house of the Lord your God, and cry out to the Lord."
"Likewise, I believe now is the time for us to have a similar posture of humility, honesty and honor before The Lord on behalf of our nation," Jindal asserts. "We need an appeal to heaven for heaven's intervention over us."
Jindal has also promoted the prayer rally in a YouTube statement and insinuated that America has turned its back to God.
"What we really need in the United States is a spiritual revival," Jindal claimed. "We've exhausted all alternatives … It's time to turn back to God, to get the United States of America back on the right path. The Response is a call from Jesus to see a change in our nation."
As the conservative governor weighs his options over his potential candidacy for the 2016 Republican presidential nomination, there are quite a few viable, Christian, social conservative candidates that are trying to earn and possibly unite the Evangelical support behind them, in hopes it will push ahead to the general election.
Brody, who runs the CBN blog "The Brody File" concluded that Jindal, who is a former Hindu that converted and is now a devout Catholic, has been at the helm of calling for "spiritual" revitalization of America.
"Jindal is truly at the forefront of calling for spiritual revival in this country. He's a politician who is not afraid to step out in faith and speak boldly about his Christian faith," Brody wrote.
Other prominent Christian and social conservative candidates who could be competing for Evangelical backing in the 2016 Republican Primary are Sen. Ted Cruz, R-Texas, former Arkansas Governor and Southern Baptist pastor Mike Huckabee, retired neurosurgeon Dr. Ben Carson, former Pennsylvania Senator Rick Santorum, and former Texas Governor Rick Perry.
In 2011, Perry held a similar "Response" prayer rally that attracted between 30,000-40,000 worshipers and was attended by Kansas Gov. Sam Brownback and Florida Gov. Rick Scott.