Boko Haram Beheads Two 'Spies' in First Public Video; Group Is Being 'Shaped' by ISIS' Media Wing, Calls Itself 'Islamic State Africa'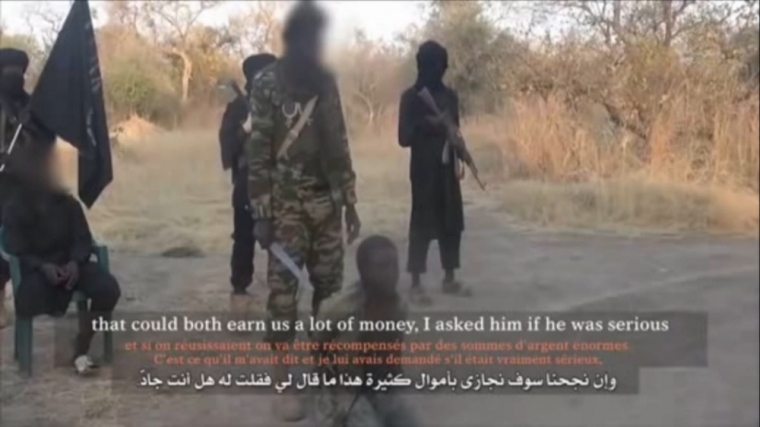 Nigerian terror group Boko Haram, which in 2014 declared its allegiance to ISIS, has for the first time publicly released a video showing the beheading of two men it claims are spies. Some within ISIS are calling Boko Haram by the name "Islamic State Africa," highlighting the cooperation and shared mission of the jihadists.
"This latest release shows Boko Haram is not a mere copycat of ISIS; rather, it is incorporating itself into the Islamic State," said Veryan Khan, editorial director of Terrorism Research & Analysis Consortium.
"Islamic state supporters are already starting to call Boko Haram the 'Islamic State Africa.'"
Fox News noted that the six-minute video, titled "Harvest of Spies," shows a farmer kneeling on the ground before armed Boko Haram militants, who force him to confess to spying for police. The footage later shows the farmer and a second man decapitated with their heads on their chests.
The footage, which was spread out through ISIS-affiliated social media accounts, is also produced and stylized much in the same way that ISIS presents its own beheading videos.
While Boko Haram has been waging a war in Nigeria against the government since 2009, where it has killed over 13,000 people, ISIS has captured a number of cities across Iraq and Syria since 2014. Boko Haram leaders have sworn allegiance to ISIS, reports have said, and the two terror groups have been coordinating their operations.
Khan added that Boko Haram's beheading video used high definition cameras, special effects, and the same media platform as ISIS. He called the development "huge news."
"I believe Boko Haram is more than just copying the Islamic State — their image is being 'shaped' at very least in the ISIS media wing," he continued. "Immediately after Baghdadi declared the Islamic State Caliphate, Boko Haram's leader Abubakar Shekau did the same. We then started seeing (in the videos) the Islamic State flags being painted onto Boko Haram's most prized possessions, their AFVs and tanks, most recently on Feb. 20 during the ops within the Northeastern Nigeria border."
CNN pointed out that Boko Haram has previously released beheading videos, but they have been sent to journalists through intermediaries rather than being made available on social media. In such videos, the Nigerian jihadists have separately beheaded a military pilot, a soldier, an informant, and two policemen.
Analyst Jacob Zenn agreed that Boko Haram is shaping itself into ISIS' style with the new video, however.
"It's clear Boko Haram is leaning toward ISIS in terms of doctrine, ideology and an emphasis on holding territory after operations," Zenn said.
Both ISIS and Boko Haram have specifically targeted Christians in a number of statements and videos. In February, ISIS released a video showing the beheading of 21 Coptic Christians, which was titled "A Message Signed With Blood to the Nation of the Cross."
Boko Haram leader Abubakar Shekau has attempted to justify the violent attacks by using the Quran, much in the same way as ISIS.
"Our hostages are Christians or corrupted Muslims who follow the Christian way," Shekau said last year, referring to the over 200 schoolgirls kidnapped from Chibok in April 2014.
Khan said of Shekau's style: "If you have spent any time watching Boko Haram, you would know that Shekau is truly insane and his version of Islam is even too radical for Islamic State, a mixture of part witch doctor/part voodoo/part radical Islam. He is usually screaming, surrounded by a posse, and at least one tank," TRAC's editorial director continued.
"This last video is a totally new Shekau, calm, cool collective. Someone is directing his image. My thought is he is a wild card that Islamic State cannot afford to ally with unless they rebrand him or get rid of him entirely."