Boko Haram Frees 82 Chibok Girls in Exchange Deal in Nigeria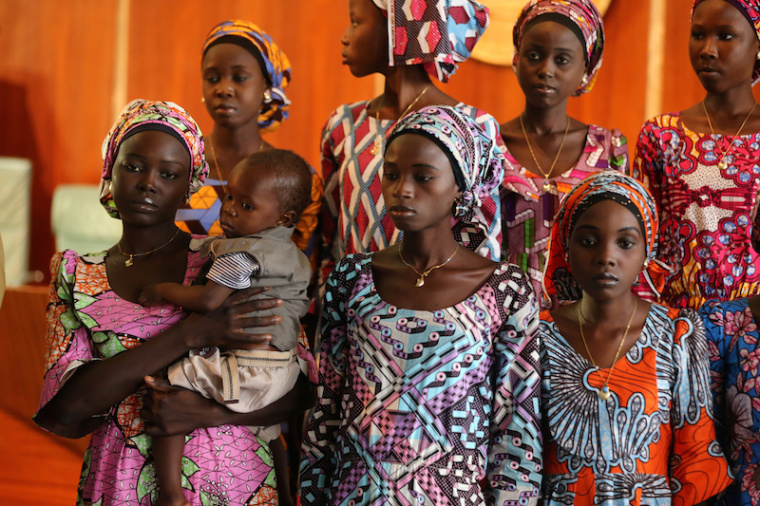 Boko Haram in Nigeria has freed 82 of the nearly 300 Chibok schoolgirls, most of them Christians, it abducted three years ago, after the government's successful negotiations with the terror group, the Nigerian president's office announced Sunday.
The freed girls are currently being kept in military custody in the northeastern town of Banki, a government official told CNN. The girls will soon be transferred to Abuja for medical checks.
In exchange for the release of the girls, the Nigerian government freed some Boko Haram suspects, the office of President Muhammadu Buhari said in a statement. "The President has repeatedly expressed his total commitment towards ensuring the safe return of the #ChibokGirls, and all other Boko Haram captives."
"I am very, very excited with this development. I cannot even sleep tonight," Yana Galang, whose daughter, Rifkatu, was among the girls seized, was quoted as saying. She added that it's not known yet if her daughter has also been released "but we're very happy that many have been freed … I hope and pray that my daughter is among these released girls."
"This is a very, very exciting news for us that we have over 80 of our girls coming back again," Bukky Shonibare at the #BringBackOurGirls campaign told Sky TV. "Their life in captivity has been one that depicts suffering, it depicts the fact that they have been starved, abused, and as we have seen before some of those girls have come back with children, and some of them have also come back with news of how they have been sexually abused."
However, as many as 113 of the girls abducted in the middle of the night in April 2014 still remain unaccounted for.
Boko Haram leader Abubakar Shekau had earlier threatened to sell the girls from Chibok "in the market."
"I abducted your girls," Shekau said in a 57-minute video earlier. "I abducted a girl at a western education school and you are disturbed. I said western education should end. Western education should end. Girls, you should go and get married. I will repeat this: western education should fold up. I abducted your girls. I will sell them in the market, by Allah. I will marry off a woman at the age of 12. I will marry off a girl at the age of nine."
Boko Haram has also killed numerous Christians and attacked several churches. It is apparently seeking to create an Islamic state in the Muslim-majority northern Nigeria.
The Islamist group had also claimed the girls had been converted to Islam and married off.
"Don't you know the over 200 Chibok schoolgirls have converted to Islam?" Shekau said in a video. "They have now memorized two chapters of the Quran." He added, "If you knew the state your daughters are in today, it might lead some of you ... to die from grief."
On the night of April 14-15 in 2014, Boko Haram gunmen stormed the Government Girls Secondary School in Chibok in Borno State and commanded the hundreds of students to gather outside. Then they went into a storeroom and took all the food.
"They then moved all of us to the main gate and brought their cars where they loaded the food they had taken and asked us to get in," one of the girls was quoted as saying by Al Jazeera earlier. "The girls that had no shoes on and were not wearing veils were told to go and fetch them as they started to set the school on fire." The girls were then reportedly taken by the Boko Haram men.