Boxing News 2016: Oscar De La Hoya Confident of Canelo's Chances in Rematch with Mayweather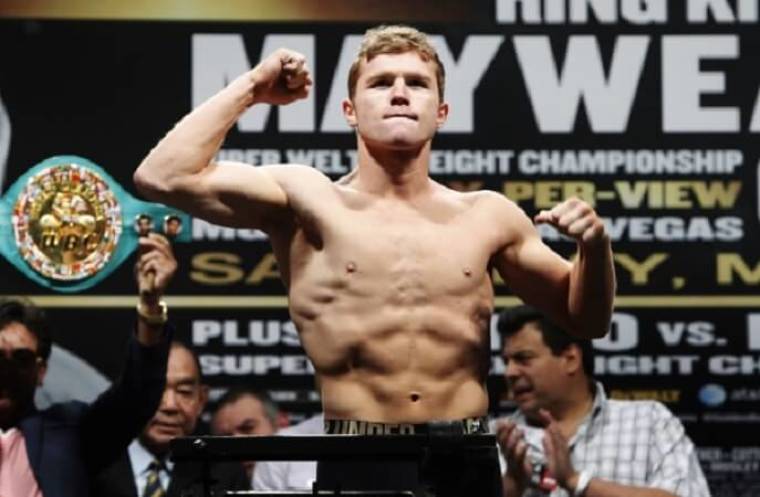 Six-division world champion Oscar De La Hoya is confident about the chances of Saul "Canelo" Alvarez pulling a win in a rematch against Floyd Mayweather Jr. if it ever happens.
Alvarez, who is also De La Hoya's most prized fighter under the Golden Boy Promotions banner, fought "Money Mayweather" for the first time in September 2013. The Mexican boxing sensation ended up losing via unanimous decision, marking the first and only loss of his professional career.
According to De La Hoya, a victory for Alvarez on Saturday night against Amir Khan could open the doors for a rematch, if Mayweather does decide to come out of retirement for the second time.
"People have been disappointed when they watched Mayweather's boring fights, but if he comes back I think it should be against Canelo. If all goes well this Saturday, [the negotiations] should be 70/30 for Canelo, it's Canelo's time," De La Hoya told ESPN Deportes (via Boxingscene)."
"Mayweather in his last pay-per-view event (against Berto) generated 300 or 400 thousand homes," he continued. "Canelo reached 900 thousand homes (vs. Miguel Cotto) - and that is a big difference, this is Canelo's time."
Mayweather had been dropping hints about a comeback since last week. Speaking to Showtime's Jim Gray, the retired undefeated boxer says "crazy numbers" have been thrown his way, so far. But for him, the chance of a comeback would only be there under one condition.
"As of right now, you know, some crazy numbers have been thrown my way, upwards of, of course, nine figures," Mayweather said.
For the Alvarez camp, a chance to fight Floyd Mayweather for the second time is a challenge they welcome, since they believe it is some unfinished business they need to take care of.
"Yes of course we are interested in that fight, because it's a thorn stuck in our side - but now it will be at our weight - 154-155 pounds is where Canelo is comfortable, but we do not want to anticipate anything," said Alvarez's manager Eddy Reynoso. "Let's see first what happens with Khan and then we'll see what comes."