Boy Makes 'Miracle' Recovery After Parents Signed Away His Organs: 'No Explanation but God'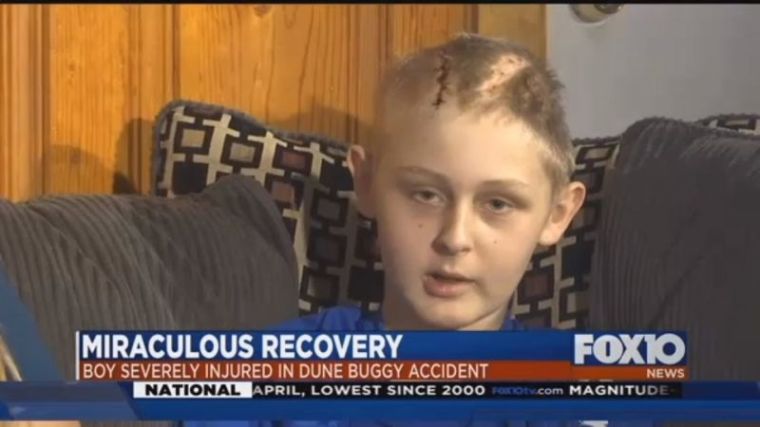 A 13-year-old Alabama boy who "came back to life" after doctors and even his parents had given up hope for a recovery, said God is the only explanation for such a miracle.
Trenton McKinley, the boy who two months ago was in a dune buggy accident and suffered severe brain trauma, told FOX10 News in an interview that he believes he was heading into Heaven when he started regaining consciousness.
"I was walking down, it was more like an open field, walking straight," Trenton recalled. "There's no other explanation but God. There's no other way that I could've came back. Even doctors said it."
The incident occurred in Mobile County where Trenton was riding a small utility trailer that was being pulled by a dune buggy for kids that his friend was driving.
When his friend suddenly pressed on the brakes, the trailer flipped, causing Trenton to hit the concrete, with the trailer landing on top of his head.
His mother, Jennifer Reindl, revealed that he was rushed to USA Medical Center for emergency surgery, having suffered seven skull fractures.
"All I saw was a stretcher with his feet hanging out. He was dead a total of 15 minutes," Reindl explained.
"When he came back, they said he would never be normal again. They told me the oxidation problems would be so bad to his brain, that he would be a vegetable if he even made it."
The 13-year-old boy was on life support and showed no signs of improving for the next several days, forcing his parents to make the difficult decision of signing papers to donate his organs so that other children can be helped.
"Five kids needed organs that matched him," the mother recalled. "It was unfair to keep bringing him back, because it was just damaging his organs even more."
Only a day before doctors were scheduled to pull the plug, he suddenly started showing signs of cognition, however. The boy woke up, and is battling to make a recovery despite facing big challenges, including daily seizures and nerve pain.
"He's a miracle," Reindl said, noting that he's also amazing people with his progress.
He has already been through three brain surgeries, and needs further surgery to reconnect half of his skull, which is frozen at the hospital.
Other miraculous recoveries credited to God by relatives include the story of 4-year-old Noah, the son of Canadian singer Michael Buble.
His uncle, actor Dario Lopilato, hailed the "miracle from God" after the young boy began recovering from liver cancer in March 2017.
"For me it's very difficult to talk about it. But I believe in God and sought comfort in Jesus Christ and a miracle from God came, from the way it was discovered, after the operation, everything," Lopilato said at the time.